theartsdesk on the Seine: a second new concert hall for Paris |

reviews, news & interviews
theartsdesk on the Seine: a second new concert hall for Paris
theartsdesk on the Seine: a second new concert hall for Paris
Laurence Equilbey's Insula Orchestra launches a revolutionary new residency
Laurence Equilbey in her Insula Orchestra's new concert-hall home
It's funny how Parisians grumble about any major new venue which lies outside their chic central stamping ground. First they moan about having to trundle out to the Philharmonie concert hall in the Cité de la Musique, and now they look as if they'll need some persuading to support major music-making in Les Hauts-de-Seine, an administrative département which generously supports its culture. In fact the Seine Musicale on the Île Seguin, part of a projected cultural hub which was the brainchild of Jean Nouvel, is only an efficient 20 minutes' metro journey from just about anywhere in the centre. And you are guaranteed to hear things in its 1150-seater concert hall there quite unlike anything elsewhere in Paris.
That's thanks to he Insula Orchestra under Laurence Equilbey, covering the wealth of music composed between 1750 and 1850 on period instruments. Its new home, marked out externally by the geodesic dome in the overall design by architects Shigeru Ban and Jean de Gastines (pictured below by Laurent Blossier), offers a clear, bright sound which reaches effortlessly to the upper balcony. According to a Hamburg colleague, though Nagata Acoustics, who worked on the sound with Jean-Paul Lamoureux, are the same team responsible for the Elbphilharmonie, the Seine Musicale is a heck of a lot better than its German big brother, even if it doesn't lend the last degree of warmth to help the early romantic repertoire.
It's also a dream come true for born animateuse Equilbey. She founded the Insula Orchestra five years ago; we talked a bit about it when we met at the Chaise-Dieu festival last summer. It's obvious to deduce from the name that a location on this island in the Seine, until 2005 site of a large Renault factory, was always a goal, and I asked her more about it when we met again in her big-windowed office on a sunny morning the day before the opening concert. "When the Département Les Hauts-de-Seine thought about this project, they asked me to consider an orchestra for here, and I suggested this orchestra on period instruments and called it the Insula Orchestra. The island connection with the place is obvious, but there's also this small part of the brain called the insula, it's like an island and it's very important, this region, to transform our sensations into emotions. I found that sort of transformation suitable for the idea of this orchestra".
As for the programme of the interval-free opening concert, taking place the night after Bob Dylan's inauguration of the big auditorium for 4000-6000 spectators, "we tried to show a little bit our DNA with this project. It's in three chapters, first Mozart, very funny, I hope, with a link to the elections [the first round of which was being decided on the day of the launch], then the dark part with Weber and then light with the Beethoven Fantaisie." Musically, it worked superbly, provided that you accept the limitations of the 18-year-old Mozart in La finta giardiniera (The Counterfeit Garden-Girl) , as exposed in the recent Glyndebourne production (to highlight the work's mixed origins, the excerpts here were performed in the German-language version). The numbers chosen included an aria jovially introducing the orchestra and a bit of mockery of differences between the sexes and between European (with what I thought an ungracious reference to Angela Merkel). But what were they thinking of allowing director Olivier Fredj to let loose a so-called "comedian", Nicolas Carpentier? The mostly French audience certainly wasn't laughing, and nor were friends who, I learnt later, had watched the event on the television. (Pictured below by Julien Benhamou: baritone Florian Sempey, Equilbey, Carpentier and the Insula Orchestra)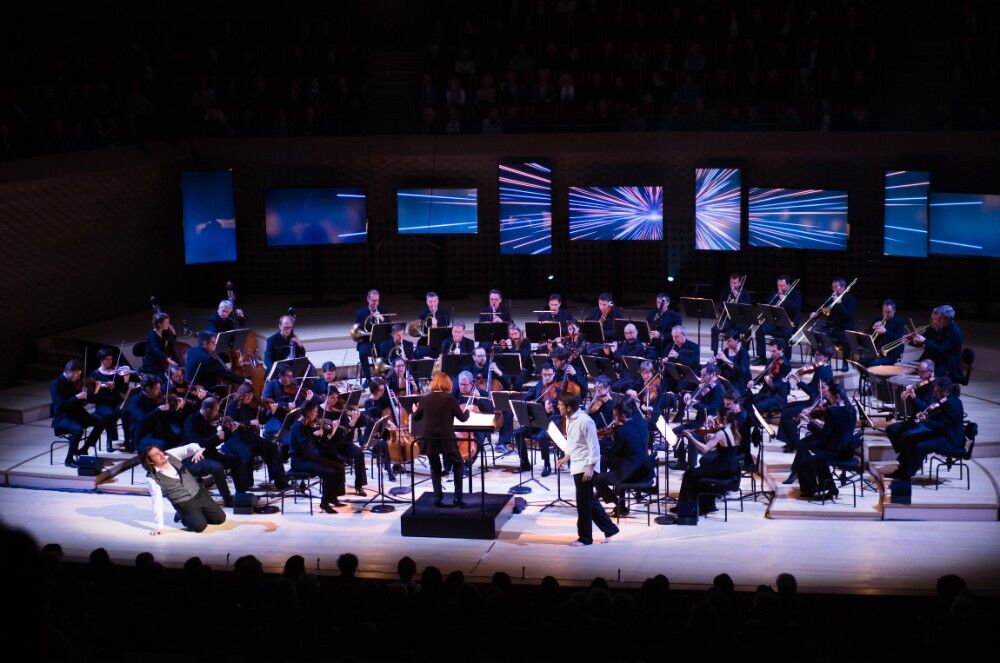 Never mind; it would have been harder to find a more accomplished quartet of singers than soprano Sandrine Piau, mezzo/contralto Anaïk Morel, tenor Stanislas de Barbeyrac and baritone Florian Sempey. Piau went on to give us a very classy account of Agathe's prayer from Weber's Der Freischütz and it was a treat to get the Wolf's Glen Scene in the Berlioz version, though the light and video show show from the company Superbien didn't exactly enhance the sense of atmosphere. Standout, though, was de Barbeyrac, proving at one point that the best place of all for a singer acoustically is midway down the area of seating behind the orchestra.
Capping that, France's pianist of the moment Bertrand Chamayou led an ecstatically trilling, genial and ultimately breathtaking performance of Beethoven's Fantasia for piano, choir and orchestra. With the soloists adding lustre to Equilbey's accentus choir – a cappella work with which she is finally, after 20 years, handing over to concentrate on joint projects – this was exactly the inaugural kick the opening needed, and I doubt if anyone in the hall didn't rejoice at the encore of this early (1808) Ode to Joy (pictured below by Julien Benhamou).
Successive Insula projects bear the stamp of Equilbey's individuality and enterprise. I'm sorry to have missed de Barbeyrac in Schubert songs orchestrated by a whole range of composers; the programme, "Nuit et rêves" was followed by "Nuit et rave", Schubert remixed for Insula's fast-developing new audience of 17-26 year olds (300 signed up for the Insulab Club in three weeks). Next is Haydn's The Creation with a mise-en-scène by the Catalan company La Fura dels Baus, plus a staging in the Opera Comique of an early Gounod Gothic opera based on a chaper of Lewis's The Monk, La nonne sanglante (The Bloody Nun) and a UK visit in 2018.
Much still needs fine-tuning at La Seine Musicale. The garden on the roof is a bit sad at the moment, badly in need of watering, but I guess that will take time. Plans for shops, restaurants and gallery spaces on the island are in the pipeline (pictured below: aerial view by Philippe Guinard). Trying to get in to the auditorium of the smaller hall also shows that the designers put the look of it all above the practicality. Climbing the stairs and walking around the narrow spaces between the glass and timber frame and the core, impressive though it is, takes time; the concert began a quarter of an hour late.
Still, the auditorium itself is handsome, with its honeycomb ceiling reminding me vaguely of Harry Kupfer's take on Maeterlinck's Life of the Bee in his 1981 ENO production of Pelléas and Mélisande. Musically, everything hits the spot, and should continue to do so. Let Equilbey have the last word: "it's a great chance for us as artists to programme more or less what we want. Not exactly, because we don't have the money from the sky, it's a question of economics. But if we want to programme a flash concert or a short event or to try something else, the idea comes from us and that helps to create a great identity. With 40 dates a season – 20 for us and 20 for other ensembles – we can invite special artists to experiment. That's something new for an orchestra. Bien sûr we will benefit from this residency."
Beethoven's Choral Fantasia was exactly the inaugural kick the opening needed
Explore topics
Share this article
Subscribe to theartsdesk.com
Thank you for continuing to read our work on theartsdesk.com. For unlimited access to every article in its entirety, including our archive of more than 10,000 pieces, we're asking for £3.95 per month or £30 per year. We feel it's a very good deal, and hope you do too.
To take an annual subscription now simply click here.
And if you're looking for that extra gift for a friend or family member, why not treat them to a theartsdesk.com gift subscription?