Back, Channel 4 review - return of sibling-rivalry comedy with Mitchell and Webb |

reviews, news & interviews
Back, Channel 4 review - return of sibling-rivalry comedy with Mitchell and Webb
Back, Channel 4 review - return of sibling-rivalry comedy with Mitchell and Webb
Simon Blackwell delves into fraternal mind games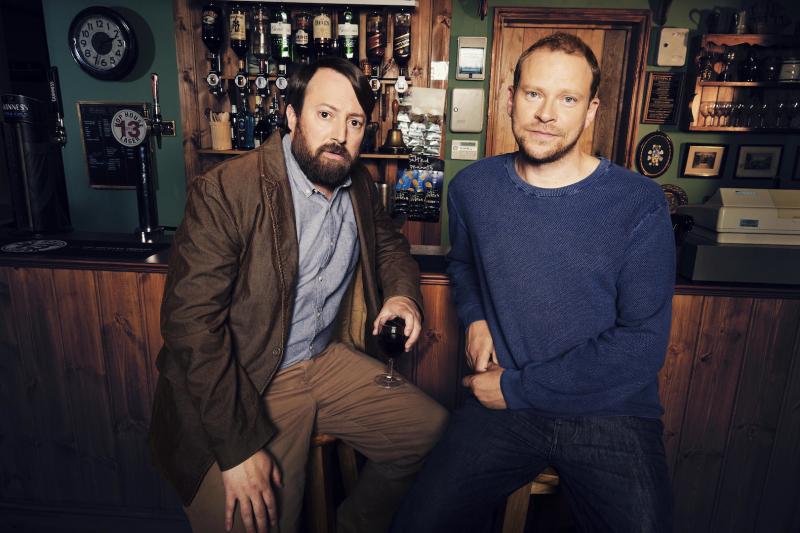 David Mitchell (left) and Robert Webb as rival siblings
It has taken three years for the second series of Back to reach our screens (a combination of the creator being busy, a star being unwell and Covid), but it was worth the wait. To recap for those who didn't see the first series of Simon Blackwell's very dark comedy (now on All4), it concerns Andrew (Robert Webb), who suddenly came back into the life of Stephen (David Mitchell), who is, he says, his long-l
ost foster
brother
.
Blackwell worked on Peep Show, and one could argue that Mitchell and Webb are playing cleverly constructed versions of who their characters on that show, Mark and Jez, might have become; Stephen is a pedantic provincial pub owner, Andrew is a narcissistic drifter. And here they are in Back, both increasingly unhinged as the first series' dynamic – whether Andrew is a lost soul looking for a home or a psychopath in the making – is now given room to develop.
In last night's tightly written opener, which efficiently brought us up to speed, we saw Stephen returning from the mental health "facility" that Andrew engineered him into at the end of series one. Stephen has been playing the long game, pretending to take his medication and fooling his therapist that he has been "on a journey" of self-discovery to emotional equilibrium. When he returns to the family-owned pub, however, his plan to unveil Andrew as the impostor he believes him to be is, yet again, quickly thwarted.
It doesn't take much, because a lot of people in Stephen's life – including his sister, Cass (Louise Brealey), who casually reveals their mum, Ellen (Penny Downie) "is fucking the [much younger] vicar" (John MacMillan) – think he's a bit of a twat.
Andrew, by contrast, is a people-pleaser (or arch-manipulator, take your pick). So when Stephen and Andrew both have an opportunity to move to a local gastro pub (the unpronounceable P:UB), with its wonderfully poncey, minimalist menu – "Stove-warmed fish. Leaves. An egg" – it's Andrew's loss they fear, not Stephen's. The only ally Stephen has is Alison (Olivia Poulet), his ex-wife, who is equally suspicious of Andrew's motives.
If anyone in your life doesn't understand what gaslighting is, tell them to watch Back, a brilliant study of how it works; just a nod, a gesture, a conspiratorial whisper, can create a whole new back story that will turn the victim into the aggressor or, as Andrew has managed to convince people in Stephen's case, someone with mental-health issues. Oh, and it's brilliant on passive-aggressive behaviour too.
So it's educational, but also very funny – and Mitchell and Webb, heading a terrific cast, turn in tip-top performances with a sharp script by Blackwell. Sweary pub regular Geoff (Geoffrey McGivern), meanwhile, effortlessly steals every scene he's in.
If anyone in your life doesn't understand what gaslighting is, tell them to watch this
rating
Explore topics
Share this article