theartsdesk at the London Comedy Film Festival 2013 |

reviews, news & interviews
theartsdesk at the London Comedy Film Festival 2013
theartsdesk at the London Comedy Film Festival 2013
LOCO laughs in the face of post-Xmas misery with its assortment of global rib-ticklers
Thursday, 31 January 2013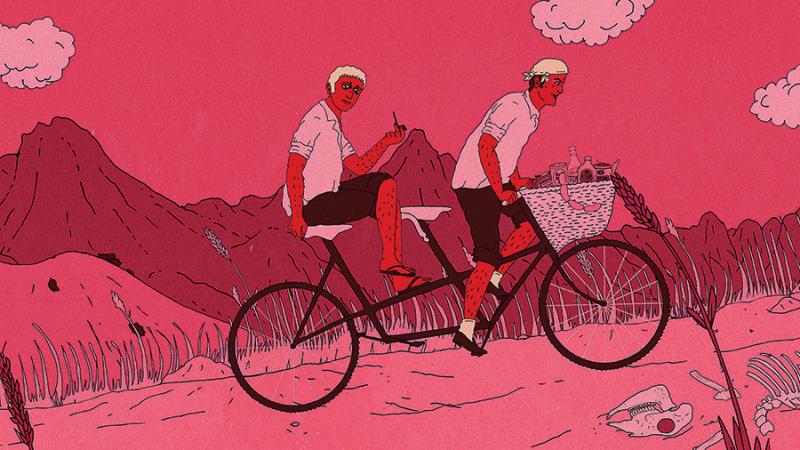 Graham Chapman finds out that life is an uphill journey in 'A Liar's Autobiography'
Proving that laughter is the only sure-fire cure for the January blues, this year's London Comedy Film Festival took place over four days from Thursday 24th to Sunday 27th January. Known commonly and affectionately as LOCO, it once again showcased the best of comedy filmmaking from around the world, lined-up alongside a range of imaginative events - a programme seemingly designed to give the most depressing month of the year a well deserved kick up the arse.
Giving the intriguing but daunting sounding "Laughter Yoga" a wide berth on Thursday morning, I opted instead for Thursday evening's BFI Southbank launch with its premiere of A Liar's Autobiography, a 3D animated biopic of deceased Python Graham Chapman. Joining its trio of directors on stage was fellow Python (and father to co-director Bill Jones) Terry Jones, who proved himself a terrific sport when he treated us to the immortal line, "He's not the messiah, he's a very naughty boy!"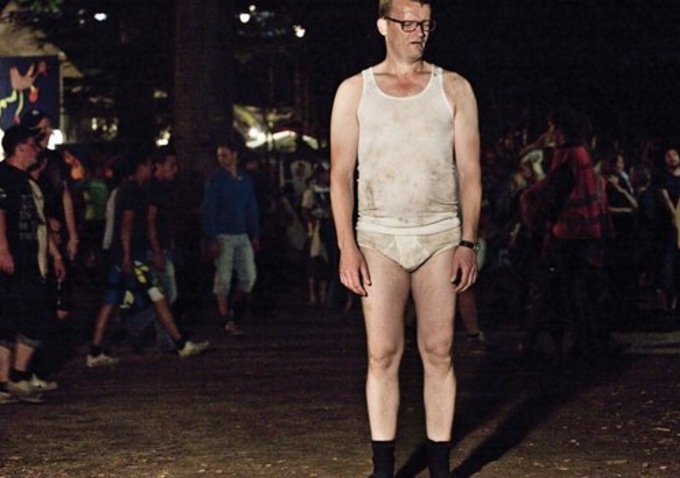 A Liar's Autobiography is an often impressive accomplishment – a dizzying mix of animation styles which sometimes effectively but always exuberantly tell Chapman's story. After the film Rebecca Front, Tony Law and Ben Farrell took to the stage for an entertaining - if somewhat unenlightening - discussion entitled "What have the Pythons ever given us?" Thursday also saw the Ritzy in Brixton host the UK premiere of Movie 43, a star-studded, spectacularly awful anthology picture.
Washing my mind clean of memories of that filmic travesty was Friday's highlight: bad-taste-done-good comedy Klown (pictured above right), which combines The Hangover-style antics with deadpan Danish idiocy. It's the story of Frank (Frank Hvam), a very big kid who opts to prove that he's ready for fatherhood by kidnapping his pregnant girlfriend's young nephew and taking him on a debauched camping trip. Unsurprisingly, it does not go well.
Friday was also notable for a screening of Wizard's Way, an affectionate "found-footage" comedy from filmmaking collective Metal Man which follows two wannabe documentarians as they investigate the weird world of online role-play gaming. This very promising, extremely low budget British offering is the winner of this year's LOCO Discovery Award, awarded to a British comedy feature which has not yet found distribution.
Saturday's films included Julie Delpy's charming coming-of-age film Le Skylab, and Gayby (pictured below left) from first-timer Jonathan Lisecki, which is a wonderfully dry and likable New York comedy in the mould of Lena Dunham's recent Tiny Furniture and Girls. It finds a 30-something woman and her gay best friend haplessly attempting to conceive a child. And from Asia, there was Vulgaria which failed to quite live up to its spectacular name as it cheerfully documented the misfortunes of a movie producer, but which remained a hoot nevertheless.
Saturday also saw the premiere of high profile British rom-com I Give It a Year, the genuinely very funny but often cringeworthy and sloppily plotted directorial debut of Dan Mazer, the co-writer of Borat and Brüno. In it the lovable Rafe Spall is promoted to cinematic leading man, and he more than holds his own amongst established stars Rose Byrne and Anna Faris, who play his contrasting love interests.
However, the pick of the bunch was Sunday's closing night film, the absolutely delightful Robot & Frank. Although it had its UK premiere at the LFF, LOCO provided us with another welcome opportunity to sneak a peek ahead of its March release date. Starring Frank Langella as the misanthropic former cat-burglar Frank, it's set in the near future and sees Frank reluctantly befriend his robot helper who then hysterically and endearingly assists his recidivism.
Other highlights included Saturday's Working Women Day, which celebrated women in comedy with interviews, previews and live performances, the chance to see The Pink Panther back on the big screen, and a celebration of Nora Ephron with "The Ephrathon" triple bill and "The Nora Ephron bake-off". And after four fun-filled days, that was our lot.
So, with memories of Christmas jollity fading fast, here's to LOCO - a light at the end of January's long dark tunnel. Long may it keep the capital laughing.
Watch the trailer for Robot & Frank
Nora Ephron was celebrated with 'The Ephrathon' triple bill and 'The Nora Ephron bake-off'
Share this article