South Pacific, Chichester Festival Theatre review - gloriously revived and also refreshed |

reviews, news & interviews
South Pacific, Chichester Festival Theatre review - gloriously revived and also refreshed
South Pacific, Chichester Festival Theatre review - gloriously revived and also refreshed
Rodgers and Hammerstein classic has new relevance in a spectacular production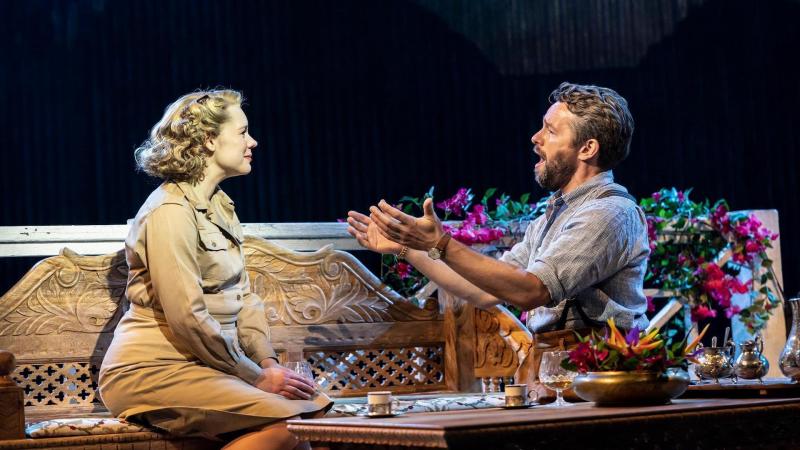 Gina Beck (Nellie) & Julian Ovenden (Emile) in 'South Pacific'
We've come to learn what socially distanced means but, 72 years ago, the distance that concerned Oscar Hammerstein II and Richard Rodgers was that between racial groups in the United States.
With a catalogue of
hits
behind them, they turned to
South Pacific
, and fashioned a velvet glove comprising some of musical theatre's greatest songs into which they packed an iron fist of a condemnation of prejudice – popular entertainment with an uncompromising message. They knew they would have to stand by their principles, especially when the show toured the Jim Crow states, and they did. Their commitment to those (still unbelievably and tragically required) ideas shines from beyond the grave today.
Chichester Festival Theatre's summer show (held over from 2020), South Pacific carries much of the weight for audiences today that it carried for those attending that 1,925-performance Broadway run back in 1949 – this is no cynical crowdpleasing revival, cashing in on the allure of the exotic. But please the crowds it does. Nobody needs a reason to stage songs like "Younger Than Springtime", "There is Nothin' Like A Dame" and "I'm Gonna Wash That Man Right Outa My Hair", each of which remains fresh and vibrant in the context and environment for which they were written.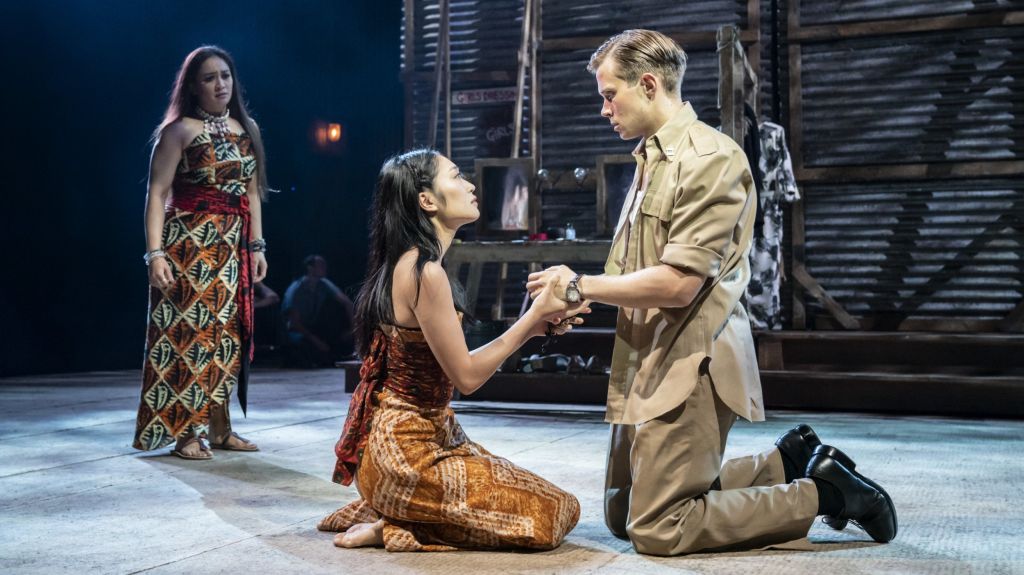 On a remote Pacific island, US servicemen are bored, waiting for action, missing the company of women. A nurse, Nellie Forbush, hesitantly falls for French plantation owner Emile de Becque, older and, like many civilians in that part of the world, running away from Europe. With his invaluable local knowledge, de Becque joins the clean-cut Princeton graduate Lt Joseph Cable on a mission vital to turning the war with Japan.
Gina Beck gives us a feisty, efficient Nellie, much loved and respected by her staff and making it clear why, after all these years, she is the one to have charmed the widower de Becque. Julian Ovenden conveys the Frenchman's regret over his past, but also his growing joy in what his future can be – and his despair when Nellie bristles at the thought of his deceased Polynesian wife, with their two children a reproving reminder. Beck negotiates the turn away from her natural Arkansas charm to the equally ingrained Little Rock prejudice with aplomb: crucially, we may despise what she says and does, but we don't despise her.
And the singing is marvellous! Beck and Ovenden use their soaring voices to give full value to the songs, both as belting anthems and as emotional peaks, "I'm In Love With a Wonderful Guy" and "Some Enchanted Evening" carrying the punch of operatic arias. With an orchestra under musical director, Cat Beveridge, that is beautifully balanced with the vocals, Rob Houchen's Cable nails the critically important "You've Got To Be Carefully Taught" as an angry explanation of the psychological prison in which his upbringing has incarcerated him. Joanna Ampil brilliantly channels similar anger, turning "Happy Talk" into a plea for two lovers to reach across a racial divide (Ampil and Houchen, pictured above).
There's a fine comic turn from Keir Charles as the inevitable man on the make, Luther Billis, and a bit of knockabout between David Birrell and Adrian Grove, about as benign a pair of base commanders as one could find who, nevertheless, have no qualms about sending a civilian father with two motherless children into mortal danger. That, in turn, serves as a reminder that, in 1949, everyone in a Broadway theatre would have accepted that as a fair price for victory in The Pacific. Sera Maehara as Liat, Cable's self-denied love, transcends a role that can become uncomfortably close to the stereotype of the "dusky maiden" with dance and movement every bit as expressive and emotional as any words: the mute girl here becomes a fully rounded character.
Chichester's Artistic Director, Daniel Evans, steers the show and makes full use of the infrastructure available, Peter McKintosh's sets wonderfully well-observed with one or two coup-de-théâtre moments to lend West End spectacle to the West End-worthy singing. There's delightful costume work from Yvonne Milnes, capturing the period and the loosening of norms that being far from home always invites.
If there's a dip or two in energy (the show takes a while to hit its stride and the end comes a little quickly) there are also numbers like "Bali Ha'i" that work so much more powerfully in a hushed house than on any screen (the ensemble, pictured above). Though it's easy for reviewers to forget things like prices, it's worth noting that you can travel a fair distance to Chichester, buy a very decent seat in a comfortable auditorium, and enjoy an interval drink in the open air, without hurting your credit card as much as would an evening on Shaftesbury Avenue. And, right here, right now, this production really does demand to be seen whether, like me, you grew up with parents playing the LP on the radiogram or if you saw the movie versions (or if you are a veteran of one of the revivals on stage). With classics like this, there is no distance between us and the art at all.
'You've Got To Be Carefully Taught' becomes an angry explanation of the psychological prison in which Cable's upbringing has incarcerated him
rating
Share this article