Flowers for Mrs Harris, Chichester Festival Theatre online review - a warmly open-hearted weepie |

reviews, news & interviews
Flowers for Mrs Harris, Chichester Festival Theatre online review - a warmly open-hearted weepie
Flowers for Mrs Harris, Chichester Festival Theatre online review - a warmly open-hearted weepie
Musical adaptation celebrates British pluck, coupled with luck
Bouquet-laden: Clare Burt as Ada Harris
18 months or so after it opened in Chichester, Flowers for Mrs Harris launches a sequence of streamed productions from the West Sussex venue just in time to allow a new British musical to join the ever-swelling ranks of theatrical offerings online.
This stage
adaptation
of the 1958 novel by Paul Gallico, directed by Daniel Evans, who brought the title along from his previous tenure running the Crucible, Sheffield, may be a show that really benefits from what advantages there are to experiencing theatre in this way.
For starters, one can really zoom in on (you'll forgive the choice of verb) Clare Burt's heartfelt star turn as Ada Harris, the widowed charlady of the title whose life is changed, only to realise that she contains within herself the capacity to change others. Overtly sentimental throughout, the material could become unmanageably treacly in the wrong hands. Burt, to her credit, finds a quiet rigour in this parable of a determinedly ordinary woman buffeted by life who dreams of owning a Christian Dior dress like the one belonging to a wealthy client. Before long, she's summoning such garments in her sleep and rhapsodising about the Moulin Rouge.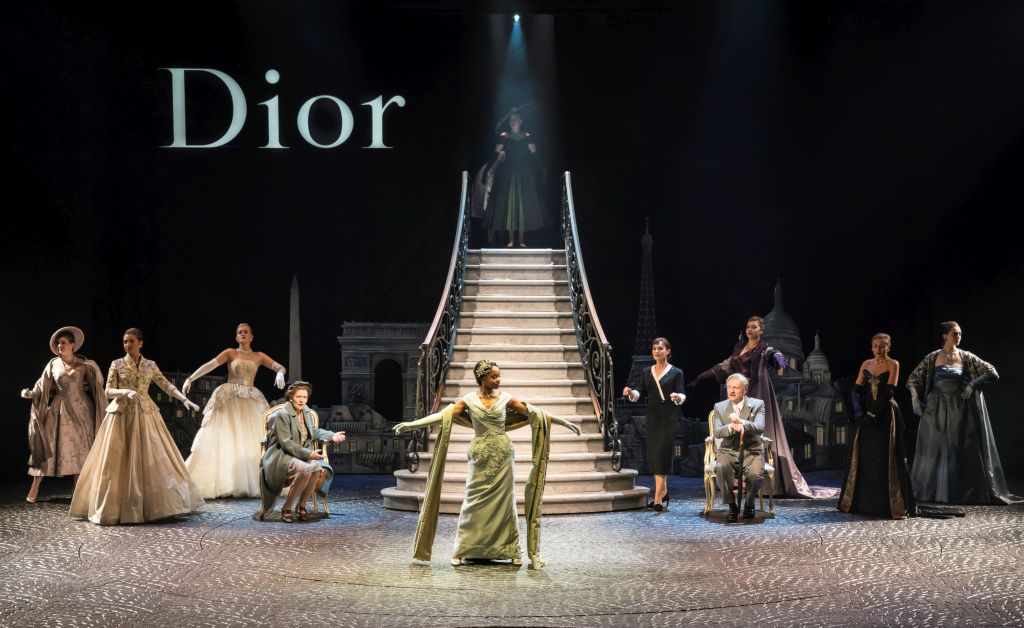 Cue much talk of how this kindly Battersea commoner – class difference looms large in this tale – will ever be able to afford to get to Paris, much less acquire the dress. Lo and behold, pluck coupled with luck lead Mrs Harris to that "new airport" (namely Heathrow) and across the Channel to the Dior showroom. Before you can say "bloody Nora" (a favourite expression of our heroine), the initially sniffy French are melting in the presence of a kindness and street smarts that are new to them: the scene whereby Mrs Harris connives to get her coveted purchase across the border and back to London brings a leavening wit to Rachel Wagstaff's deeply earnest adaptation. (Some will recall the 1992 small-screen version of this same book, with Angela Lansbury as "Mrs 'Arris", as the American title of Gallico's novella calls Ada.)
The streaming format also lets you really listen to Richard Taylor's score. Here, as with his 2016 West End musical The Go-Between, starring Michael Crawford, Taylor prefers an aurally absorbing and intricate weave in which music and lyrics bleed into the spoken word and out again. His resistence to decisive musical buttons can seem counterproductive given the primary emotional colours of a show that makes much of a woman speaking to her dead husband, not to mention a blossoming away from home soil that brings to mind Shirley Valentine's restorative trip to Greece.
Such stand-alone songs with high-energy finishes as there are in Flowers for Mrs Harris seem tonally out of place, in fact, with music that has something of the sheen of late-career Sondheim: one can spot lyrical homages to "Putting it Together," a song with which Evans is well-acquainted having played Georges Seurat on both sides of the Atlantic, while a later, especially exuberant number recalls, of all unlikely sources, the 1963 bijou musical She Loves Me. In staging terms, the Dior fashion parade (pictured above) nods wryly in the direction of "Beautiful Girls" from Follies.
But while some of the score is clearly a challenge for her, Burt navigates the weariness and wistfulness of a role that could be this generation's equivalent to the comparably indefatigable Mrs Johnstone from Blood Brothers (Marilyn Monroe, so crucial to that musical, gets a name check here), and she gets sterling vocal support from, among others, Clare Machin, Louis Maskell, and the sterling Joanna Riding, here completing a Gallic stage triptych begun with The Umbrellas of Cherbourg and Romantics Anonymous. As dictated by the title, the performers near the end find themselves sharing the stage with enough flowers to sink a ship, by which point Flowers for Mrs Harris will surely have found its open-hearted way into your emotions.
Once again, the composer Richard Taylor prefers an aurally absorbing and intricate weave in which music and lyrics bleed into the spoken word and out again
rating
Share this article