The Deep, BBC One |

reviews, news & interviews
The Deep, BBC One
The Deep, BBC One
Deep in the Arctic ocean, something stirs (and it's really huge)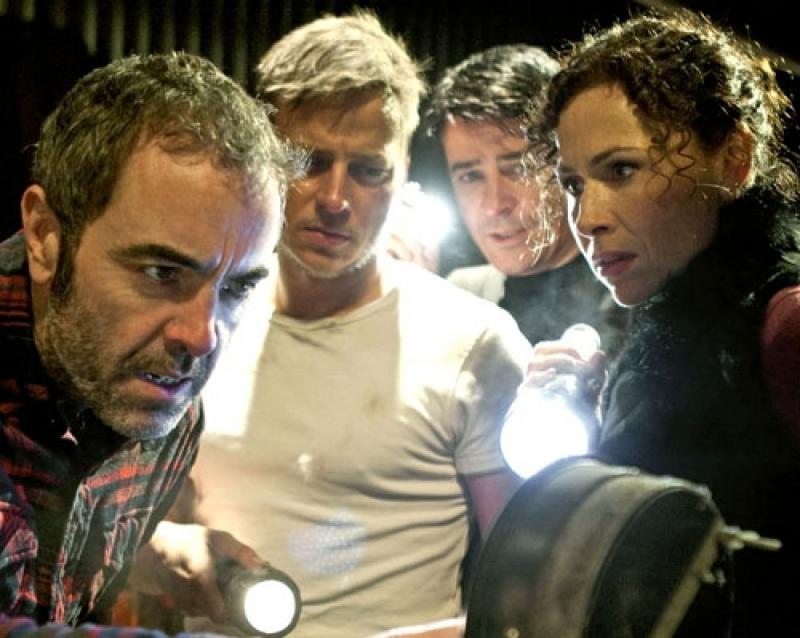 'Right, who ate all the flipping Doritos?' James Nesbitt (left), Minnie Driver and crew get the bends
Wasn't The Deep the title of a 1970s movie starring Jacqueline Bisset and Nick Nolte? Something about sunken treasure and a stash of morphine off the coast of Bermuda. I have a hunch it may have been complete twaddle. No less preposterous is this five-part subaqueous saga from the BBC, in which a team of marine scientists take their research submarine, the Orpheus, into frozen Arctic waters to investigate the catastrophic wreck of another sub, the Hermes.
This bunch would be nobody's first choice for this sort of Mission Impossible activity, since their proper job is combing the deeps for "rare micro-organisms" which might somehow be converted into fuel as the world's oil supplies dwindle. But Raymond Hopkins, a salvage expert from the Admiralty, slips aboard the Orpheus the night before its fateful voyage, and tells the crew that before they can proceed with their scientific schedule, they must retrieve the black box recorder from the vanished Hermes. Hopkins is played with supercilious sneeriness by Tobias Menzies, and we know he knows more than he's letting on. He has a recently discovered recording made by Catherine Donnelly (Orla Brady) from the Hermes, trapped thousands of feet underwater with air and power running out, in which she describes an enormous "thing" about to engulf her in the Arctic depths. Oo-er!
The Orpheus also suffers a few handicaps in the human resources department. The sub is skippered by Frances Kelly (Minnie Driver), which is like putting Emma Bunton in charge of the Afghan war. For her chief engineer she has Clem Donnelly, played with bleary-eyed and stubbly desperation by James Nesbitt, who is still shattered by the death of his wife Catherine in the Hermes disaster. Obviously in a real-world scenario Clem would be declared psychologically unfit for the mission, but on Fantasy CGI Planet (where our saga takes place) being an unstable emotional burn-out makes you an automatic selection.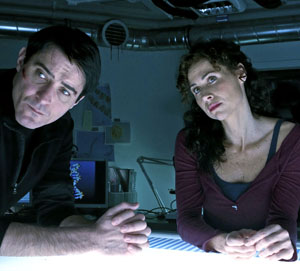 To render the mission yet more precarious, Kelly is having a furtive fling with the dark and moody Samson, who, being played by Goran Visnjic, has had plenty of practice at catching swooning females just before they hit the floor from his years on ER. It isn't long before Kelly's infatuation with the seductive Slav is undermining her professional judgment (Goran and swooning Minnie, pictured right). However, after this little batch of headline names had been recruited the funding must have run out, because while there are other crew members, they all look as though they're auditioning for the latest low-budget teen drama on BBC Three.
It's not a bad rule of thumb that new drama series that appear at the beginning of August usually have something to hide (we make an exception for Benedict Cumberbatch's splendid new Sherlock), and this one fees like it was bolted together from stuff they picked up at a TV boot sale. The title sequences and some of the scenes set on dry land have a slick, expensive sheen to them, but the underwater special effects are murky and unconvincing, to the point where it's difficult to make out what's supposed to be going on. And while on paper The Deep boasts a strong cast, the actors are poorly served by the second-hand plot, which has nicked bits from Alien, Ice Station Zebra and lord knows what else, and the boil-in-the-bag dialogue. Having said all that, I watched next week's part two and it's much better than part one. Doubt I'll make it to part five though.