Das Boot, Sky Atlantic review - menacing drama on land and sea |

reviews, news & interviews
Das Boot, Sky Atlantic review - menacing drama on land and sea
Das Boot, Sky Atlantic review - menacing drama on land and sea
Sequel to the 1981 movie brings new dimensions to the story
Thursday, 07 February 2019
Captain Hoffman (Rick Okon, right) and First Officer Tennstedt (Augustus Wittgenstein)
Wolfgang Petersen's film Das Boot is now nearly 40 years old, but in this new TV sequel time has moved forward a mere nine months from the original story, into the autumn of 1942.
Whether it's still springtime for
Hitler
is moot, but the U-boat crews based at La Rochelle are locked in a grim struggle with both the Atlantic and with Allied ships and aircraft.
From the furniture-rattling opening sequence of a submarine being sunk by depth-charges, these first two episodes (out of eight) were tightly-wound and exuded a powerful atmosphere of menace. The series extends the war onto a new front, via the land-based activities of the French Resistance and a variety of shadowy operators. The link between the German war machine and the clandestine opposition is supplied by Simone Strasser (Vicky Krieps, pictured below), who arrives in La Rochelle to work as a translator at the German HQ. It just happens that her brother Frank is a U-boat radio operator, but when he's suddenly transferred to another vessel and must sail immediately, he entrusts his unsuspecting sister with a hazardous secret mission which sends her down a rabbit hole of distrust and deception.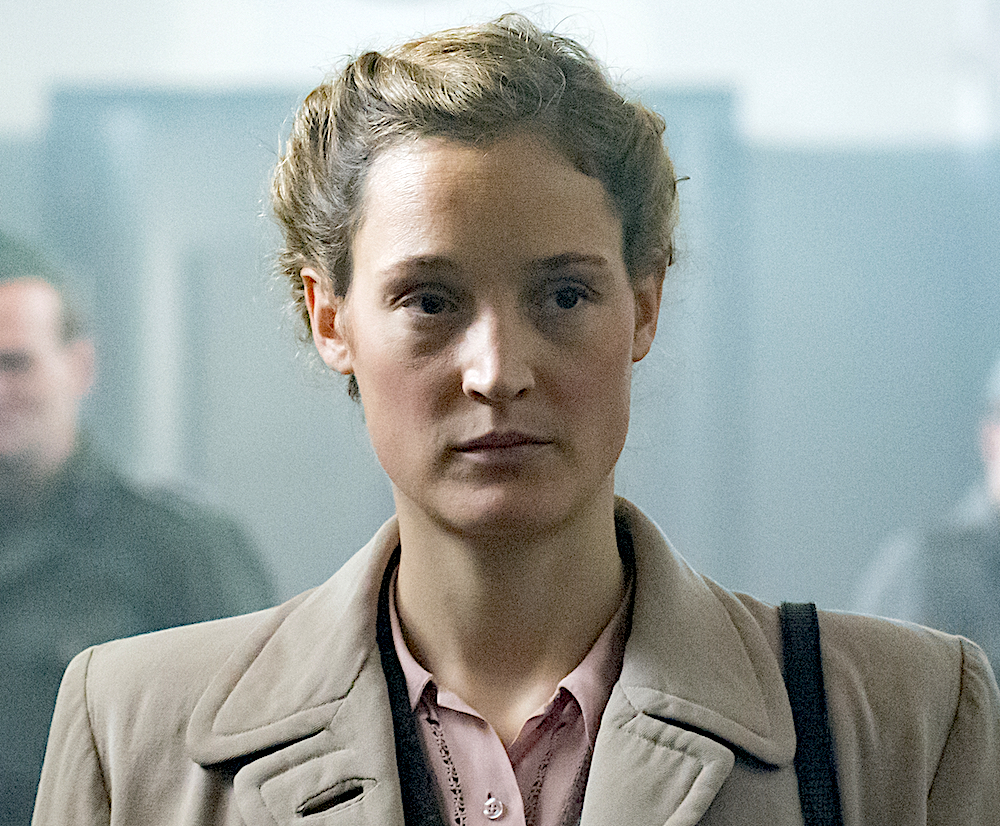 The show is shot in cinematic wide-screen, using entirely convincing French locations, from stark coastline to dimly-lit bars and rustic backstreets. La Rochelle's massive concrete U-boat pens are grotesque expressions of totalitarian power-madness. While the rank-and-file submariners are depicted as a bunch of football hooligans, boozing, brawling over card games, shagging the local prostitutes and swapping crude geezerish banter below decks, in the higher echelons the situation is more nuanced. Captain Hoffman (Rick Okon), newly-appointed skipper of U612, is the son of a legendary German naval officer and is desperate to make his mark in his own right, and not just be stuck in his father's shadow. His crew resent him forcing them to do attack drills at all hours of the day and night, and his First Officer, Karl Tennstedt (played philosophically by August Wittgenstein), has difficulty acknowledging Hoffman's fitness to command.
Hoffman's commander is Commander Gluck, played with a silky touch by Rainer Bock – familiar from a not dissimilar role demanding equal guile in BBC One's SS-GB – while everyone has to tread warily around Criminal Inspector Forster (Tom Wlaschiha, pictured below), the local Gestapo chief tasked with hunting down La Rochelle's assortment of traitors and undesirables. We have already witnessed his ways of making them talk in the brutal torture of the suspected spy Jacqueline. In a spine-chillingly existential moment, Simone found herself having to translate Jacqueline's answers to Forster's questions, and ask her to identify a suspect who was in fact Simone herself.
It's clear that ambiguity and divided loyalties are going to mingle through Das Boot like peach schnapps with orange juice. Simone has been neatly positioned as a citizen of not-quite-anywhere by being from Alsace, a territory which has passed between Germany and France for centuries. Her brother, apparently a dedicated servant of the Kriegsmarine, has been trying to find a way to escape from the war.
The French population try to rub along beside the German invaders as best they can, but the local French police chief is a contemptible lackey of the Gestapo. As for Captain Hoffman's gung-ho crew, they were horrified to be suddenly pulled out of an attack on a merchant ship to carry out a top-secret mission ferrying an American, Samuel Greenwood (Mad Men's Vincent Kartheiser), the significance of which has yet to develop. Thrills and chills a-plenty in store, it would seem.
Das Boot is available on Now TV