SS–GB, BBC One |

reviews, news & interviews
SS–GB, BBC One
SS–GB, BBC One
Len Deighton dramatisation depicts the terrors of enemy occupation
Going underground: Superintendent Douglas Archer (Sam Riley) is under the Nazi cosh
"What if the Germans had won the war?" has been a recurring theme in fiction, from Noel Coward's Peace in Our Time to Philip K Dick's The Man in the High Castle and Robert Harris's Fatherland. There was even a predictive pre-war "future history" version, in the form of Katherine Burdekin's 1937 novel, Swastika Night.
In SS-GB, tellified from Len Deighton's novel by writers Neal Purvis and Robert Wade (who've written all the recent Bond movies), it's November 1941. The RAF's famous "Few" having failed to stem the Nazi onslaught – the blackly-ironic opening sequence showed us a Spitfire flown by a German pilot landing in front of a semi-destroyed Buckingham Palace – the Germans are running the country, the ghastly tentacles of the Gestapo and the SS are reaching into every crevice of British life, and Scotland Yard detective Douglas Archer (Sam Riley, pictured below with Kate Bosworth) finds himself a servile lackey of the new regime.
It was appropriately sordid that Archer's latest case should be the murder of a man in Shepherd Market, the prostitutes' haunt now being fashioned into an official Third Reich brothel by the invaders. Intriguingly, though, the pathologist's inspection revealed that had the victim, Peter Thomas, not died of his bullet wounds, he would have done so fairly soon from liver failure. And not only that, why did he have weird milky eyes? And why was he carrying a rail ticket from Bringle Sands, site of some sort of top-secret airfield?
All will be revealed in due course, but this first episode skilfully lit the fuse on a potentially gripping plot while creating a persuasive atmosphere of depression, desperation and paranoia. Shots of giant swastikas sneering down over Piccadilly Circus and anti-tank obstacles strung across Trafalgar Square provided broody food for thought, while the news that the murder victim had been trading forged Luftwaffe petrol coupons added a note of sweat-stained venality, probably all too familiar to veterans of real-life wars. The building where Archer has his digs now has a "block warden", and the Nazis are trawling the personal files of Scotland Yard employees for evidence of racial or biological impurities.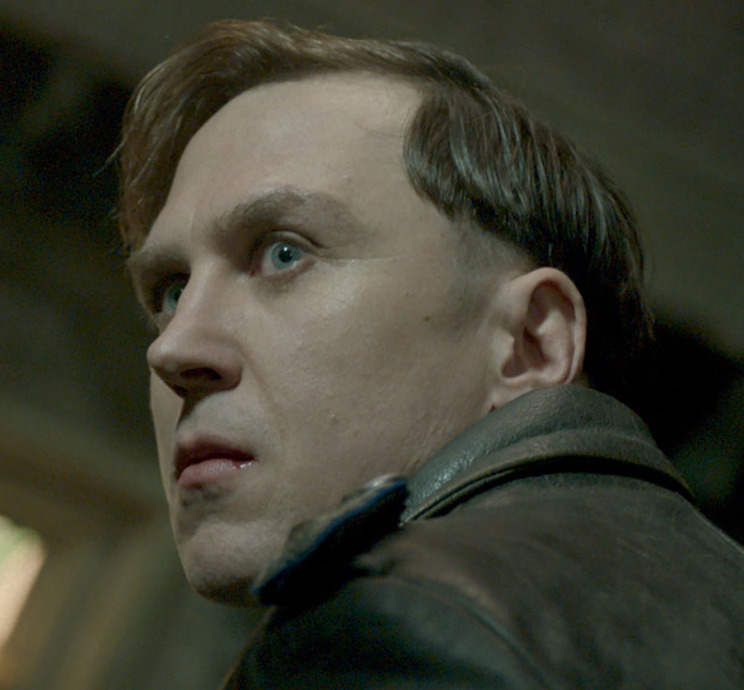 Central to the piece will be that nagging, corrosive question of "what would you have done?" Archer goes about his work trying to convince himself that it's police business as usual, but with the SS lording it over him and the Gestapo having moved in next door, he has has about as much personal and professional autonomy as a laboratory rat. He has been trying to ease the pain of the death of his wife by having a fling with his assistant, Sylvia (Maeve Dermody), but the revelation that she's working for the British resistance and views him as a vile quisling has hit him like a slap in the face. Meanwhile, what's left of the resistance army is fighting a doomed rearguard action somewhere up north.
Archer himself seems impaled on the dilemma of whether it's better to bury himself in what can only be an illusion of doing his policeman's duty, or taking the life-threatening leap of actively working against the occupiers. It's already clear that there's much more to the death of Peter Thomas than meets the eye, so much so that one of Himmler's right-hand men, Oskar Huth, has been dispatched to London to take over the case from Archer's idle and decadent boss, Kellerman. Huth (pictured above) is played with steely ideological ruthlessness by Lars Eidinger (who has just been starring with Schaubühne Berlin at the Barbican), and somewhat to Archer's dismay the zealous Huth has adopted him as his pet gofer, to be available around the clock. And what the hell is glamorous American journalist Barbara Barga (a shimmering Kate Bosworth) poking around for? Our policeman's lot is not a happy one.