Das Rheingold, Royal Opera - knotty, riveting route to destruction |

reviews, news & interviews
Das Rheingold, Royal Opera - knotty, riveting route to destruction
Das Rheingold, Royal Opera - knotty, riveting route to destruction
Barrie Kosky and Antonio Pappano work superbly with a true team of singer-actors
Friday, 15 September 2023
Gold so good you can taste it: Sean Panikkar's Loge observes Christopher Purves's Alberich exploiting the resources of Mother Earth, while Christopher Maltman's Wotan turns away in despair
Let's set aside, to begin with, the question of the concept, other than to praise it as consistent. Most vital about this brave new Rheingold is the vindication of director Barrie Kosky's claim that "what makes a Ring production interesting is the detailed work within the scenes between the characters". With a conductor as intent on clarity and meaning as Antonio Pappano, and a true ensemble of performers willing to go along with him and Kosky, the battle is three-quarters won.
The close co-ordination gives us plenty of new musical-dramatic insights in Wagner's half-joky, half-deadly "preliminary evening" to the three main Ring operas about the love of power versus the power of love. I'd go again simply for the interplay of the two finest singer-actors on the stage, Christopher Purves as gold-grabber, love-denier Alberich and Sean Pannikar reinventing, at Kosky's behest, the slippery fire demigod Loge, improvising a trick to steal the filthy lucre for the supposed immortals (the two pictured below in Scene 4).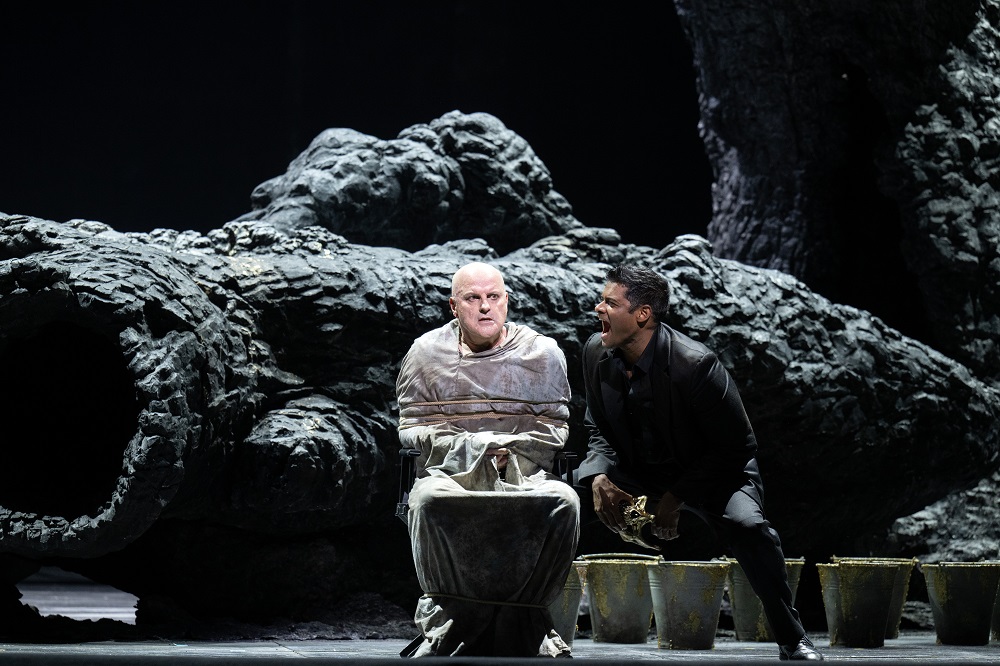 In tandem with a glowing orchestra Purves, making up in dramatic intensity for what he may just occasionally lack in baritonal heft up top, shows us Alberich's capacity to apprehend the good or glorious if powerless to be it as he sings, beautifully, of the "great ones" in the clouds, laughing and loving. Pappano interweaves the opera's scherzo with Loge's wheedling to perfection. Crystal-clear in diction, the meaning of the text physically articulated at most points, both performers are able to come close to whispering some of their lines, so good is the balance (a phenomenon I only noticed before in Ádám Fischer's Budapest Ring).
Yet the Nibelheim scene also falls a bit short at the last minute. We've had an appropriately terrifying tableau of liquid gold being pumped from the breasts of Erda (the focus of the entire production, an initially naked old woman played last night - superbly - by 82 year old Rose Knox-Peebles). The ravaged World Ash remains the main means of popping in and out, as it did for riverless Rhinemaidens, but Alberich's transformations into serpent and toad are underwhelming. There was more magic and childlike fun in two more wholly successful recent productions, Andreas Homoki's in Zurich - where Purves was also the dramatically superb Alberich - and Richard Jones's at English National Opera. Here the gods are deluded and detached, as they should be, but there's no supernatural dimension until the stunning moment when Erda embraces a stricken Wotan - moving to tears in a drama which doesn't lend much scope for human emotion. Kosky is honest - and right - about finding this idea one of the few things worth salvaging from what he calls, in a typically pithy programme interview, his first, "trainwreck" production of the Ring over a decade ago.
You shouldn't have to be told about his new notion that Mother Earth is dreaming fragments of the story after "we've disappeared from the earth". Nothing works better for the low E flat that kicks off an unshifting, minimalist prelude than total darkness - in Zurich even the lights on the players' stands were switched off to begin with - so strip-lighting and a slight head-scratching about why the blasted tree, and why so decimated when Wotan only removed a branch which looks like an incinerated cactus, rather than the depths of the Rhine take up too much headspace at the beginning.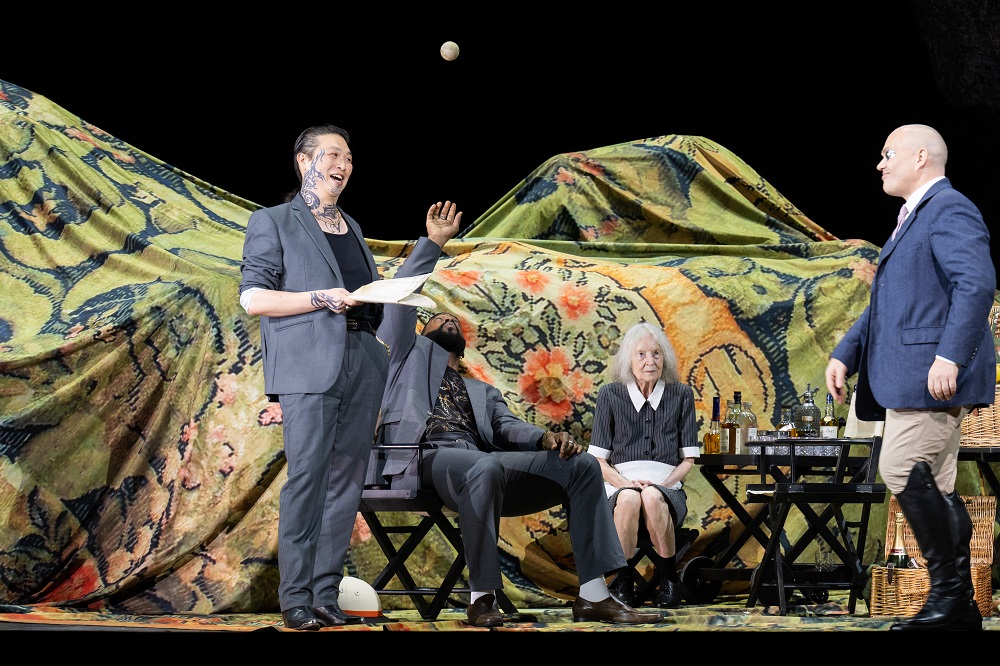 The gods' hunting-party picnic is a witty shot at our despoliation of nature, the pump in Nibelheim a very dark one. The buckets of liquid gold get a bit complicated, if you take them too literally, when Freia is being covered in a bathtub (forgiven - the image is a powerfully degrading one). The ending is bewitching but not new; I hazard a guess it was with the full consent of his friend and collague Jones that Kosky took over the brilliant ENO idea of falling rainbow tinsel at the end - the picture here is different only by virtue of the revolving Erda, the way the tinsel stops and then starts up again (pictured below: Rodrick Dixon as Froh, Kiandra Howarth as Freia, Christopher Maltman as Wotan, Marina Prudenskaya as Fricka and Kostas Smorginas as Donner).
Yet it works, and if some audience members like those behind me are offended by the grim nature of Rufus Didwiszus' sets up to that point, for me Alessandro Carletti's lighting is perfectly modulated. Nor should one object to curtain-down on the orchestral interlude; the gold frame of the proscenium arch is rightly accentuated.
Kosky always asks a lot - sometimes too much - from his singers in physical terms, and not everyone is comfortable with that. Marina Prudenskaya's Fricka flicks too annoyingly through her magazine when we reach the heights - the topography of Wagner's ups and downs is avoided - and vocally hits her stride only later. Christopher Maltman now has the vocal heft for Wotan, but perhaps not the charisma - I wasn't fixed on him when I should have been in the final scene - and the Wodehousian hunting get-up is confining. The jury is out on whether he'll be up to Wotan's cosmic disgust in Act Two of Die Walkure. More imposing are the average-sized but not voiced giants (pictured further up with Maltman's Wotan, Rose Knox-Peebles' Erda as maid); Insung Sim's riveting Fasolt isn't allowed much sympathy for his lyric hymns to Freia when he treats her so badly, and Soloman Howard's Fafner isn't delineated as the villain of the two until the shocking murder when Alberich's curse claims its first victim. Both ring-grabs are brutal; there's typically original shock-value from Kosky when Wotan takes the finger as well as what's on it.
Lustrous sounds also come from Niamh O'Sullivan's golden-voiced Wellgunde (pictured above on the left with Katharina Konradi's Woglinde, Marvic Monreal's Flosshilde and Purves), and Wiebke Lehmkuhl's Voice of Erda, putting across the meaning from a distance as well as anyone. Panikkar's clarion tenor, matched to handsome presence, suggests just the possibility of a future in Wagner heroes (and why not? Windgassen and Jerusalem also sang Loge).
This is a Rheingold so classy on so many levels that everyone should see it. And given that seat prices rise to £325 and include an eye-watering £100 plus even for the ampitheatre, I don't think Kosky should be complaining about the livestream, which should captivate so many more people around the world. After all, many of us were first hooked on the Ring when Patrice Chéreau's ground breaking production appeared on the telly act by act. This should bring many new fans to Wagner's singular and ever more topical treatment of myth. Let's just hope that fire and flood don't completely overwhelm us before the cycle is completed.