10 Questions for Amateur Musician Alan Rusbridger |

reviews, news & interviews
10 Questions for Amateur Musician Alan Rusbridger
10 Questions for Amateur Musician Alan Rusbridger
The Guardian editor's book about performing on the piano explores the missing link between Assange and Chopin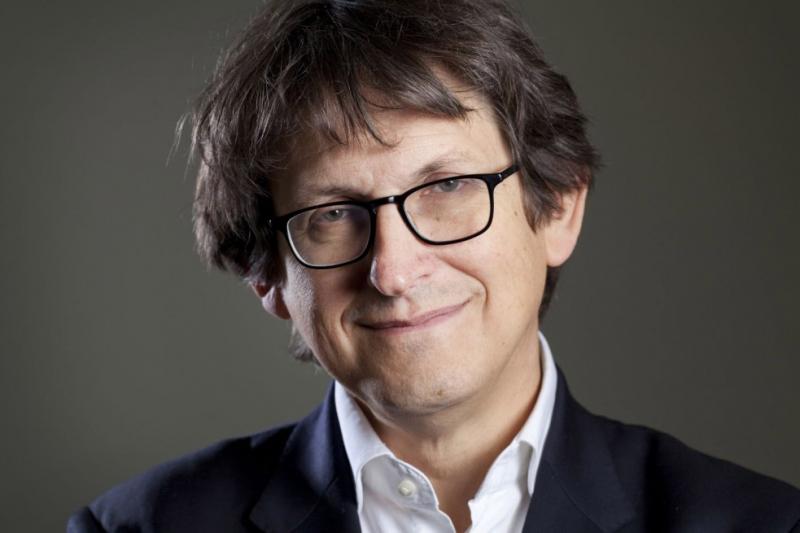 Alan Rusbridger, editor and amateur pianist: 'I think I am capable of great stubbornness'
Had we but world enough and time... A new book by the editor of the Guardian makes it clear quite how many hours in the day it takes to run a national newspaper in the digital age. There is the unyielding nature of 24-hour news, while the internet relentlessly asks grave questions of print media's business model. Some editors respond to the job's demands by keeping obsessively fit, and then there is Rusbridger's alternative guide to stress-busting: the piano.
Play It Again: An Amateur Against the Impossible, written in diary form, is the story of Rusbridger's attempt to grapple with Chopin's forbidding Ballade in G minor in the crannies of time he is able to carve out at dawn and at weekends. A competent musician from his teenage years, he explains how he had fallen into lazy habits until one summer at a piano retreat, he sees someone else perform the Ballade and decides to have a crack himself. It's a familiar narrative, the subject of two series on the BBC (also called Play It Again) and Sky (First Love). There have been other books including, I may as well say it, my own about remastering the French horn. But none of us who have been down the same path have had to grapple with quite so many distractions as Rusbridger. As he embarked on his quest, he was wrestling with the immensely slippery Julian Assange as the WikiLeaks cables prepared to go live, and then came the story of phone hacking, finally broken by the Guardian after years of attempting to make it stick. In the book's most surreal sequence, Rusbridger has to go to wartorn Tripoli to get his journalist out of jail, and when he has two hours to kill as he waits to meet one of Gaddafi's senior henchmen sneaks a little practice in a grand but empty hotel.
But there is less focus on news in Play It Again than the story of deeply passionate engagement with the piano and all who sail in her. Rusbridger tracks down the world's most eminent soloists, plus ardent amateurs, has lessons with at least four tutors (one loses count), buys a very expensive Steinway, has his Fazioli shipped to Italy for rebuilding, knocks up a musical outhouse in his Cotswolds garden, and obsesses minutely about fingering and pedalling and the capacity of the middle-aged brain to take it all in. At the heart of the book is the Ballade itself, a 10-minute Laocoön of riveting complexity.
I meet Rusbridger in the BBC. An interview lasting 20 minutes is normally unsatisfactory, but that is the amount of time he has between a Radio 3 interview and a live performance of a bit of Chopin on BBC World TV. And fittingly, 20 minutes is the amount of practice Rusbridger gave himself every day to knock the Ballade into some kind of shape. He talks to theartsdesk about amateur music-making and professional news-breaking.
Watch Horowitz perform Chopin's Ballade no 1 in G minor
JASPER REES: This book is a hybrid. If you love music you'll love this book. If you love journalism you'll love this book. Did you have a sense when embarking on it who this book, as the industry always wants to know, is for?
ALAN RUSBRIDGER: There was a discussion having written it with the publishers. They said, "Is this a motivational book or is it a memoir?" And we decided it is a motivation book. And in a sense some of the memoiry bits are a bit historic now. Phone hacking feels a long time ago and there have been other books on that but I hope people will feel a little bit inspired and think all those excuses that you give to yourself for why you don't return to music or take up a musical instrument again – if you can do it and edit a national newspaper, I'd be interested to know what your excuse is, as it were. So I hope it's a sort of inspirational book.
I like the balance of my life in which I'm a journalist who plays a bit of music
Could you put your finger on why there is this zeitgeisty yearning to get back to musical instruments?
I would guess it's because the crazier our lives get the more there is a wish to step off the escalator or the hamster wheel or whatever metaphor is. And I certainly feel – and I'm sure most people feel – that life is more pressing, you're working harder, you're never off. These devices haunt us [he points at an iPhone on the table] wherever we go and actually trying to find a bit of time where you can just carve it out and achieve some sort of stillness and some creativity – I think lives are probably much less creative than they used to be. A lot of jobs are. A lot of things have become mechanised. Or over-regulated, or the job that you do has no connection with the people who own the business. So we all feel a bit impotent. So actually finding something where you're in control and you can reconnect with that thing that you remember used to give you such pleasure when you were young is a really important thing. That's amateur psychology.
You talk early on in the book about the kind of pianist you were – and indeed clarinettist – as a young man. I sense as the book progressed that you were being not falsely modest but certainly modest about your actual abilities. Do you feel that that's an incorrect interpretation?
No. I was quite a good clarinettist. I printed my grade 6 certificate in the book. I scraped through 103 marks and the examiner was incredibly unimpressed by it. He just about of his way to say how bad I was. And I gave up shortly afterwards. And I just never bothered to learn things properly. And I couldn't memorise music. I've always been a good sight-reader. I can bluff my way through. But I really wasn't a very good pianist. I would rather be a good sight-reader than a good memoriser because playing by memory – who need sit apart from performers? But being a good sight-reader is an immensely adaptable thing and means you can play anything with anybody at any time, kind of.
And you really do play with anybody. You had Imogen Cooper round to play orchestral transcriptions. You're sitting next to people who have been to the top of the mountain.
Not everybody would do that. I doubt that I'll ever sit down and do a piano duet with Alfred Brendel because he's not that kind of pianist. But Imogen I've met through other people and she will have a couple of glasses of wine and then sit down and play. She wouldn't play serious repertoire but she'd never played Tchaik 5 before on eight hands and she quite enjoyed it. That was the thing that Claus Moser talked about, the fact that Berlin in the 1930s everybody played music and professionals would come along and play with amateurs because it was the fun of it.
One thread running through the book is the growing divide between professional and amateur music-making. One senses that you would like that gap to narrow and, undoubtedly using your privileged position as Guardian editor to meet most of the greatest pianists in the world almost as if you're ticking them off. Do you sense that they - if you can aggregate their view – would like the gap to be narrowed as well?
This is speaking very crudely but I think they all feel that it's become over-professional. This point about recorded sound means that audiences expect performances to be perfect. Most of them don't like that, perhaps for understandable reasons. And most of them wouldn't like to be judged by whether the fact that every note is exactly in place, because that's not what music-making is necessarily about. And in order to be "a perfect pianist" you then have to play eight hours a day, I think they think there is a generation of pianists coming through music colleges breaking pianos as they do so according to my piano tuner, because they're playing in a different kind of way, and they come out note perfect at the end but have they allowed the music to breathe and has something been lost in the soul? That was probably a common view.
Did you find dealing with Assange a stress-buster after dealing with Chopin or the other way round?
Can I imagine a life in which music was the main thing I did? No. I like the balance of my life in which I'm a journalist who plays a bit of music. I think life for me would not be very fulfilling if I bumbled through my pieces for six or seven hours a day. I wouldn't feel I had added much to the world by doing that. I did feel that there was an equilibrium of putting music in that balance of a very stressful life with lots of stressful things going on, it really helped in ways that the scientists couldn't really explain to me but they thought it was true.
Did you deliberately limit the amount of journalism in the book? I as a journalist could have done with a bit more and slightly less on the minutiae of fingering. But I can tell you have written a book for that very large constituency out there who play the piano.
I don't know what would be more interesting. Maybe for me news is such second nature I can't stand outside it and see what clearly was of interest to others whereas I was a newcomer to this world effectively and so it was all deeply interesting to me to try and work out what was going on and how to explain it. So I suppose I didn't have the detachment to know what apart from the big set pieces is interesting about an editor's life. And I didn't want to write a memoir anyway. I didn't want to write a memoir of an editor. I haven't gone into tsunamis and riots and things like that – I was away for the riots – but there were two big stories which were historic and the Guardian's role in them was historic so actually to get that down in some form on paper was - I don't know if it's going to be historical or not but it was interesting to tell it.
To be an extremely determined amateur pianist, and to be the editor of a national newspaper - is there an overlap?
One or two people have said that comes through. I think I am capable of great stubbornness and I can think of lots of examples when I was a child. Maybe there was a kind of stubbornness when everybody said, "Give up on this phone hacking story," and the police came and said, "Give up on it." And everybody else said, "This is boring. You're banging on about it, this is just a Guardian obsession." And there was a stubbornness that thought, I'll just see this through, which is maybe the same streak of stubbornness you need in order to do something like that. I was very happy that we did and it all turned out to be much worse than we had ever imagined it to be. Dangerous things were beginning to happen in Britain about the police, about parliament, about regulators, about the dominance of that company. That was a good thing to have done in journalism, and in terms of doing something amazingly challenging in your personal life like climbing the Matterhorn or running a marathon, that's the most ambitious thing I've ever tried.
Will you perform in public again on your own?
I can't think of any reason why anybody would want to listen to it. Literally, I'm just falsely modest. I'm not that good. I enjoyed the business of performance because it's something I'd not done on the piano before, especially to people who didn't know the piece. So friends. One teacher said, "Play this to your dog, you've just got to get used to playing it." So sitting down a friend who didn't know the piece and saying this is why I'm obsessed with this piece and I want to convey that to you and I can only do that through performing, that was interesting, more interesting I think than actually playing to a teacher who is going to have a list of all the mistakes you made at the end. But I don't want to get into the habit of performing, no.
You talk about the various ways in which various pianists perceive a narrative in the Chopin and indeed in all pieces of music but particularly this. I wonder whether you feel that your own narrative in any way parallels or mirrors the journey that the Ballade goes on. Did you put your own story into the Ballade or did the Ballade put a story into you?
That hadn't occurred to me. When I sat down with Murray Perahia and he told me this entire story, this is about love, this is about exile, he meets the girl here, this is about bodies rising out of the grave, it was very pictorial and programmatic. And I never felt that. I just didn't feel, I know what this is about. But I was conscious when playing it to friends that there was a kind of story there. I don't think I particularly felt it was a story about myself.
How for you does the Ballade end? In catharsis and redemption in the way that book clearly does?
No, it doesn't feel like to me. These two bars here – 206 and 207 [he points to the sheet music printed in the epilogue] – it's "as loud as possible" and then he's got "ritenuto" and he's got this effect like the winding of a giant spring and then it explodes. I think that physical thing going on there is why pianists are terrified of this piece because you just lose control. It just feels anarchic, revolutionary terror, chaos, and then the thing sat the end are more like hammerblows of fate than catharsis, I think. Just occasionally playing it, it's the first time I ever felt a piece reach up and seize you in quite a physical way. Quite frightening.
You have a lovely moment where you calculate somewhat romantically that, because you took little bit of tuition from Charles Rosen, that you can work your way all the way back to Haydn in a kind of ancestry of tuition. I sense you had your tongue slightly in your cheek as you were writing. Did you feel it in your marrow as an amateur pianist that it was a way of attaching yourself to the history of the piano?
I love those historical meetings. To be one handshake away from Liszt. Liszt was probably one handshake away from Beethoven. So you're sitting with somebody who when he tells you about this piece, it's informed by what he was told by somebody who knew Liszt, who knew Chopin. I just love those connections. But I didn't think Charles Rosen was suddenly going to plug me into the classical tradition. "And then Alan Rusbridger came along!"
Play It Again: An Amateur Against the Impossible (£18.99) is published by Jonathan Cape
It's the first time I ever felt a piece reach up and seize you in quite a physical way. Quite frightening
Explore topics
Share this article