The 7 39, BBC One |

reviews, news & interviews
The 7.39, BBC One
The 7.39, BBC One
David Nicholls's pretty suburbanites fail to smoulder convincingly
Strangers from a train: Sheridan Smith and David Morrissey play commuters Sally and Carl
There are times us northerners watch your typical London-set big-budget BBC drama and think, well, this really is another world. Whether it's the two-hour commutes or the estate agencies where there is so much business that nobody has time to sit and watch cat videos on YouTube, there's little about the world of The 7.39 familiar to those of us lacking three-bedroom semi-detached suburbia and a job in the City.
That said, there's probably little about David Nicholls' vision of London that seems familiar to those who live and work in the capital either. As in the screenwriter's novel-turned-film One Day, London here is full of used book markets and flattering sunlight; lingering glances and slow-motion lovemaking involving extremely attractive people and it somehow not being creepy for the man who insulted you on the train the day before to show up the next day with a classic novel similar to the one you're reading and a need for conversation.
Nicholls has never been one for trite, happy endings
David Morrissey and Sheridan Smith were the star-crossed commuters brought together on, you guessed it, the 7.39 train from their nameless home town into Waterloo. He, Carl, was a harried estate agent and married father of two, a 12-year veteran of the rush hour and skilled in the art of finding a vacant seat; she, Sally, was the manager of a London gym recently transplanted to the countryside, second-time-around engaged to a bodybuilding sex pest played by Nineties heartthrob Sean Maguire. One fateful Monday morning the two crossed words over the last seat in a crowded carriage, a few weeks later all the tasteful camera flares in the world couldn't hide how often they were at it in a number of London hotel rooms that got progressively less classy as their affair rumbled on.
While it was obvious from the start that we were supposed to find the blossoming relationship between the pair romantic - how else to sustain two hours of drama about very little else? - the lack of spark between the two ordinarily magnificent leads posed a bit of a problem during those whispered conversations in the vestibule by the buffet car, while getting to know each other in Sally's gym or while wrestling with twin single beds during an awkward first night together in a hotel, necessitated by a train strike leaving the two characters stranded together in central London overnight.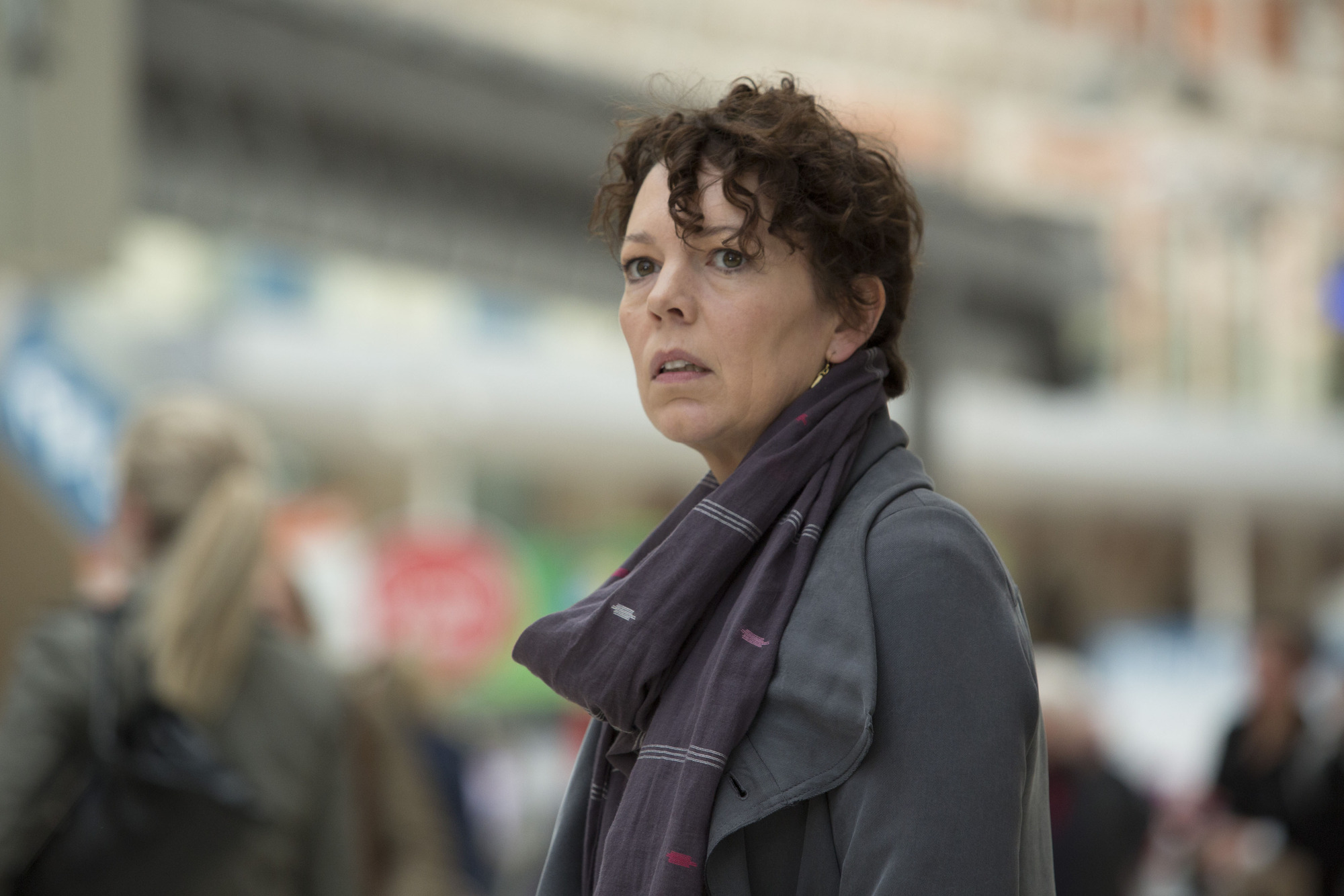 It's particularly hard to sympathise with Morrissey's character: his wife Maggie (Olivia Colman, pictured right, occupying the only role with any dignity) is patient and loving with a wry sense of humour, and reserves so limitless for the couple's aspiring actor son and brat of a daughter that when she reveals she does in fact have a job too it's pretty surprising. He's also the sort of character who'd buy the aforementioned book and spend an entire commute gazing at a near-perfect stranger while she is sleeping, and yet will not offer to walk her home the night that they both miss the train through drinking and don't arrive back until 1am.
Of course, Nicholls has never been one for trite, happy endings: the second part of the drama, in which Carl and Sally had to face up to the realities of their affair and the effect that its reveal would have on their loved ones, was both more interesting and more believable than the first. Again, however, it's a typically understated performance from Colman that holds the story together and provides its most realistic moments.
The lack of spark between the two ordinarily magnificent leads posed a bit of a problem
rating
Explore topics
Share this article