Monroe, ITV1 |

reviews, news & interviews
Monroe, ITV1
Monroe, ITV1
James Nesbitt's know-all neurosurgeon finds House isn't at home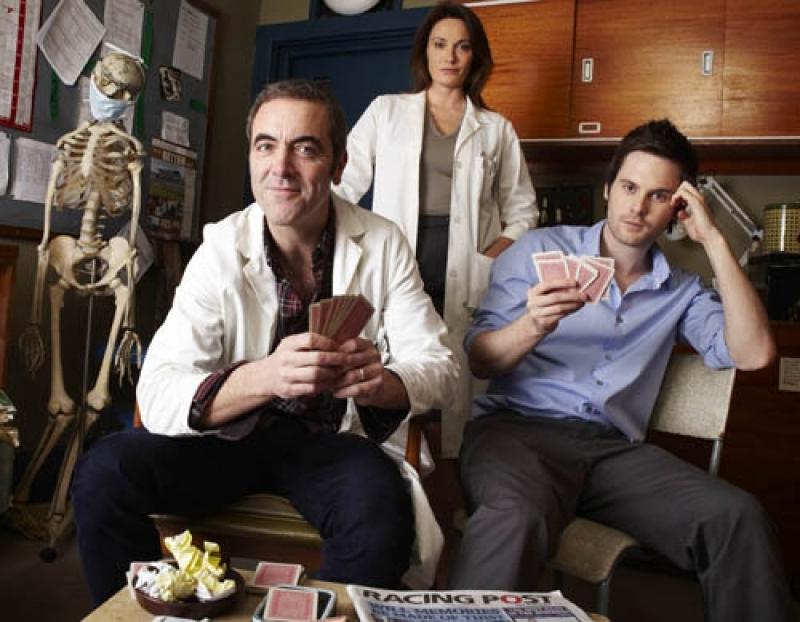 James Nesbitt (left), Sarah Parish and Tom Riley take a break between emergencies at St Matthew's hospital
James Nesbitt has always looked full of himself and too bumptious for comfort, so who better to play a smart-arse neurosurgeon who prides himself on his rock-steady hands and steely nerves? "What really matters is how well you handle losing," he bragged to his attending team of young doctors as they gathered round the latest sawn-open skull, delivering the line with the air of a riverboat gambler striking a match on the sole of his boot.
He was showing his underlings how to insert a pressure-relieving catheter into the patient's head, a bread-and-butter routine – a no-brainer, even – within the neurosurgical community. "Get it right, and no one's impressed," rapped Monroe. "Get it wrong, it's catastrophic." OK, we understand – it's our life in his hands. Did we really need it spelled out in Hollywood-sign capitals even before the opening titles and horrid pseudo-Celtic theme tune rolled?
Nesbitt's character, Gabriel Monroe, is the superstar surgeon of St Matthew's hospital in Medicodramaville. He thinks he is anyway, though he can hardly walk down a corridor without bumping into cardiac specialist Jenny Bremner (Sarah Parish, pictured below) who's always keen to drag a screwdriver along the gleaming bodywork of Monroe's ostentatious four-by-four stretch-ego.
"I'm just indifferent to your twinkly self-regard," she announced, though her accompanying look of heavy-lidded contempt had already made the line redundant. Low-level bickering is their preferred form of communication, with Monroe keen to stress that while a cardiac surgeon can merely keep you alive, a neurosurgeon is in charge of your very soul and personality. "The heart, when it comes down to it, is just a pump," he announced dismissively.
Having set up this somewhat pantomimic conflict of head versus heart, writer Peter Bowker did at least mix up his metaphors. He made the heart surgeon heartless, an empathy-free careeroholic incapable of sharing the emotional suffering of her patients and their families. By contrast, behind Monroe's glib bravado it looks like there's a wasteland of emotional wreckage, like a shanty town blown apart by Hurricane Angst. As we neared the close of this first episode, Monroe and his wife Anna (Susan Lynch, pictured below) took their son Nick (Perry Millward) off to begin his university course in philosophy. As soon as the Monroes arrived back home, Anna informed Gabriel that she was leaving him. He was perplexed. Then she reminded him about an affair he'd had six years earlier, the memory of which she'd been systematically stoking up like an internalised volcano.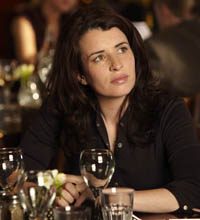 Hospital rules stipulate there must be a Case of the Week, and Sarah Smart did the inaugural honours as Alison Bannister, suffering from a benign but progressive brain tumour which Monroe persuaded her he must remove. An eddy of synthetic panic was whipped up over her slow recovery from surgery, but what Bowker really wanted to get at was the way her husband instantly decided to abandon her when he thought she'd been left brain damaged. It was left to Monroe, suddenly becoming wistful and introspective, to supply philosophical balm. Pussy.
Some have suggested that Monroe owes a debt to Hugh Laurie's House, but while it may use House-esque "walk and talk" tracking shots, the show's ambitions are trivial by comparison. Dr Gregory House is a misanthropic genius, using his blinding intellect and caustic wit as investigative weapons in an unsentimental quest for the correct diagnostic outcome (at least that's how it used to be, though now we're into season-seven atrophy). Monroe, on the other hand, is a mere technician with attitude, and a highly insecure one at that.