The Beaux' Stratagem, National Theatre |

reviews, news & interviews
The Beaux' Stratagem, National Theatre
The Beaux' Stratagem, National Theatre
Energetic and irreverent comic delight from start to finish
On guard: Dorinda (Pippa Bennett-Warner) tackles an assailant in a climactic fight scene
Between Light Shining in Buckinghamshire and Everyman it was beginning to look like we were never going to get a proper, uncomplicated laugh in Rufus Norris's National Theatre. Thank goodness for Restoration comedy, stepping into the breach as reliably as it did with The Man of Mode in 2007 (who could forget Rory Kinnear's Sir Fopling Flutter?).
Throwing everything and the ancestral silver at the play, director Simon Godwin delivers an evening generous with wit, joy and affection. There are no big concepts here, just energy and irreverence, and it works a treat.
Farquhar's The Beaux' Stratagem is the genre at its late-flowering best – commenting on conventions even as it embraces them, subverting with a smile, a quick quip, and an even quicker closing divorce. It's Restoration-lite, without many of the era's more unpalatable attitudes or prejudices, and thanks to a dramaturgical nip and tuck from Godwin and Patrick Marber (like the finest surgeons, you'd barely know they'd been at work), it has never felt so freshly contemporary.
A romping theatrical seduction that had my critical skirts up around my ears from the first scene
Aimwell and Archer (Samuel Barnett and Geoffrey Streatfeild) are the two titular Beaux. Having "spent, wasted, wagered and burned" their way through London, they plan a progress around England's rural towns, disguising themselves as master and servant (alternating roles, naturally) in hopes of ensnaring a rural fortune apiece before their penury is discovered. While they do discover the predictably sweet-natured virgin heiress (Dorinda, Pippa Bennett-Warner) they also discover an unhappy and outspoken wife (Mrs Sullen, Susannah Fielding), a band of highwaymen, an eccentric herbalist, a French priest with a suspicious Irish accent and an imprisoned French officer.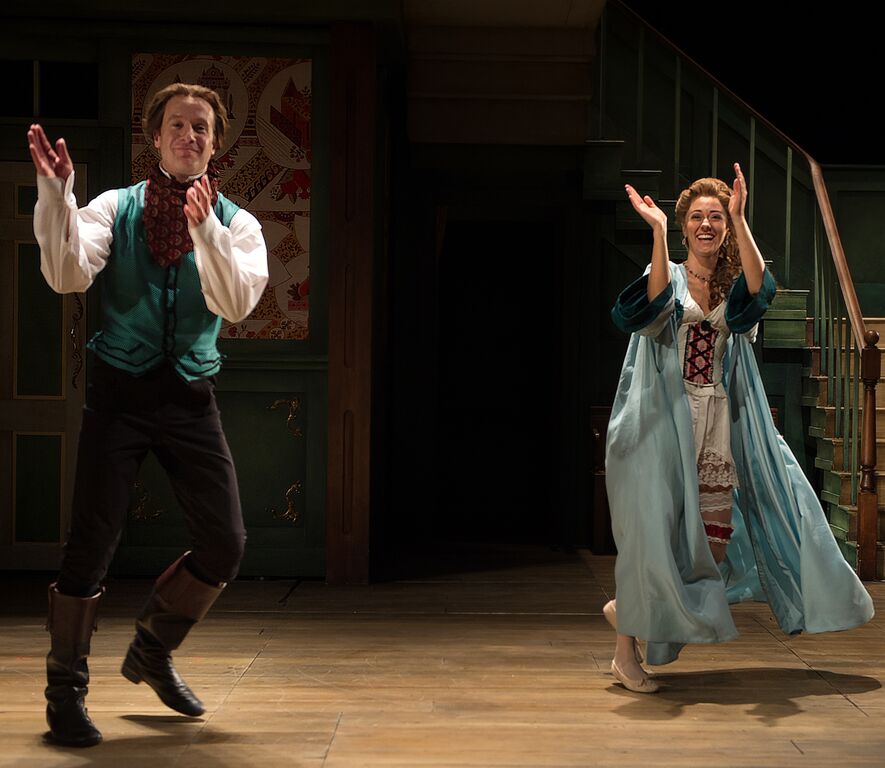 It's the stuff of pantomime, and Godwin decides to play it as such, balancing the play's strange sincerity with a riot of music, dance, song and silliness that takes flight against the neutral traditionals of Lizzie Clachan's design. The performances are what matter here, propelled by the pulsing rhythms of Michael Bruce's gloriously anachronistic folk score, performed live by a crack band of musicians who appear helpfully centre-stage every time a character threatens to break into song (even bringing out an accordion for Count Bellair's French balladry). A final jig of rare energy rivals the Globe's finest.
It's all rather reminiscent of Josie Rourke's The Recruiting Officer at the Donmar. But where Rourke played her Farquhar straight, with a wholesome country burr to its comedy, Godwin's is altogether more metropolitan – polished, knowing, in on the joke. The physical comedy is a joy to watch, its timing as exact as the verbal pratfalls and punchlines that come thick and fast.
This is a smart text, and the cast make the most of it. Barnett and Streatfeild are a charismatic double-act, wooing, swooning, swashbuckling and unbuckling with equal aplomb. Barnett manages the tricky sleight-of-hand that sees him transform from seducer to sincere lover with nicely judged delicacy, while Streatfeild romps his way through Archer's every excess.
Susannah Fielding's Mrs Sullen (pictured above right with Streatfeild) is pertly pretty, alive to every suggestion of her arch dialogue, with enough magnetism to hold the dramatic centre of this chaotic comedy. If hers isn't precisely the broken, occasionally bitter, woman that Farquhar's text allows for, she's spirited enough in her delivery to command the Olivier, even in the author's stiffest moments of rhyming declamation. Bennett-Warner makes a nice job of the rather thankless task of playing it straight while all around her indulge in ever-more extreme comedy, notably Chook Sibtain's mad-eyed Gibbet and Jane Booker's deliciously bonkers Lady Bountiful. Pearce Quigley does what Pearce Quigley does best and steals every scene he's in as the laconic servant Scrub, and Amy Morgan's winsome Cherry (pictured above left) is the perfect country foil to Fielding's cynical Sullen.
Godwin's Beaux is disarming indeed, a romping theatrical seduction that had my critical skirts up around my ears from the first scene. I'm not sure that the director's grand claims for Farquhar's play as a "proto-feminist" piece of theatre hold water, but then I'm not sure that it really matters, either – you'll be having far too much fun to worry about politics, sexual or otherwise.
A riot of music, dance, song and silliness that takes flight against the neutral traditionals of Lizzie Clachan's design
rating
Explore topics
Share this article