Carmen, English National Opera |

reviews, news & interviews
Carmen, English National Opera
Carmen, English National Opera
Broad brushstrokes and big voices in Calixto Bieito's pacey but half-cooked Bizet
Justina Gringyte as the car girl
Crotch-grabbing, suggestions of oral and anal sex, stylized punching and kicking and other casual violence offer diminishing returns in your standard Calixto Bieito production. Sometimes a scene or two flashes focused brilliance, which only makes you wonder why he doesn't apply the same rigour throughout.
His 17-year-old
Carmen
has more such fitful insights than most of his other shows, and they're very much complemented here by assured conducting and singing to make this punchy edition of Bizet's amazing score, shorn of most of its dialogue, flash past at an energetic and colourful pace in its second run at ENO.
Even so, I'd challenge anyone to read a rather cheeky programme note interpreting Bieito's production points and find much that tallied in the performance. Late Franco era? Chances are that won't be clear. The point of the Lillas Pastia figure, an innkeeper whose car is his bar, tottering drunkenly on at curtain-up to Carmen's own fateful music? The borderland wasteland-plus-beach location? Didn't come across to me. And centrally flawed, surely, is the notion of Carmen as nothing but victim; in her final confrontation with a jealousy-maddened José, she needs to be proud and frightened simultaneously, not just teetering around terrified.
Yes, I buy the Romany girl as a bottle-blonde eastern European immigrant (albeit anachronistically located in the 1970s) with an outsider's accent. Bieito's first Carmen at ENO, Ruxandra Donose, was Romanian, and Justina Gringyte hails from Lithuania, but neither comes close to the proud, inflammatory sensuality of Latvian Elina Garanča, the only Carmen I've ever seen to convince on a stage and a bit too pricey for ENO. Our heroine needs to be her own person much more than someone who seems compelled to put it about a lot for cash.
Gringyte has a vibrant, metally tone, a true mezzo, but needs to refine it, as the lighter Donose could, for the French suavity rife in Bizet's version of Spain. Any Opéra Comique elements, such as the needlepoint quintet in Act Two, have to be sacrificed to Coliseum size, and there's not a great deal of refinement anywhere, though Richard Armstrong's conducing has dash and a confidence born of long-term experience even while it lacks a bit of rhythmic precision.
Impressive voices do fit the four main roles, though. This time we have a José of impeccable tenorial style in Eric Cutler (pictured above with Gringyte in Act Two), singing the much-debated top B flat in the Flower Song very quietly in head voice, as the score asks, and letting rip in the anguish of the last two acts, but with a finesse that should make his forthcoming Florestan and Lohengrin worth hearing.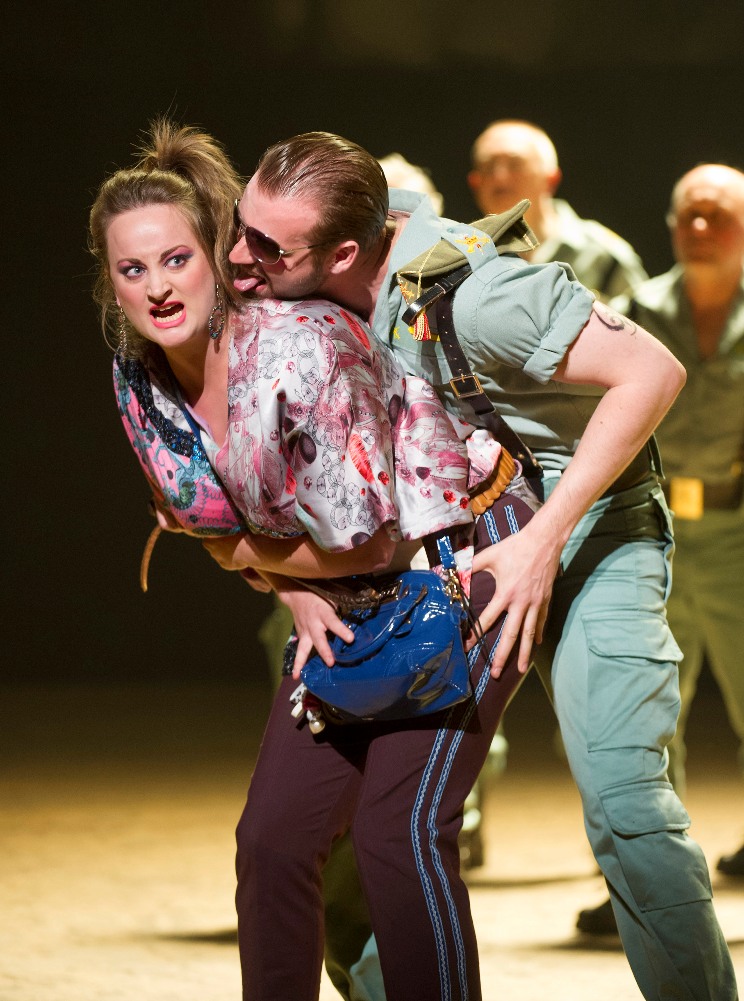 Eleanor Dennis (pictured left with George Humphreys' strong Corporal Moralès) is almost as impressive as the first of Bieito's Micaëlas, the glorious Elizabeth Llewellyn, equally at home in long lyric-dramatic phrases, though she has to try and pull off the director's tricky characterization of a come-hither, stand-back girl from the provinces.
Fellow Scot - half-Scot, to be precise - Leigh Melrose returns as Escamillo, delivering a superbly energized Toreador Song with ringing top-note bravado; probably not his fault if the offstage repeat in the next act was virtually in a different key from the orchestra last night.
By then the visual impact of Alfons Flores's geographically indeterminate set – and is it day or night in the outer acts, where bright lights sit ill with pocket-camera flashes? – has gone up several notches. There are two Mercedes in Act Two, the character as spiritedly sung by Clare Presland and one with an engine to thump on – and six in Act Three, enough to evoke the smugglers' lair more vividly than you'll ever have seen it before (though the women have no costume change, suggesting they've come straight on from Lillas Pastia's zone before the interval), and no time for Carmen's brief liaison with José to sour). Queasy as it is, I don't find it gratuitous that Merc's pretty-in-pink, clearly abused daughter should be part of the package for the customs men.
Come the extra-bullring denouement, and Bieito reverts to convention, though rather beautifully – switching with the help of Bruno Poet's ever versatile lighting from a raucous, waving crowd scene to Escamillo alone in toreador garb singing of his love for glammed-up Carmen. The final scene is predictably set within another ring of chalk; no surprises here and good, straightforward singing. You'll not be bored, but don't expect much finesse. That you'll probably get at Glyndebourne, an arena more fit for Bizet's crucial intimacies.
In her final confrontation with a jealousy-maddened José, Carmen needs to be proud and frightened simultaneously, not just teetering around terrified
rating
Explore topics
Share this article