Prom 14: Prokofiev Piano Concertos
Prom 14: Prokofiev Piano Concertos
Five-work marathon showcases exceptional pianists and the less familiar specimens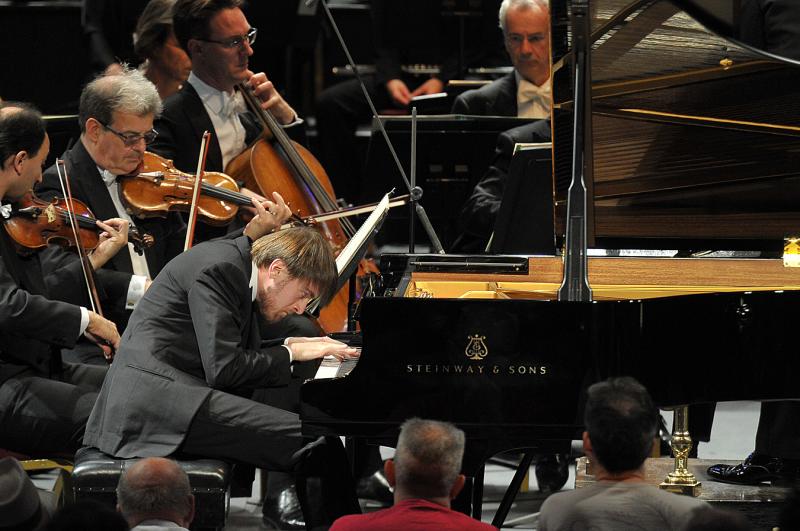 Daniil Trifonov: 'an austere but committed reading of the First Concerto'
Gergiev's programme for this concert raised eyebrows when the Proms were announced: all five Prokofiev piano concertos, presented in chronological order, over the course of a long evening. As it turned out, he had some good reasons for his plan. The three Russian pianists he lined up – Daniil Trifonov (Concertos 1 and 3), Sergei Babayan (2 and 5), and Alexei Volodin (4) – had between them the talent to carry any programme.
And the composer benefited too, with his Fourth and Fifth Concertos, both difficult works to programme, finding a natural home, and both appearing for the first time at the Proms.
Daniil Trifonov (main picture) opened the proceedings with an austere but committed reading of the First Concerto. Trifonov has a distinctive sound, precise, clean and focused. He is expressive, but not flamboyant or sentimental. In short, he is an ideal pianist for Prokofiev, and there was little to fault here.The bold opening statement was given with a strident but austere determination, setting the tone for the whole piece. There is a deceptive power behind Trifonov's technique: he'll be pushing through fast passages with astonishing speed and accuracy, but then he'll accelerate into a cadence, faster still, and without any compromise to his precision or the evenness of his tone. An impressive start to the evening.
The Second Concerto was performed by Trifonov's former teacher, Sergei Babayan (pictured above). They are similar pianists, both very much of the Russian school: definite touch, articulation focused and directed phrasing. But Babayan is a more lyrical pianist, better able to bring out the melodic lines above Prokofiev's virtuosic textures. Both give that impression of understated virtuosity that Prokofiev demands, and Babayan too is able to make the long passages of runs seem effortless, including the one that makes up the entire second movement of this concerto. His greatest moment was the intense cadenza of the first movement, played with a paradoxical mix of weighty conviction and deftness of touch.
Impressive performances both, from teacher and pupil, but it was the latter who triumphed, with a reading of the Third Concerto that surpassed anything else this evening. Here again Trifonov played with that steely precision, but also moments of warmth too. Nowhere else in the concert was raw virtuosity so effectively put into the service of musical expression. And Trifonov demonstrated that the distinctiveness of his touch was not at the expense of variety of expression. Some of the more atmospheric quiet music of the finale sometimes seemed somewhat literal, suggesting that, just for once, Prokofiev's expression had become more Romantic than the pianist was willing to indulge.
The applause that followed this concerto was by far the loudest of the evening, suggesting that the relatively obscure items ahead might prove an anticlimax. In fact, both the Fourth and Fifth concertos are so different to their predecessors that there was little sense that they were acting as summation here. The Fourth Concerto is for the left hand: like Ravel's it was written for Paul Wittgenstein. But Prokofiev evidently had a lower opinion of Paul's abilities than Ravel, and produced a much more straightforward work, in which the left hand usually carries just a single line. It's an attractive piece though, and received an excellent performance from Alexei Volodin (pictured above). Little effort was made here to make the music sound sophisticated. There is certainly virtuosity to the piano writing, but it is set within a neoclassical framework where over-interpretation could only distract. The modest scoring allows the piano's lines to come through, although there are occasional moments of drama, and Volodin had the weight of tone to ensure he was always heard.
The Fourth and Fifth Concertos are similar in spirit, and of common vintage. After Wittgenstein rejected the Fourth, Prokofiev immediately set about writing the Fifth for his own use. Both are adventurous structurally, in four and five movements respectively, many of which are short and end abruptly. Babayan returned to give a playful and energetic account. Prokofiev never seems to quite decide on what role he has in mind for the soloist here, but Babayan was happy to project whatever idea or mood the composer was following at each moment. His passagework was not always as precise as the music demands (what might Trifonov make of the work?), but it was still an assured reading.
Valery Gergiev (pictured above) and the London Symphony Orchestra were on top form throughout their long evening. All the demanding woodwind and brass solos were delivered with panache, and the strings offered ideal support for each of the soloists. Gergiev was never the passive accompanist, and there were occasional moments when he and the pianist seemed to be vying for authority over the tempo. But all round this was a success for him. Gergiev's eccentric programme was fully vindicated, even if it was Trifonov who ended up stealing the show.
Nowhere else in the concert was raw virtuosity so effectively put into the service of musical expression
rating
Share this article