Imagine My Curious Documentary, BBC One |

reviews, news & interviews
Imagine... My Curious Documentary, BBC One
Imagine... My Curious Documentary, BBC One
Multi-layered 'mockumentary' both enlightens and baffles
Wednesday, 11 November 2015
Tony Award winner Alex Sharp in the New York production of 'The Curious Incident of the Dog in the Night-Time'
This "mockumentary" concerning the play The Curious Incident of the Dog in the Night-Time was incredibly well-intentioned and unintentionally baffling. It operated on so many levels at once that the viewer could all too easily keep falling through the cracks. Was it about the wonderfully successful play and its productions, the novel that inspired it, or, in the real world, children and adults on the autistic spectrum, and their interaction with society?
The conceit is that the programme was itself a documentary made by Christopher Boone, the 15-year-old hero, about the play in which he was the protagonist, a boy who could not understand why people did a lot of talking without saying a word. The play was written by Simon Stephens (pictured below right), friend to Mark Haddon, author of the novel which was published in 2003. Christopher was a 15-year-old who found other people confusing and disturbing, wary of anything fictional, as fiction was lies. We were already layers in with a fiction perpetuated by a ferociously opinionated hero who despised fiction.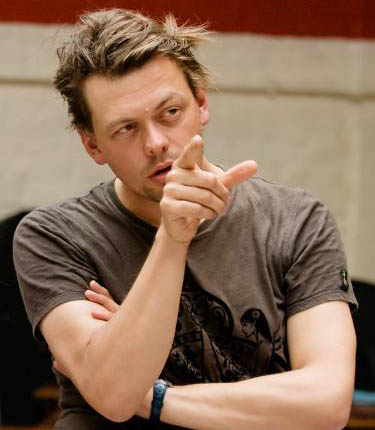 But beyond the play and the novel, we were also shown a range of attitudes and real stories about children in particular, whose brains were wired differently from the vast majority, who had difficulties with social interaction, were often dependent for functioning on ritualised behaviour and self-imposed routines, and were also at times gifted with unusual mathematical ability. To this end we visited a London school for autistic children, Holmewood, and met several of the children; the middle-class home of one charming young pupil, whose routine had to be posted on the refrigerator door, to be followed exactly; a less socially advantaged mother coping with an autistic son in his mid-twenties who, while functioning up to a point, could not cope on his own.
There were extensive interviews with Professor Simon Baron Cohen (pictured below left), director of Cambridge's Autism Research Centre, who had a poignant conversation with an adult, Alex Kavotsky, a tutor and PhD candidate at Cambridge who had just been diagnosed as autistic. He gave a heartrending account of his inability to make social connections, the comfort he found in the certainty of algebraic constructions, and the beauties of mathematical proofs. Baron Cohen stressed, too, the increasing appreciation of the non-conformist minds on the autistic spectrum, that these minds might be the real revolutionaries.
Mark Haddon explained that it all began because, with his own dark sense of humour, he found the notion of a dog killed with a garden fork funny – the "curious incident" phrase stemmed from Sherlock Holmes short story "Silver Blaze", where the fundamental clue was that the dog did not bark in the night. Cue clips from a hilariously uptight 1937 film of that Holmes story, with a few glimpses of the current Cumberbatch version thrown in. Holmes, we were to infer, was on the autistic spectrum.
We learned that 10 million copies of the book have sold worldwide, translated into 40 languages, and for a bit of Asperger's number-crunching, that left a mere 6,400 languages which have not yet had the benefit of the novel. Marianne Elliott, the director of all three productions of the play, suggested that she, Stephens and Haddon (pictured below) probably had shared insights because of their own experiences of isolation. The complex production design, computers, lighting and all, devised by Bunny Christie, was supposed to suggest a lab in which we learnt about Christopher's brain. The linchpin for the programme was a most remarkable and articulate young woman, Robyn Steward, described as the autism consultant to the initial National production. She told us that from age 12, she thought she would always be lonely, isolated from "neurotypicals" (ie those not on the autism spectrum).
Confusions arose, however, as we shuttled between the several productions, the special schools, the families, author, director, playwright, designer and actors (including the charismatic Alex Sharp, who at 25 was cast straight from Juilliard onto Broadway as the lead and became the youngest actor ever to win a Tony). What may have been unintended was the insight into the staggering care and attention to research, technical innovation, and intensive rehearsal that went into the original production, revealing the sheer grit and skill needed to get such a complex play to the stage.
What was most apparent was a kind of special pleading. The semi-exposed thrust of the mockumentary was that the success of both novel and play meant that we were all being educated to learn to accept differences, to understand outsiders better. The programme though was perhaps too long on charm (and long in general, at 80 minutes) for the message to be wholly realistic. No severely autistic child was brought into the light that shone on Christopher.
The success of both novel and play meant that we were all being educated to learn to accept difference
rating
Explore topics
Share this article
Subscribe to theartsdesk.com
Thank you for continuing to read our work on theartsdesk.com. For unlimited access to every article in its entirety, including our archive of more than 10,000 pieces, we're asking for £3.95 per month or £30 per year. We feel it's a very good deal, and hope you do too.
To take an annual subscription now simply click here.
And if you're looking for that extra gift for a friend or family member, why not treat them to a theartsdesk.com gift subscription?