Cavalleria Rusticana/Pagliacci, Royal Opera |

reviews, news & interviews
Cavalleria Rusticana/Pagliacci, Royal Opera
Cavalleria Rusticana/Pagliacci, Royal Opera
Verismo gets horribly real in this thrilling new production of two Italian classics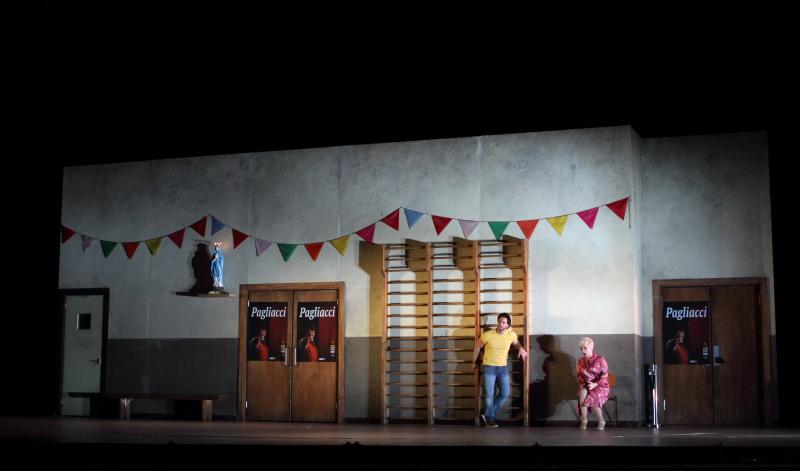 Michieletto's lightly-worn concept sees the two opera connected as a single continuous narrative
You can forgive a certain amount of scepticism. After his now-infamous Royal Opera debut earlier this year, directing a Guillaume Tell that was heavy on concept and light on just about everything else, Damiano Michieletto returns for a Cavalleria Rusticana/Pagliacci that sounded as though it might go the same way.
In the flesh, however – and what work-calloused, life-blasted
verismo
flesh it is too – the production is thoughtful and instinctively theatrical – as good a new show from the company as we've seen all year.
Imagine the primary-coloured joy and pastel innocence of the Royal Opera's 1950s L'Elisir some thirty years on and you have Michieletto's Cav/Pag. The small-town Italian optimism has curdled into disillusionment and poverty is now no longer the hopeful beginning but the cynical end to the story.
Elena Zilio's Mamma Lucia never moves but she says volumes
The sense of entrapment is heightened by Michieletto's elegant interweaving of his dual narratives. Neither we nor his characters can escape tragedy at the interval; just as Nedda and Silvio meet, flirt and kiss during the action of Cavalleria Rusticana, so the still-heartbroken Mamma Lucia and pregnant Santuzza must comfort one another against a backdrop of theatrical excitement in Pagliacci. Verismo's dramatic gradient is a steep one, often struggling to reach its peak before crashing right down again in a single act. Michieletto's integrated storytelling reimagines this, trading two steep melodramas for a single one, all the more potent for its more gradual, cumulative build.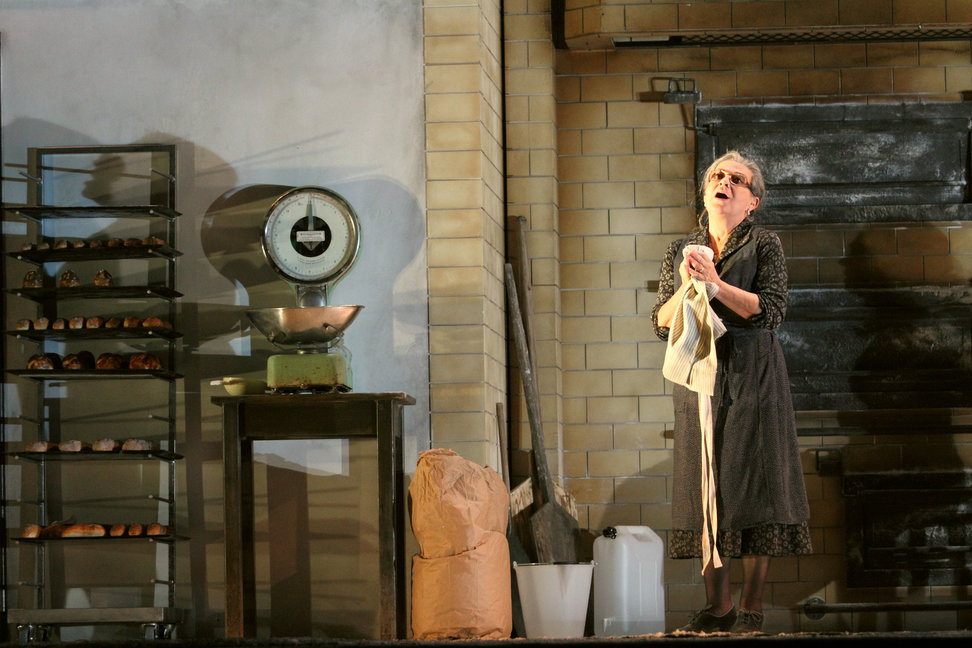 The concept relies on singers capable of acting through the visual noise of crowds (magically amplified by Alessandro Carletti's lighting), children, a spectacular (and spectacularly vulgar) procession in honour of the virgin, and the general chaos of small-town life, all played-out on designer Paolo Fantin's neat revolve. In Elena Zilio's Mamma Lucia (pictured right), Michieletto has a gift – the emotional anchor of the piece, she never moves but she says volumes. Which makes it all the more frustrating in the odd moments where Michieletto gets heavy-handed, demanding protracted and unnecessary weeping and howling from a woman who – as someone near me observed – would be much more likely to face tragedy by baking a loaf of bread than by wandering the streets screaming.
Eva-Maria Westbroek's Santuzza – likewise – keeps her emotions close to the surface. Unlike Zilio, however, whose lived-in voice transforms these raw feelings into something beautiful, Westbroek's is a rougher take on the tale. Her voice struggles to fit itself into Mascagni's melodic confines, beating against the orchestra with her wide vibrato. It's effectively, devastatingly unlovely; this is grief without the Italian gloss, which may suit Michieletto's cause but makes less sense of Mascagni's.
Though his Turiddu is passionate and strongly projected, it's as Canio that Alexandrs Antonenko comes into his own. Brilliant in its middle register, there's now a tightness to the top of his voice that comes close to derailing him both at the start and in his Brindisi. But things get more grounded later, climaxing in a "Vesti la guibba" that's both controlled and menacing in its beauty. It's the equal and opposite balance to Dimitri Platanias's Prologo – laconic humour turning to sudden vocal violence.
At the centre of Leoncavallo's love-triangle is Carmen Giannattasio's Nedda, a woman whose bitter, brittle relationship with her husband is shocked from her mind by the tentative sweetness of Dionysios Sourbis' Silvio. Thanks to the addition of some crucial backstory in Cav, this romance carries more heft than usual, giving both Platanias and Antonenko something real to chafe against, and adding fuel to the desperate hopes of "Stridono lassu". Another twist sees the opera's play-within-an-opera break its frame, spilling back out into real life – projections of Canio's jealous fantasy? It's unclear, but set against the loving realism of the chorus action and the uncomplicated generosity of the musical delivery under Antonio Pappano, it generates thrilling friction – a moment of climatic excess that takes this Pagliacci over the dramatic edge.
It's a rare year in which neither Cav nor Pag are their composers's first appearances in the opera calendar. This production comes hot on the heels of revelatory performances of both Guglielmo Ratcliff (Wexford) and Zazà (Barbican), and with a Chenier also on offer from the Royal Opera this year could verismo at last be having a moment that goes beyond Puccini? Let's hope so.
Brilliant in its middle register, there's now a tightness to the top of Antonenko's voice that comes close to derailing him
rating
Explore topics
Share this article