Rinaldo, The English Concert, Barbican review - Bicket's band steals the spotlight
Rinaldo, The English Concert, Barbican review - Bicket's band steals the spotlight
Handel's London opera still serves up the sensations 300 years later
Jane Archibald, Joelle Harvey and Iestyn Davies in this concert 'Rinaldo'
It was the work with which Handel conquered London, the Italian opera that finally wooed a suspicious English audience to the charms of Dr Johnson's "exotic and irrational entertainment". Three hundred years later, neither Rinaldo nor London's audience has changed much.
The opera is still a musical patchwork of greatest hits loosely stitched together with an outrageous Crusading plot, while the opera-going crowd still doesn't mind at all, so long as it comes with a good bit of spectacle and some baroque razzle-dazzle – both of which were abundantly supplied at the
Barbican
by Harry Bicket and his superb players.
In the absence of the mermaids, fire-breathing dragons and live flock of sparrows that caused a stir in 1711, the thrills were strictly musical in this concert performance, but Bicket and his team are wizards of another hue, and their enchantments would have given any Armida a run for her money, with or without a Saracen army in tow.
First there were the trumpets – four of them – battering us with a fusillade of power and agility, setting the scene for Luca Pisaroni's gloriously villainous entrance-aria "Sibilar gli angui d'Aletto". Then it was the strings, announcing "Furie terribili" in a hot cloud of semiquaver sparks, before Tabea Debus coaxed liquid-throated loveliness from her recorder in the trilling, warbling obbligato for Almirena's "Augelletti che cantate", and cellist Joseph Crouch offered his delicate, rhetorical commentary to Goffredo's "Sorge nel petto".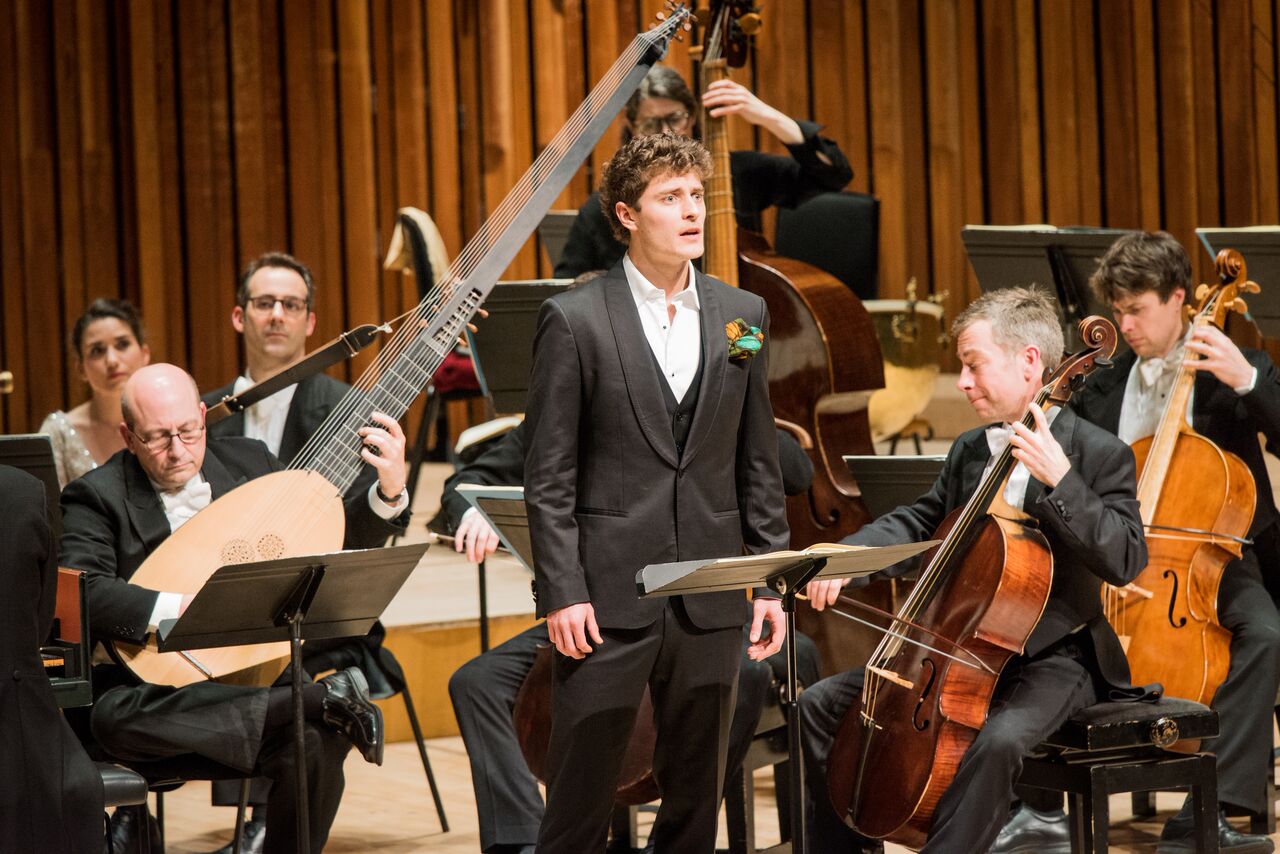 But that was all a mere preamble to Tom Foster's harpsichord interludes in "Vo' far guerra" – episodes Handel himself originally improvised, and which here bent the sonic drama into an entirely new shape, gleefully, wittily, impossibly surreal in their harmonic game of free-association. Who needs a flock of sparrows when you have the swarming agility of Foster's counterpoint – an aural murmuration of staggering skill?
We've come to expect outstanding casts from these performances, but this one was notable not just for its established stars, but for a number of new names and less familiar faces. We don't see nearly enough of mezzo Sasha Cooke in the UK, and while the role of patriarch Goffredo sits unhelpfully low in her register, the da capos did give us some tantalising glimpses of this syrup-rich voice. Recently signed by Warner, the 27-year-old Polish countertenor Jakub Jozef Orlinski (pictured above) is an exciting find, making an event out of Eustazio's nothing of an aria "Siam prossimi", and projecting his bright, light voice with ease in the Barbican's awkward acoustic. Young British countertenor Owen Willetts also made a late impression as the Christian Magus.
Coloratura soprano Jane Archibald was all vocal thunderbolts and lightning flashes as Armida, holding her own against the polished theatrical creation that is Pisaroni's slippery Argante – almost, but never quite, succumbing to pantomime. But Joelle Harvey's Almirena refused to let the bad girl have all the fun, disarming any opposition with the restraint and simplicity of her "Lascia ch'io pianga". If Iestyn Davies's full-bodied "Cara sposa" felt like a missed opportunity for introspection and inwardness for the opera's cardboard cut-out of a hero, his "Abbruggio, avampo, e fremo" and "Or la tromba" showed him at his best – spurring on the English Concert's trumpets with his gilded breadth of tone and light-footed ease.
If there were moments during the performance where Bicket's ensemble swayed under pressure, some uncharacteristic smudges and tensions in the texture, these felt like a price worth paying for an evening of music-making that sustained something of the manic, improvisatory energy of Foster's solos throughout – music-making that was anything but safe, rich in both risks and rewards.