Riccardo Primo, Britten Theatre, Royal College of Music |

reviews, news & interviews
Riccardo Primo, Britten Theatre, Royal College of Music
Riccardo Primo, Britten Theatre, Royal College of Music
A operatic curiosity that is better heard and not seen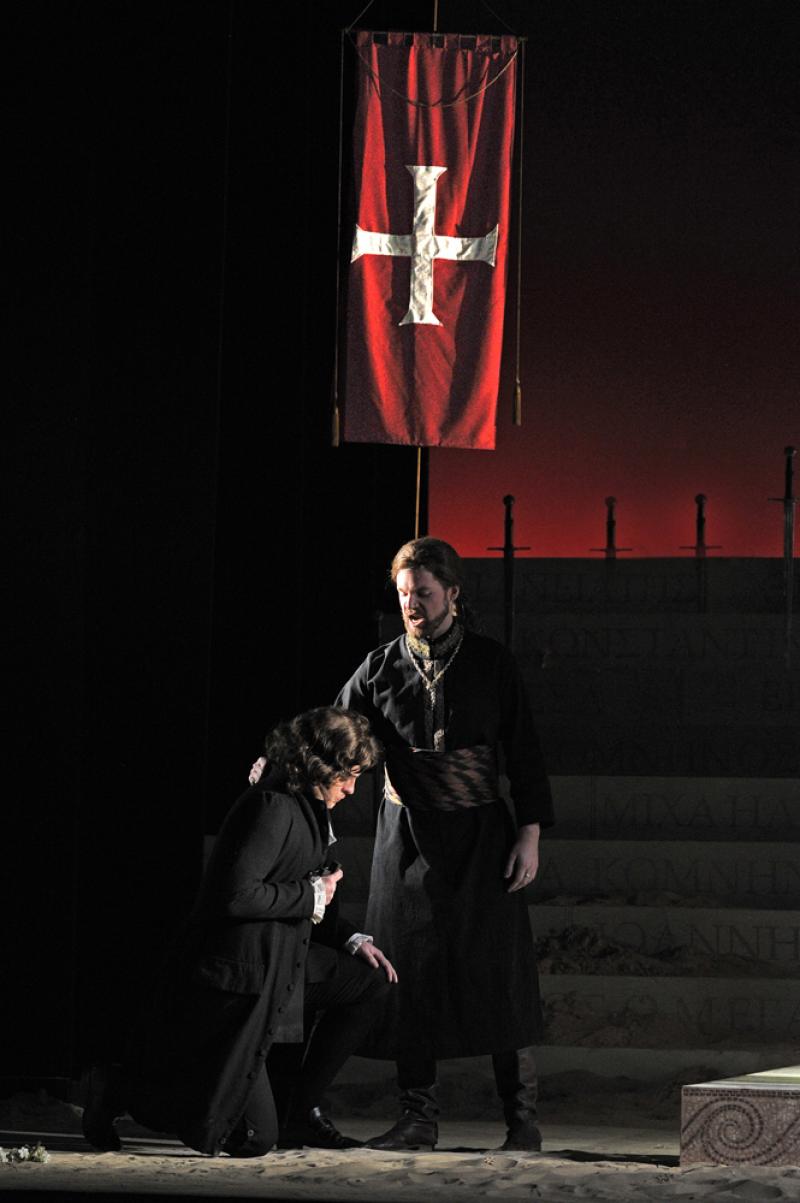 Isacio (Edward Grint) plots and schemes the downfall of Richard the Lionheart
No greater proof of the potency of the current Handel revival can be found than the London Handel Festival, now in its 35th year. The festival continues to fill concert halls and churches across London every Spring with the composer's chamber repertoire, but it is the annual opera that remains unquestionably the main event.
No matter how abstruse the choice (and this year's
Riccardo Primo
– unperformed in London for some 20 years – is surely as unfamiliar as it gets) audiences return, lured by the energy of the festival's Musical Director Laurence Cummings, and his cast of young singers from the Royal College of Music.
Completed in 1727, the unusual and stridently nationalistic elements of Riccardo Primo are only partially explained by the accession of George II. The composer himself also had particular cause to celebrate his adopted homeland, which had granted him citizenship earlier that year. The resulting opera is undeniably celebratory, bright with festal brass and woodwind and peopled with kings and princesses. But while Riccardo Primo's sentiments are beyond reproach, the same cannot alas be said for the libretto, nor even the score.
Festival-goers will be delighted at the return of Eleanor Dennis as Costanza, whose tone only seems to grow in colour and depth
While Handel's music lacks the structural invention and characterisation that we find in his later work, it is solid enough, with a couple of stand-out arias including Costanza's "Il volo così" with its birdlike recorder obbligato, Riccardo's atheletic "All'orror delle", and villain Isacio's "Nel mondo nel abisso". A serviceable score frames a plot however whose skeleton is contorted beyond the endurance of even seasoned baroque enthusiasts. Mistaken identities, kingly quarrels, love denied, lovers reunited – all these shape a work whose characters lack the substance to carry such emotional and dramatic extremes.
A shipwreck separates Richard the Lionheart from Princess Costanza of Navarre – the betrothed he has never met. She finds herself at the mercy of Cypriot tyrant Isacio and his daughter Pulcheria. Struck by her charms, Isacio schemes to send his own daughter to wed Richard and to marry Costanza (Eleanor Dennis, pictured right with Timothy Nelson as Berardo) himself. Wars are declared, schemes thwarted, and Richard ends up not only with the love of his allotted bride, but also the eternal "friendship" of the winsome Pulcheria, now queen of Cyprus.
Opting for a traditional (eighteenth century) setting, complete with splendidly anachronistic armour, designer Adam Wiltshire offers some gorgeous stage pictures – with Pulcheria's jasmine-wreathed salon a fragrant highlight. The many video projections however sit awkwardly with the action – a necessary convenience rather than an artistic choice, and especially in the case of one apparently hijacked by David Attenborough, represent a major misstep on the part of director James Robert Carson.
Direction is a problem throughout. Content for the most part to espouse a rather stolid 1980s approach, with little activity to enliven or inform the da capos, Carson suddenly chooses to subvert the lieto fine dramatically. The result is both unexpected and unclear, and adds too little complexity too late to his cardboard heroes and heroines.
Cummings' orchestra are all guttural punch and swaggering dance, and the trumpets, oboes, recorders and flute add welcome dimension and colour to the action – kept mercifully efficient by Cummings' tempos. The cast are a rather more mixed affair however, not quite equalling the quality recently on offer.
Regular festival-goers will be delighted at the return of Eleanor Dennis as Costanza. Her tone only seems to grow in colour and depth, offering welcome light and shade to the rather unremitting gloom of her character. It's not a role of particular virtuosity, but the occasional glimpses are enough to remind us what this talented young soprano is capable of.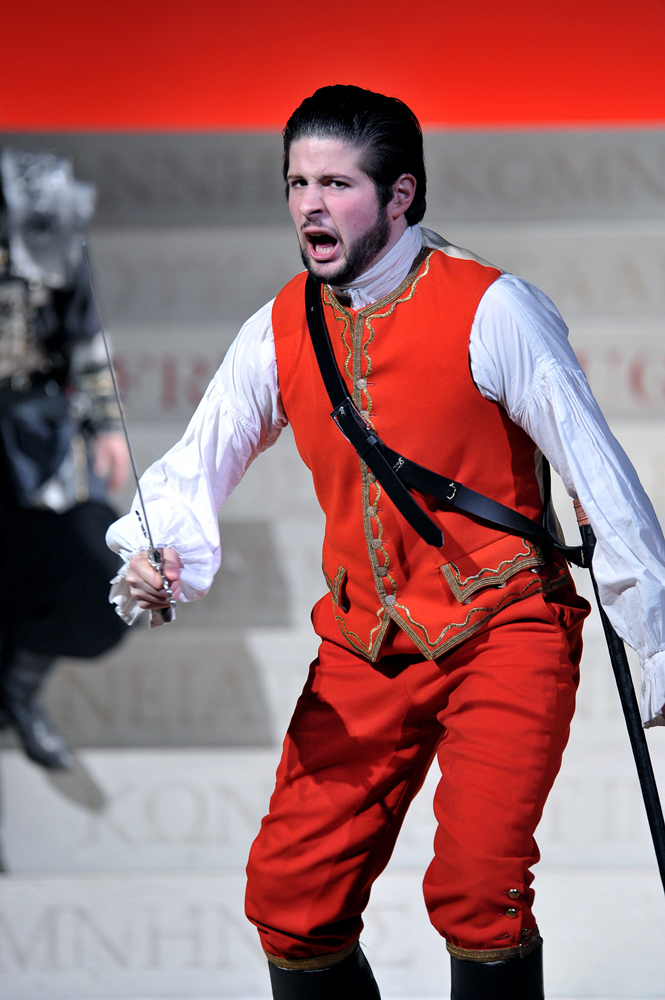 While the audience seemed delighted with Emilie Renard's Pulcheria, whose charm is undeniable, her vocal quality is a little less secure. After a rather thin start she warmed up into the role, but the support came and went throughout the evening, a problem also for Fiona Mackenzie's Oronte.
Both Rupert Enticknap's Riccardo (pictured left) and Edward Grint's Isacio were technically secure (though on the evidence of previous years I'd have been eager to hear Cast B's Jake Arditti in the role of Riccardo). Enticknap felt a little ill at ease with the low-riding register of the role, struggling to project at times, but dispatched most of the coloratura with control. Grint clearly has more to offer than the role permitted, but relished playing the villain, and his "Nel mondo, nel abisso" was a delight.
Whether the fault of direction or the weaknesses of the work itself, Riccardo Primo lacks the sheen of previous Handel Festival productions. Doubtless it will settle into the run, and as a rare opportunity to see this jingoistic curiosity of an opera it should be seized, but I for one am hoping that La Nuova Musica's Il Pastor Fido next month delivers the goods that 2012's main opera couldn't quite produce.
Riccardo Primo is at the Britten Theatre, Royal College of Music until 29 March
A serviceable score frames a plot whose skeleton is contorted beyond the endurance of even seasoned baroque enthusiasts
Share this article