Les Misérables, BBC One, series finale review - more moving than revealing |

reviews, news & interviews
Les Misérables, BBC One, series finale review - more moving than revealing
Les Misérables, BBC One, series finale review - more moving than revealing
David Oyelowo takes Javert's secret motive to the grave, while Adeel Akhtar triumphs
Dominic West and David Oyelowo in 'Les Miserables'
It took the best part of six episodes, but we got there in the end: the reason David Oyelowo accepted the confusingly underwritten part of Inspector Javert in BBC One's adaptation of Les Misérables was finally revealed.
His pursuit of an ex-convict for the theft of a coin stretched across hours and years, and in the process became not so much a single-minded obsession as a kind of exoskeleton that held the character in place. The motive which guided him towards this destination was, alas and bafflingly, never explored.
Before the big moment came, Javert spent some of the last two episodes lashed to a post. A character composed of flesh and bone might have been in need of the lav. Not Javert, who was all spleen, steam and straw. (Compare and contrast with the full-bladdered Bonapartists as they bravely faced the firing squad: "I piss on your blindfold!") When Jean Valjean passed up the opportunity to put a bullet between the eyeballs of his nemesis, the exoskeleton lost its raison d'être. "All is not well," he stuttered, being powerless to conceive of mercy as anything other than a manifestation of insanity. Suddenly unable to finish his sentences, his only course was to finish his life instead with a spectacular suicidal leap into the Seine.
There has been the usual argy-bargy at the expected mustering points about the casting of an actor of Nigerian origin to play a Frenchman of the early 19th century. The real problem was that the part of Javert had few shades of grey and nothing Oyelowo, for all his unarguable gifts, attempted could truly colour him in. As Valjean, Dominic West had much more meat to sink his teeth into in the story of a man constantly grappling with the raw instinct to survive and a higher desire for redemption. He mightily captured the mismatch between Valjean's physical strength and emotional vulnerability. And yet even he wrestled with underwriting, not least at the barricade where in the final episode he was restricted to a silent watching brief as Pontmercy and little Gavroche demonstrated their insouciant moral courage.
The drama's final chapter, which featured an outbreak of life-sparing and moral hand-brake turns, had intensely moving moments. But this adaptation of Les Misérables has not quite managed to live up to the considerable promise of the opening episodes. Where War and Peace, also fitted into six hours by Andrew Davies, had a hurtling narrative conviction, and looked quite splendid, mostly what was on the menu here was a malnourishing diet of sadism and claustrophobia. They were served up together in Valjean's climactic ghastly journey through Paris's maze of sewers.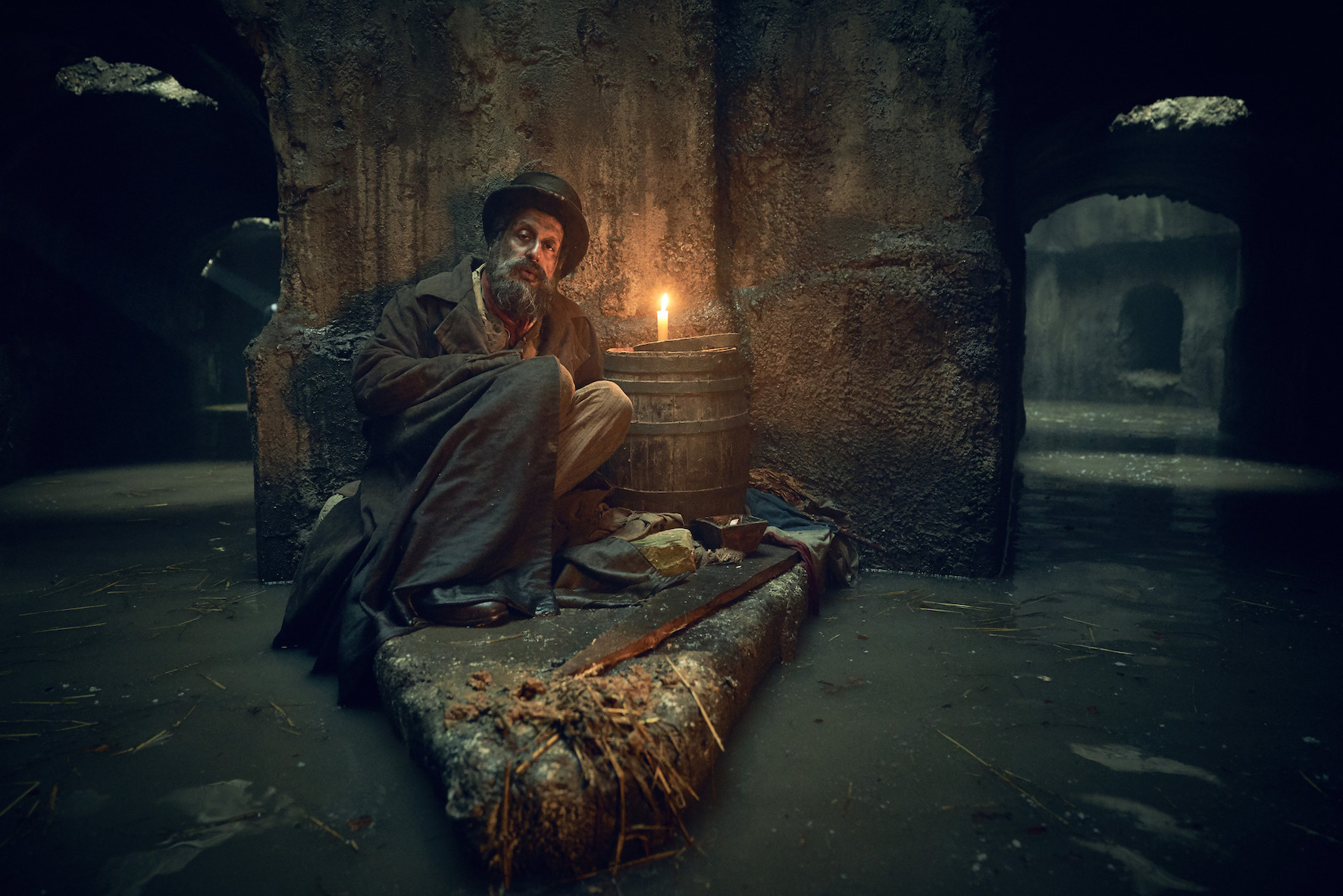 Perhaps it's not fair to compare Hugo's fist-clenched sloganeering ("Comrades, this is a grim moment in our history but a glorious one!") with the psychological complexities of Tolstoy. The women in particular did not fare well. It was left unclear why an actress of the stature of Olivia Colman took on a role with no dénouement. Lily Collins was brutalised as Fantine, but was all that pain worth it to produce, in Cosette, a narcoleptic princess from a fairytale? The most fascinating and complex female character was Eponine: Erin Kellyman made the most of the opportunity, shifting between the gears from flirty minx to wounded animal.
The most seductive performance of all was Adeel Akhtar, who channelled the spirit of Fagin as the chancer Thénardier. Whenever he was on screen, Les Misérables crackled with a keen, malign energy. He genuinely looked like a rat in human form, a creature of the shadows unclean both inside and out. As for the final woe-begotten image of boys begging in the street, they looked as if they'd been exposed to a little too much soap. As perhaps have we all.
The most fascinating and complex female character was Eponine, shifting between the gears from flirty minx and wounded animal
rating
Explore topics
Share this article