Giri/Haji, Series Finale, BBC Two review - a thriller, but much more besides |

reviews, news & interviews
Giri/Haji, Series Finale, BBC Two review - a thriller, but much more besides
Giri/Haji, Series Finale, BBC Two review - a thriller, but much more besides
Bravura climax for Joe Barton's ingenious drama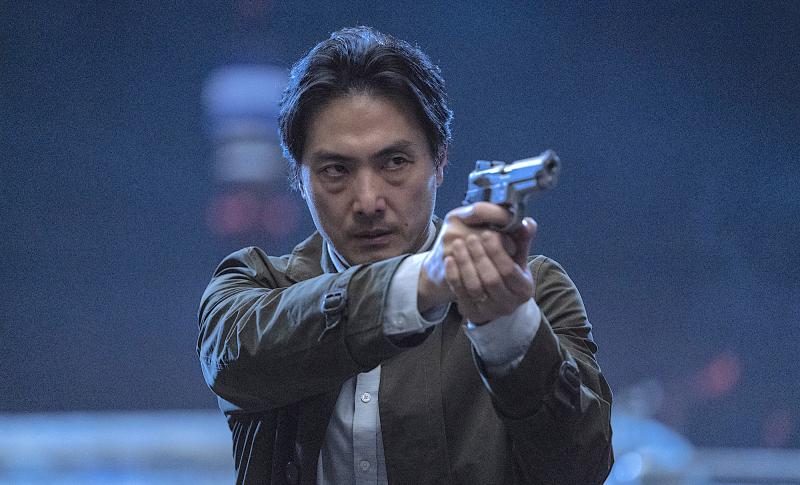 Fair cop? Kenzo (Takehiro Hira)
Happily, Joe Barton's tinglingly original thriller (BBC Two) finished as smartly as it began, not by any humdrum tying-up of loose ends but by giving free rein to the story's ambiguities and impossible choices. If indeed they really were choices.
Earlier in the
series
, Kelly Macdonald's Sarah delivered a philosophical manifesto which suggested that we exist in an infinite time-loop – "Everything is controlled by a mad conductor… everything we do is an echo of what we've done before."
The question might be, if we keep doing it, do we do it better? One of Giri/Haji's underlying themes was the notion of good people doing bad things. Kenzo (Takehiro Hira) is a Tokyo policeman who committed murder to save his brother Yuto (Yosuke Kubozuka), and for apparently no good reason he also abandoned his family and his parents. Yet it seemed that his trip to London, with all its violent and chaotic consequences, eventually brought about a closing of the circle, as it not only saved his heartbroken daughter Taki (Aoi Yukuyama) from murder and suicide but brought her father back from the twilight zone.
Very touching, too, was Kenzo's relationship with the cool and charismatic Yuto, Taki's favourite uncle. Yuto likes to walk on the wild side, but it all went bad when he got caught up in a calamitous robbery of a bookie's office. This, paradoxically, earned him an offer he couldn't refuse from Yakuza boss Fukuhara (Masahiro Motoki) and a descent into organised crime and brutal thuggery. Yet there was a silver lining in the lissome form of Fukuhara's daughter Eiko (Anna Sawai). Yuto's delightfully-played relationship with her looked certain to end with him being beaten to a pulp and thrown in a river by Fukuhara's henchmen, but eventually, the long and winding road led them to karmic sunny uplands.
The twinning of events between Tokyo and London helped to lend the show its sense of being controlled by a well-oiled destiny. As Kenzo and Yuto negotiated a fraught rooftop stand-off in London, so the gangster wars in Tokyo reached a bloody climax with a formal set-piece confrontation between Fukuhara and Endo (Katsuya Kobayashi). The wily police chief Hayashi (Kazuyuki Tsumura) exhibited his carefully-honed talent for survival. Meanwhile there was a mini-road movie depicting the women's separate journey, as Eiko and Kenzo's wife and mother went on the run to escape from pursuing hitmen (pictured above).
To help bring all these swirling currents of unruly narrative back home, there was the most audacious set-piece of the whole series. It was a rooftop dance sequence shot in dreamy slow-motion monochrome, set to some poignant violin music from the show's composer Adrian Johnston. In a few brief minutes the characters enacted their relationships, both how they were and how they'd like them to be, with amazing grace, adding an overwhelming wash of emotion to the narrative. Whoever thought that one up deserves at least a BAFTA.
No doubt they're lining up a second series. They have to find something else to do with crazed music-hall gangster Abbot (Charlie Creed-Miles), and Sarah and Kenzo's sort-of romance was left dangling ostentatiously. They'll have a job to beat series one, though.