Sauti za Busara Festival 2021, Zanzibar review - 2500 gather to celebrate music unlocked |

reviews, news & interviews
Sauti za Busara Festival 2021, Zanzibar review - 2500 gather to celebrate music unlocked
Sauti za Busara Festival 2021, Zanzibar review - 2500 gather to celebrate music unlocked
Cheering glimpse of a massed musical gathering of the kind we're all missing
Festival Director Yusuf Mahmoud born aloft as the event reaches its raucous climax
"Zanzibar, are you ready?" yells the singer from the stage.
There's a huge cheer. It seems the crowd – and it is a crowd – is certainly ready. In shades, a flat cap and dreadlocks down his back, singer Barnaba Classic (pictured below left) is on stage at Zanzibar's Sauti za Busara festival. Over from Dar es Salaam, Barnaba is a big star in Tanzania and is headlining the festival's first night after seven hours of music.
Seeing it live on Plus TV, it seems like watching another world. A live band on stage and an audience of some 2500 people, mostly dancing. Usually audience cutaways are rather dull, but now it's thrilling to see there are places where a large festival audience can gather.
Sauti za Busara ("Sounds of Wisdom" in Swahili) takes place in Stone Town, capital city of Zanzibar, an island off Tanzania's east coast. This was the 18th edition of one of Africa's best music festivals, which I'll never forget visiting some years ago. While festivals around the world have migrated online, Sauti za Busara was one of few music festivals actually taking place. Its slogan this year was Alive & Kickin'! How is it possible in a global epidemic?
Tanzania has had 21 reported deaths from Covid-19. Yes, only 21. Its population is 58 million, not so much less than the UK with 118,000 fatalities. Even if there are some unreported deaths, that certainly doesn't account for the vast gulf between the figures. Its youthful population, on average 18 years old, and its position a little south of the equator probably help.
The festival certainly isn't ignoring the pandemic. Between acts, masked stage hands appear with canisters and cloths to disinfect the mics. "We are sanitising backstage," says the MC. "We can't tell you what to do, but you know what to do!"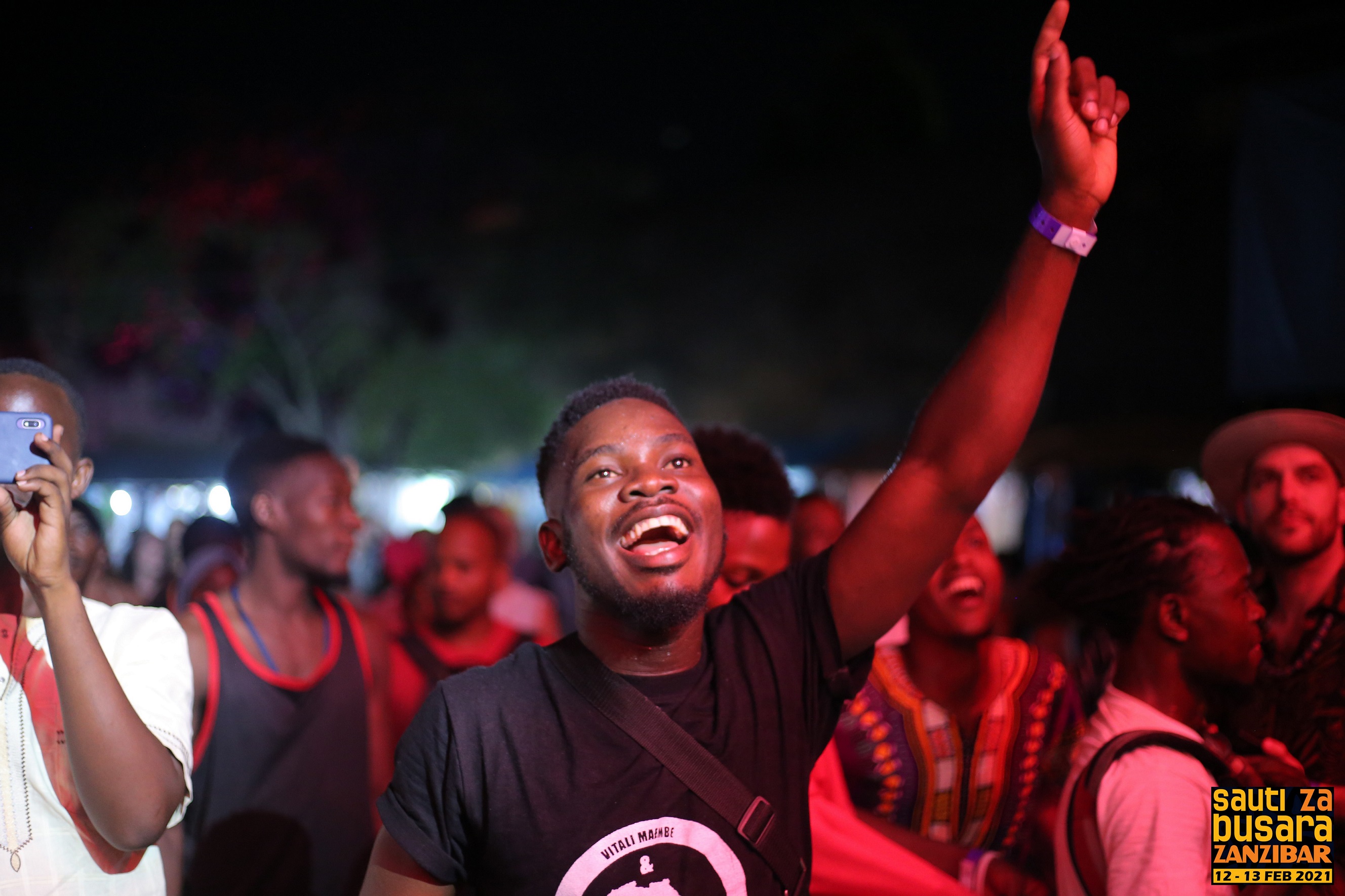 In the 20 minutes turnaround between the artists, the TV presenter talks to some of the audience, many of whom are clearly not African. There are visitors from Canada: "we came to climb Kilimanjaro and we've been here ever since. It's such beautiful music"; Marina from Belarus, in Zanzibar for the first time; and, most interesting, Francesco from Italy, who came previously for the festival in 2019. "I came to escape the Covid situation. In Italy it's been a nightmare. It's lovely to hear live music and see people dancing. You guys are doing an amazing job in these difficult times."
Last year, in February 2020 the festival took place as normal, a month before the first coronavirus case in Tanzania. There were 29,000 people over four days, seventy percent from East Africa and thirty percent from Europe and elsewhere. The organisers cut this year's festival down to just two days with only one stage in the Old Fort in the centre of town next to the Forodhani Gardens on the Indian Ocean seafront. In the evenings, the seafront is home to an unbeatable array of fresh food and restaurant stalls.
At the festival opening this year, artistic director Yusuf Mahmoud said: "There were many, many times this year when we wondered if it would be possible for this festival to go ahead. But we've been monitoring the situation very closely since March 2020 and Alhamdullilah we give thanks to be here again, 100 per cent live. That's how we do it. African music 100 per cent live!"
Although there were clearly some overseas visitors, travel restrictions meant the international numbers were down, which is why the stream on PlusTV was put in place to keep in touch with audiences across Africa and beyond. As so often, the pandemic has led to innovations that will probably stay in place once the virus has passed.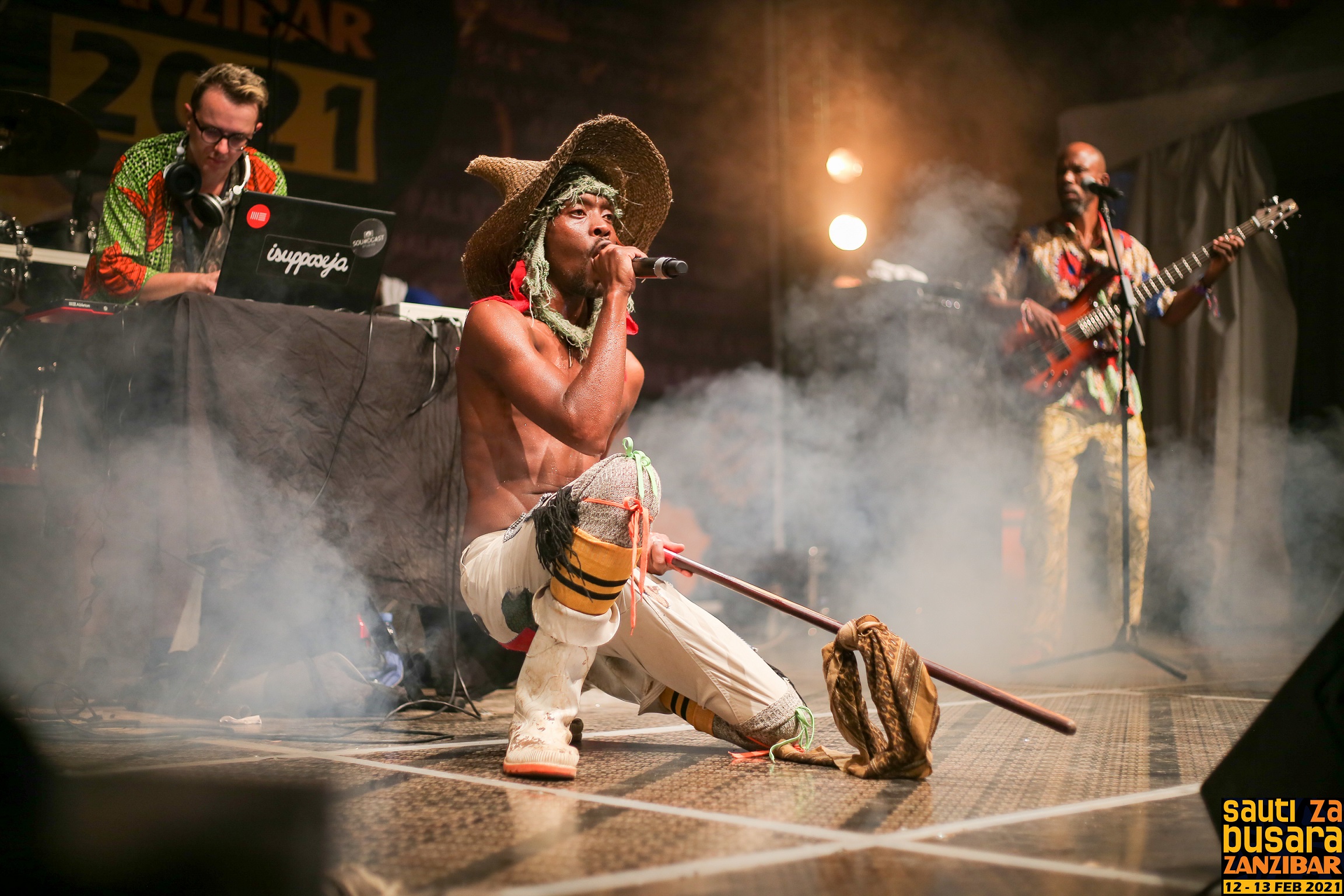 There were 14 artists performing, mainly from Zanzibar and Tanzania, although from further afield was Sandra Nankoma from Uganda, Djam from Algeria and most interesting Morena Leraba from Lesotho (pictured left). He's a new name on the international scene. Shirtless, with distinctive headgear and various whips and sticks, he has a four-piece band with xylophone, bass guitar, electronics and drums, and clearly connects to an ancestral heritage. You can feel it in the music.
From Zanzibar, most striking is Siti Muharam (pictured below right). She's the great granddaughter of Siti Binti Saad, a powerful woman who pioneered female singing of taarab, Zanzibar's distinctive mixture of Arabic, Swahili and Indian Ocean sounds around the turn of the 20th century. In 1928 in Bombay, she was the first East African to make commercial recordings and recorded over 250 songs.
Siti Muharam is onstage with a band of largely traditional instruments including oud (Arabic lute), qanun (plucked zither), double bass and delicate darbouka goblet drum. The taarab melodies are there, but the group is super slimmed down.
Zanzibar's big taarab orchestras, like Culture Musical Club and Ikhwani Safaa, consist of perhaps 20 or more musicians and while the sound is luxuriant and beautiful, like a dhow boat in full sail, it's now only at state occasions and lavish events that they play. So younger artists have reduced the line-up, but kept its essential flavour. They are crucial for its future. Muharam is a shy and retiring personality, but she's recently been persuaded to record her debut album Siti of Unguja and on the evidence of her performance at Sauti za Busara will be a voice for the future.
Below: Watch a video of Vitali Maembe performing at the Sauti za Busara Festival 2021
It's thrilling to see there are places where a large festival audience can gather
rating
Share this article