Best of 2017: Dance |

reviews, news & interviews
Best of 2017: Dance
Best of 2017: Dance
Classical ballet dominates the highlights reel as chosen by theartsdesk's critics
Saturday, 30 December 2017
Natalia Osipova as Mary Vetsera and Edward Watson as Crown Prince Rudolf in MacMillan's 'Mayerling', Royal Ballet, April 2017
With forelock-tugging celebrations of a choreographer who died 25 years ago and a summer visit by the Mariinsky the highest-profile events in the calendar, 2017 may not be remembered as a vintage year for British dance.
But there were striking moments aplenty if you knew where to look for them, and companies, directors and
dancers
making magic even in ordinary circumstances. As the year ends,
theartsdesk
correspondents cast their minds back and pick out the best of those magical moments. As always, the criterion is memorability: this is not a comprehensive review of who was worthy or interesting, ambitious or canny, novel or famous, but a highlights reel of the performances that really made an impression.
Two Giselles, English National Ballet
Akram Khan's remade Giselle, premiered in September 2016, made last year's best-of list and I make no apologies for including it again. Its first revival at Sadler's Wells in the autumn, with a handful of judicious improvements, proved its quality: narrative ballet in the 21st century has rarely been so spellbinding and so political. It's not perfect, and even to an extent divides opinion – some markedly prefer the spectral second act; another group, including this critic, find the second act turgid by comparison with the tight, driving first – but Khan, composer Vincenzo Lamagna, designer Tim Yip and English National Ballet have written themselves into dance history with a truly unforgettable piece.
Equally memorable was a performance in January of Mary Skeaping's classic production of Giselle with Alina Cojocaru in the lead (pictured above right by Laurent Liotardo). Dud Giselles are, thankfully, quite rare, so it's the small details – as well as a star ballerina – that distinguish the greatest performances from the rest. Lovingly coached in the Romantic style, ENB's corps were a fitting frame for Cojocaru's feverishly brilliant turn as the girl whose love survives death, and the intelligent narrative arrangement of Skeaping's first act made the story even more heartrending than usual. Hanna Weibye

Flight Pattern, Crystal Pite, Royal Ballet
An evening which to many stood out for the wrong reasons – wild outbursts from choreographer David Dawson and his team, posted as comments on theartsdesk's review, accused the Royal Ballet of unprofessionalism – also deserves a mention for the much-anticipated new work by Crystal Pite, hottest of contemporary choreographers, for a company whose commissions have been a bit lacklustre of late. Pite examined the refugee crisis with passion and compassion in a piece that was both beautiful and hard-hitting; Kristen McNally and Marcelino Sambé were magnetic as the leads. Hanna Weibye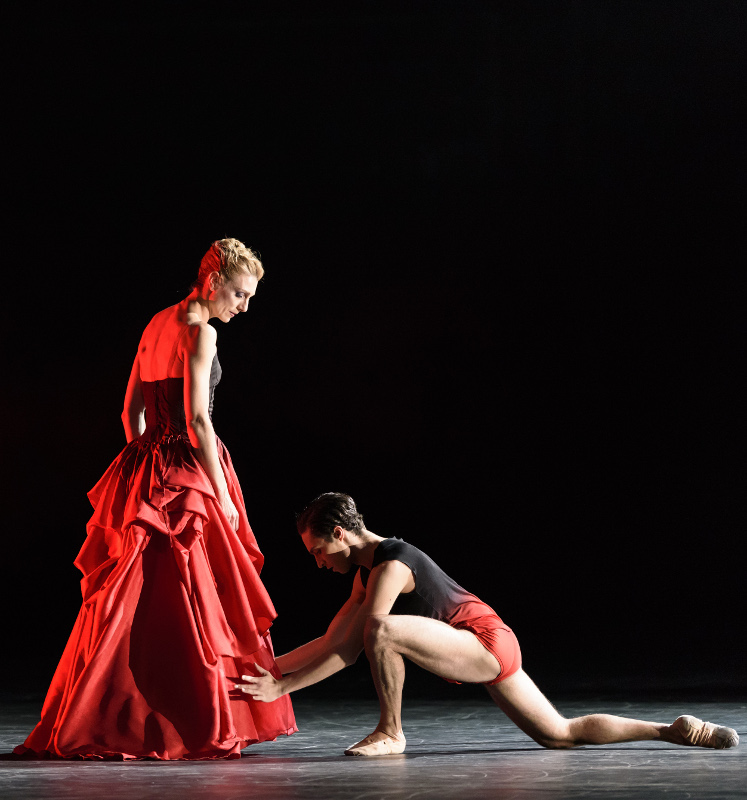 Symphonic Dances, Liam Scarlett, Royal Ballet
The youngest of Covent Garden's pet choreographers needed a hit after his dismal 2016 Frankenstein, and with this one-act work set to Rachmaninov he got it. Incarnadine costumes billowed against a cavernous black set and soon-to-retire principal Zenaida Yanowsky (pictured left with James Hay by Bill Cooper) stalked the stage like a postmodern goddess, both terrifying and tender. Scarlett has made some guff, but this is burned on my retinas in a good way: classy theatre with some very stylish choreography – bravo! Hanna Weibye

Mayerling, Royal Ballet
The national celebrations of Kenneth MacMillan, the great choreographer who died in 1992, took place in October, filling the Opera House stage with British ballet companies and one-act ballets. But the best proof of MacMillan's genius came in the Royal Ballet's April run of Mayerling, where Natalia Osipova's magnetic role debut as troubled Mary Vetsera (main picture) was only one of many standout performances from a first night cast boasting 10 principals. Profound, complex and nailbiting, that one performance was an irresistible argument not just for Mayerling as a piece, but for MacMillan's pathbreaking success in expanding the possibilities of narrative ballet. Hanna Weibye
Kenneth MacMillan: A National Celebration
As a footnote to the above, the best thing to emerge from the MacMillan shindig was the spirit of sharing. Whatever the complexities of leasing and funding, it can't be right that the work of a British choreographer as significant as this should be the preserve of a Royal Ballet that never sets foot in the regions. Inviting Scottish, BRB and Northern Ballet to take on one work each across three programmes did more than ring the changes. It enfranchised those companies and their home audiences. A standout was Northern Ballet's Gloria (pictured right by Bill Cooper), an expressionist response to a generation's blighted hopes in World War One. The dancers knew not to emote; they let the shapes and the steps take the emotional load and the result was a performance as poignant as any I have seen. Let's hope the sharing doesn't end there. Jenny Gilbert
To a simple ... rock'n'roll song, Michael Clark, Barbican
Is it nostalgia that fills theatres for Michael Clark? To judge by his fanbase these days, he means nothing to the under-40s. Yet this three-part evening, prompted in part by the death of David Bowie, should take its place among his best work. Gone are the bare-bummed gimmicks of his King's Cross phase, the self-conciousness of Brit-art Clark. What remains is a fierce concentrate that might be worth labelling nu-classicism if anyone else looked likely to take it up. Hips are savagely turned out, arms held in aristocratic port-de-bras, bare feet pointed to extremes. And the discipline of Clark's eight performers as they work in startling unison against a high-decibel barrage of Patti Smith or Bowie is as bracing as mouthwash. Thrilling. Jenny Gilbert
Dancer, dir. Steven Cantor
Given the rarity of feature films about dance or dancers, February's cinema release of Steven Cantor's documentary about the making and breaking of Ukrainian ballet prodigy Sergei Polunin (pictured right) was a must-see for anyone with half an interest in classical dance and/or child psychology. It's not a bad film given the shakiness of much of the archive material, some it shot on phones belonging to ballet school chums, or Sergei's mum. The director cleverly incorporates this into the film's rock'n'roll aesthetic.
Traditionalists may hate it, but the use of thumping rock under the dance clips – whether Polunin onstage in Giselle or practising before a mirror – gives it all a grandstanding virility that plays beautifully to that theme. The film was shot over a long period – five years, with a 12-month break while Polunin was coaxed into completing it – and the result is a comprehensive, and affecting, account of the pressures that weigh on a young person blessed or cursed with outrageous talent. Jenny Gilbert
Narrative ballet in the 21st century has rarely been so spellbinding and so political
Share this article