Julie Cunningham & Co, Sadler's Wells review - a fine piece of work, with added spice |

reviews, news & interviews
Julie Cunningham & Co, Sadler's Wells review - a fine piece of work, with added spice
Julie Cunningham & Co, Sadler's Wells review - a fine piece of work, with added spice
The other Cunningham stakes out their territory in contemporary dance, and the non-binary debate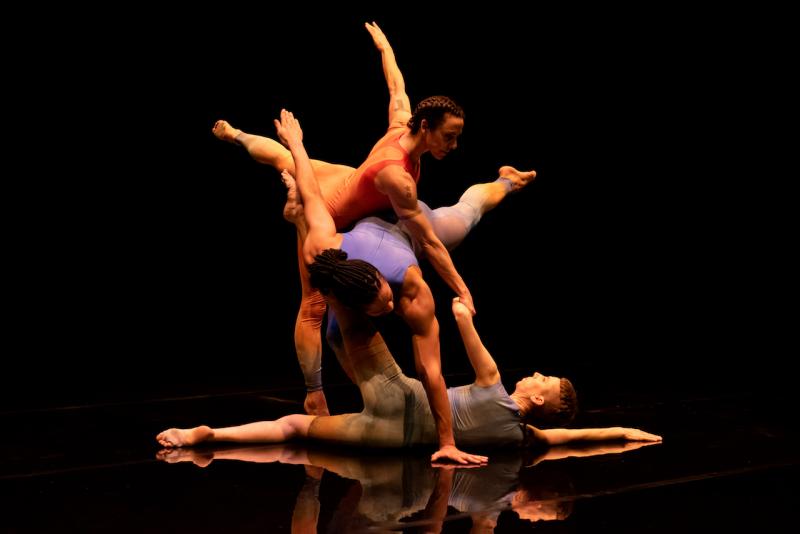 Three's company: Jules Cunningham (on the floor) with Harry Alexander and Melanie Chisholm in 'how did we get here?'
At the arthouse end of contemporary dance no one expects a packed house, still less serial packed houses for more than a week. Yet Sadler's Wells was fully confident when it invited the dancer-choreographer Jules Cunningham – one of its New Wave Associates – to premiere a new work on its main stage.
The special draw was that Cunningham's company of three included the artist formerly known as Mel C, extending her Sporty Spice credentials to a bid to be seen as a serious exponent of pared-down, glacially cool art-dance. Happy to report, she acquits herself extremely well in a work that pays no heed to her celebrity.
Its title, how did we get here?, offers a small clue to the longstanding connection between Cunningham and Chisholm, who are much the same age and who both grew up and took their first dance classes in the Wirral. They are joined in the hour-long work by Harry Alexander, who, like Chisholm, attended Bird College stage school, and like Cunningham, appeared latterly in the work of Michael Clark. Jules Cunningham (previously Julie), spent two decades performing in other people's work, most notably that of the late Merce Cunningham (no relation) where the dancer's spare, wan form cut spectral shapes that lodged in the memory long after. Identifying as they, Jules' body, once described as "half Giacometti's Walking Man, half elastic band", remains as singular as ever.
The question how did we get here?, then, is also a reflection on that non-binary status, and the piece opens with the three performers stepping in sync to Nina Simone's tremulous cover of the Janis Ian song "Stars", whose lyrics refer to "the pain of using a name you never owned". The Sadler's Wells stage has been reconfigured to create intimacy, and the action does feel very close with the audience banked on three sides and open on the fourth to a few rows of the stalls, where those sitting below stage-level unfortunately miss the glimmering reflections of moving bodies in a glamorous black glass floor (pictured below).
Costumed by Stevie Stewart in unitards spray-painted in clouds of blue and orange, spotlit from above by Zeynep Kepekli to give them an amber glow, the trio move with a quiet calm, exchanging looks and smiles. At first they seem merely to be marking steps, as if still in rehearsal, but they soon flip into a skittish waltz at odds with the music's pulse. There's a suggestion of the evolution of species as they form composite shapes resembling sea creatures or animals, and at one point a six-legged insect. Each dancer takes a solo, with Mel C going first with a show of tense reachings and soft collapses, some extreme yoga folds and a series of challenging balances. Harry Alexander brings stature to his segment, deploying his great limbs like an eagle before mocking that magnificence in a comedy clinch with Cunningham, the top of whose head barely reaches his chin.
While playful affection undercuts earnestness to nice effect, there's a tacit admission that two's company, three risks being a crowd, as the trio keep breaking off into pairs. There's a touching moment when JC and MC sit on the floor and simply take stock of one another before launching into gentle improvised song. Batting short phrases back and forth, four sweetly-tuned notes at a time, they're like a couple of garden thrushes.
The climax of the evening however is Cunningham's alone. As Dido, in Henry Purcell's famous "Lament", sings ringingly of her own demise, Cunningham moves through an extended floor-bound sequence until the final, resplendent "Remember me!" when the dancer rises into a wide, high, confident arabesque, those long limbs and slender hands reaching out and up as if into some bright unknowable future, laying the past to rest. Coded personal statements are not common in dance, and this one – at once uplifting, emotional and highly readable – comes at you from left field. I'm not sure all the sniffles in the house could be put down to colds. May troubled souls continue to find their true path and pop legends continue to surprise us.
Batting short phrases back and forth, Cunningham and Chisholm are like a couple of garden song thrushes
rating
Explore topics
Share this article