Blu-ray: The Ascent |

reviews, news & interviews
Blu-ray: The Ascent
Blu-ray: The Ascent
Rich insights into Larisa Shepitko's final masterpiece in a new Criterion edition
Tuesday, 23 February 2021
Struggle of war: Boris Plotnikov as Sotnikov, right, with Vladimir Gostyukhin
There's a striking interview among the extras for this Criterion edition of Russian director Larisa Shepitko's fourth and final feature.
The director was talking in 1978 to Bavarian Television at the Berlin Film Festival, where
The Ascent
had won the top award, the Golden Bear, the previous year. She had only just turned 40 yet speaks about her
World War II
film with the absolute authority – not least about moral and spiritual subjects – of a figure far more established on the world cinema scene (her achievements to date were remarkable anyway for the hurdles she had overcome as a woman emerging from an overwhelmingly male
Soviet
film establishment). Lasting hardly half an hour, it's an utterly compelling appearance, one in which the director defines much about what might be called the philosophy of her work.
Barely a year later, Shepitko was dead, killed in a road accident outside Leningrad just as she was embarking on her next film. Her death deprived Soviet cinema of a talent that can be ranked alongside Andrei Tarkovsky and her husband Elem Klimov (Come and See), who would become the guardian of her legacy in every sense (he stepped in only days after her death to complete that unfinished film, released under their joint credits as Farewell). Those were the two compatriots whom she mentioned in that Berlinale interview as contemporaries with whom she "shared a system of coordinates"; from foreign directors she references Bergman as key, alongside Bresson and Bunuel.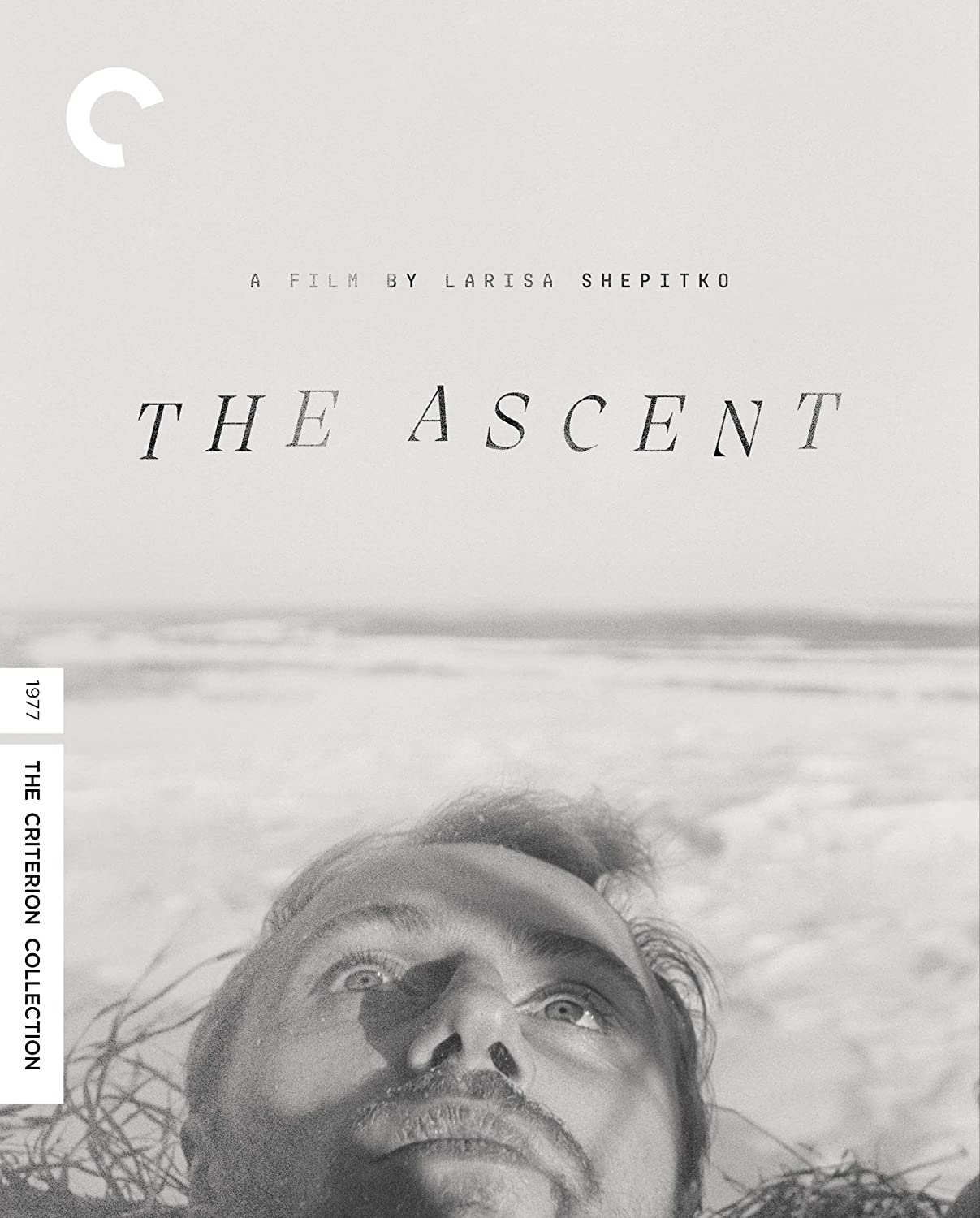 The expansive extras that Criterion includes on this disc offer a compelling portrait of Shepitko as both director and individual: there's a new video introduction by her son Anton Klimov, as well as the 25-minute film tribute Larisa that her husband had made the year after her death. Two substantial documentaries from 2012 made for Russia's Kultura television channel fill in as much of the biographical background as we can hope to find in one place. Variations of her truly photogenic image, from her childhood in Ukraine through to her years at Moscow's Institute of Cinematography – she studied with Alexander Dovzhenko and fully absorbed the humanistic influence of that "master" – to the beginnings of her career, which was periodically interrupted by injury and ill health, and marriage and family life, recur almost hypnotically.
But it's The Ascent that remains Shepitko's lasting testament, presented here in a 4K Mosfilm digital restoration that does full justice to its singular visual palette, the harsh white snowscapes against which its story of wartime Belorussian partisan resistance unfolds (Klimov's Come and See would loosely cover some of the same historical ground, though the two films are very different). Shepitko's script treatment significantly varied her source material, Vasil Bykov's novella Sotnikov (titled after one of its protagonists). Not for nothing would Bykov later call her "Dostoevsky behind the camera".
Shepitko pared down the action, which begins with an evacuating partisan band coming under German fire, before two fighters, Sotnikov (Boris Plotnikov) and Rybak (Vladimir Gostyukhin) are sent out for supplies. They wander the freezing wastes, before Sotnikov is wounded in a further engagement, forcing them to seek shelter in a village settlement. If until this point the story has been relatively conventional, concentrating on how the two face tests of endurance, after they are captured – along with the village woman (Lyudmila Polyakova) who has given them reluctant shelter – a dramatically different element emerges.
Shepitko's central scene concentrates on the moral opposition between Plotnikov's character and his interrogator (played by Anatoly Solonitsyn, also a Tarkovsky favourite actor), who has rejected his Soviet past – one very similar to that of his prisoner, in fact – to become an almost devilish turncoat collaborator with the Germans. Over the hours that follow, the values of all those involved will be tested, the tensions rising right up to the film's devastating final scenes. What may sound simple in the retelling is infused with an existential complexity that could indeed have come from the pages of Dostoevsky (Shepitko, Klimov and Tarkovsky had at different times contemplated direct adaptations of the writer's work, but none of their projects would be realised).
Most astonishing is how Shepitko adds a clearly religious strand to her story, one that was left untouched by censorship. Klimov recalls in one of the extras here how he managed to arrange a special early screening for Pyotr Masherov, himself a wartime partisan who had risen to become Party boss of Belorussia, who spoke with such vehement enthusiasm after watching the film as to possibly discourage the Soviet cinema authorities from any interference. That additional context had been clearly present from the beginning – for Plotnikov's screen tests, the actor was made up to disguise his features, which do indeed appear Christ-like in the film (pictured above), into something closer to an ordinary Soviet soldier – although in her Berlinale interview Shepitko avoided the subject directly, speaking instead in more general terms of Soviet "spirituality".
All of those who came into contact with Shepitko spoke of the sheer force of her personality. In the context of its time, that The Ascent was released in the form that the director had intended seems barely less remarkable than the film itself. The director's will, it seems, had triumphed again.
Not for nothing would Shepitko be called 'Dostoevsky behind the camera'
rating
Explore topics
Share this article