Blu-ray: Beau Travail |

reviews, news & interviews
Blu-ray: Beau Travail
Blu-ray: Beau Travail
Claire Denis' 1999 Foreign Legion film retains its thrilling elemental mystery
Tuesday, 29 September 2020
Charism in conflict: Grégoire Colin (Sentain), left, with Denis Lavant (Galoup)
This fifth feature from Claire Denis must surely be the director's most sheerly concentrated film.
Scaling back narrative and dialogue alike – story elucidation relies mainly on intermittent retrospective voice-over narration –
Beau Travail
engages the viewer instead with its sensual elements ("A Cinema of Sensation" is the title of the essay by critic Girish Shambu that comes with this new Criterion edition). It's absorbing in every sense – from the choreographically stylised gestures of its military protagonists to the parched desert surroundings of Djibouti, a striking presence in itself, in which their French Foreign Legion battalion is based.
This is a soldier's life seen not through combat – when we see a gun, it's assessed almost as an aesthetic object, something of functional beauty – but through accretive routine, from ritualised training to off-base R&R, out of which the story's final confrontation builds. Denis fused a variety of source elements, from Herman Melville's Billy Budd – that writer's poetry is crucial, too, as are the excerpts from Brittten's eponymous opera that feature as monumental sound accompaniment – to the visual mythology of the Foreign Legion itself. Though terms like "homo-erotic" can be easily bandied about, the director offers no such simple elucidations: that element is downplayed, compared to Melville at least, subsumed by a jealousy that comes straight out of Othello.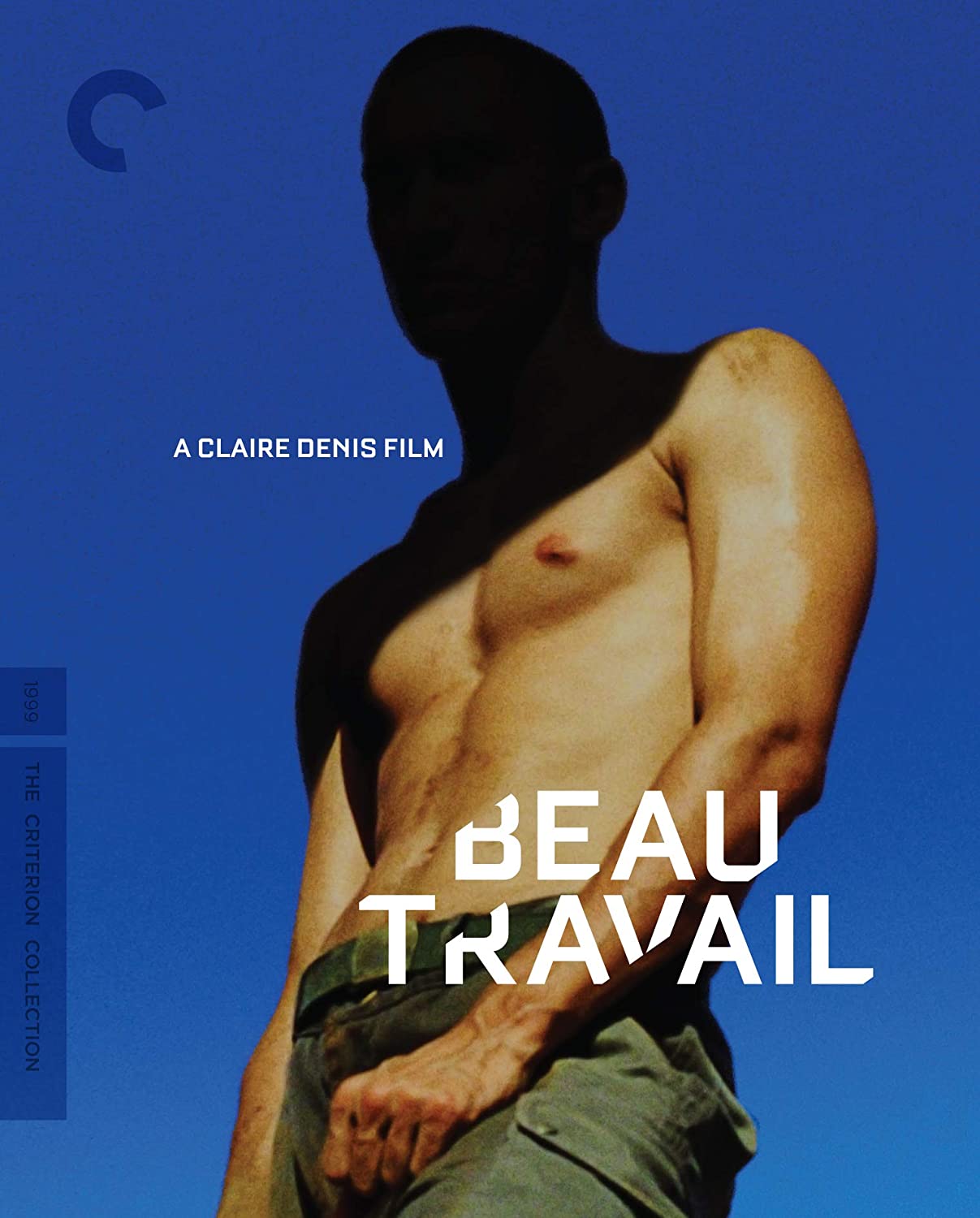 In the conversation with Moonlight director Barry Jenkins that is one of this release's extras, Denis reprises the well-known story of how she came to be commissioned by broadcaster ARTE as part of a strand intended to explore the theme of the "foreign". She jokes about the easy associative leap that took her directly to the Foreign Legion, but the link is rather deeper: that entity, separated from the usual structures of society (of the French army, too) in every sense, embodies in itself an idea of "foreignness", felt not least in the dislocation of its unit in the alien territory of Africa. In Denis Lavant's Galoup, the sergeant whose rigorous loyalty to his unit is disrupted by the appearance of Grégoire Colin's routine-disrupting recruit Sentain, Denis explores the concept of what she has called being "a foreigner to oneself".
Showcasing a new 4K restoration, this Criterion release has interviews with both Lavant and Colin, the former offering a generous overview that takes in how he came to be involved in the project: he was an outsider there, too, the main company of 15 actors having trained in Paris for two months to build physical bonding, Lavant joining them on set only the day before filming began.
But it's the selected scene commentary from cinematographer Agnès Godard that comes closest to catching the essence of Beau Travail, from the desert terrain of "excessively spiritual" Djibouti ("infinity on every axis", Godard recalls) to how their experience of effectively "blind" shooting – there were no dailies to watch – led to pushing boundaries: as Denis described it, "we did a film with what we did not have." The extra is only 16 minutes, but Godard touches on all the key facets of the film, from the rituals of Legion life choreographed by ballet dancer Bernardo Montet – the duel de regard between Galoup and Sentain, that striking moment of physical group hugging, the unrelenting observation of the battalion in rote training, on land and sea alike – to the astonishing final scene in which Lavant delivers a hypnotic dance of self-release to the disco beat of Corona's "The Rhythm of the Night".
Even Denis seems uncertain just how that "dance between life and death" came about: she had used that phrase to suggest to the actor something of what might be inspiring Galoup, but the result came entirely from the actor's improvisation, in just two takes. Transposed in editing to its closing-scene position, it's one of those unpredictable moments in filmmaking that colours the entire work, a fitting symbol in itself for so brave a piece of cinematic exploration.
Even Denis seems uncertain just how that 'dance between life and death' came about
rating
Share this article