Blu-ray: Beginning |

reviews, news & interviews
Blu-ray: Beginning
Blu-ray: Beginning
A masterpiece of 'slow cinema' from a hugely promising new festival talent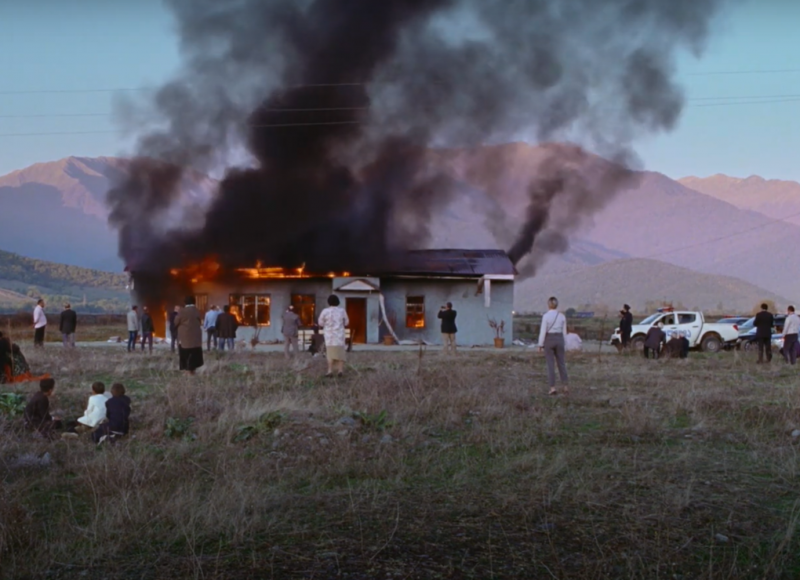 Portent of sacrifice - and future strife
This debut feature from the young Georgian writer-director Dea Kulumbegashvili is exceptional in many ways.
It stands out not only for its hypnotic quality as a film that feels like that of an already formed auteur, as well as for the complex psychological portrait of its central female character, but also, rather more paradoxically, for the environment from which it has emerged. Always distinctive, the cinema of the small Caucasian nation of Georgia has usually been distinguished by its vivid local colour, but there's nothing like that here: though it's set in the director's homeland – indeed in the very landscape in which she herself grew up – Kulumbegashvili has stripped back atmosphere and narrative alike to concentrate on a tight drama that could almost be taking place anywhere in the world where oppression, both private and public, can be found. Two decades ago the emerging Russian director Andrei Zvyagintsev achieved something comparable in his own debut
The Return
, and Kulumbegashvili's prospects in the
festival
firmament world look no less stellar (
Beginning
was selected for the main competition at the cancelled Cannes 2020 and went on to win virtually all major prizes at San Sebastian last year).
For a film that increasingly concentrates its attention on an ever more enclosed world, Beginning begins in relative openness, albeit within the strictly defined space that is a Jehovah's Witness community in a small Georgian country town. Kulumbegashvili and her cinematographer Arseni Khachaturan (filming on 35 mm) relish long static camera shots and the opening take, some eight minutes in length, sets the atmosphere as Yana (IIa Sukhitashvili) welcomes the congregation to the prayer hall presided over by her husband, the community's minister. No sooner has David (Rati Oneli, a longterm collaborator of the director who is here both co-writer and producer) started the day's discussion than the building is fire-bombed, its ordered tranquillity transformed in seconds into flaming chaos. (The subject that David had been embarking on was Abraham's sacrifice of Isaac, and the burning building, main picture, hints at just such a climactic moment in Andrei Tarkovsky's The Sacrifice.) It's not the first hostility that this community of Witnesses has experienced at the hands of suspicious locals, and there's no expectation that the crime will be solved.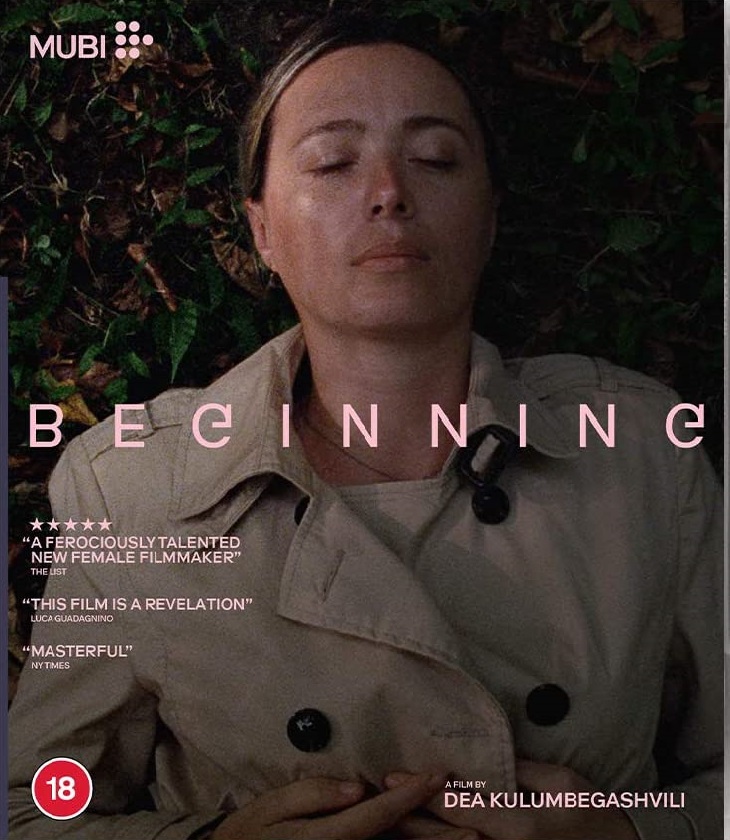 But that's only the beginning of the tribulations awaiting Sukhitashvili's character, as the conversation that she has with her husband the same evening makes clear. The couple have a young son, Georgy, but their seemingly close relationship has clearly long been troubled, with the male control and instinct towards domination that is a staple of local society only heightened by David's ambitions, to which his wife's emotional needs are clearly subservient. Kulumbegashvili's script makes as much out of its silences – pregnant pauses that can be agonising in their almost thriller-like tension – as Khachaturan does with his images, unadorned and often dark interiors in which light shines almost like in the Dutch Old Masters.
While the sense of marital strife is oppressive, another more insidious threat appears in Yana's life in the form of a Tbilisi detective (Kakha Kintsurashvili, his name revealed only in the film's closing moments: this is a drama where anonymity somehow dominates) – if he is indeed what he pretends to be. In collaboration with editor Matthieu Taponier (Beginning is a Franco-Georgian production), Kulumbegashvili creates extended moments throughout the film that have real shock quality, but it's the shock of delayed psychological dread and suspense rather than anything externally superficial. There's an inexorable and terrible compulsion to the way the detective captures his victim in a web of suggestive pauses that seems to deprive Yana of her already limited autonomy of thought and action; it will recur later in a form no less devastating for its being transmuted into physical abasement.
But Kulumbegashvili varies mood with absolute aplomb, such is her poise as a director. We see Yana in her role as school teacher, the children, including her son, caught in moments of lightness (the role of Georgy is played by her nephew, Saba Gogichaishvili, pictured below, with Sukhitashvili). Perhaps the stylistically defining moment of the two-hour film comes at around its half-way mark, when we see mother and son walking in woods: Yana lies down on the leaves, closes her eyes, and for six minutes or so her seemingly motionless face is defined only by the moderations of light that play over her features (Beginning has excised music almost completely but the care expended on the film's sound design more than compensates). It's a moment of extreme auteur control, one in which our sensations as viewers somehow merge into an engagement with this character who nevertheless remains opaque in so many ways (never more so than in her last scene).
"Translucence" and "opacity" are terms used by Luca Guadagnino (of Call Me by Your Name fame) in the single extra on this MUBI release, a 35-minute Skype conversation between the Italian director and his junior Georgian counterpart: Guadagnino was jury president at San Sebastian and he's fulsome in his praise for the film which took the festival's top Golden Shell prize, as well as the Best Director, Best Actress and Best Screenplay awards. Kulumbegashvili can be occasionally oblique herself, fittingly for someone whose cinematic language is still developing, but she's eloquent on how rehearsals and workshops brought rewrites to a script that first revealed itself through its penultimate scene, writing itself almost backwards. She talks about the almost instinctive depth of her professional collaboration with Khachaturan, and praises Sukhitashvili for how the actor holds back more than she reveals (interestingly, when Kulumbegashvili was taking her script through the festival workshopping process there were plentiful suggestions that Yana should somehow be more "likable", something the director firmly resisted). As for the sheer mystery of the closing scene of Beginning, both directors, Italian and Georgian alike, are left struggling to explain its effect in words. They're not wrong – you really have to see it for yourself.
Watch the trailer for Beginning
Kulumbegashvili and her cinematographer relish long static camera shots and their opening take, some eight minutes in length, sets the atmosphere
rating
Share this article