Burlesque |

reviews, news & interviews
Burlesque
Burlesque
Hollywood castrates the art of Burlesque in this glossy new film
"I'm a good girl": Christina Aguilera fails to convince
"Show a little more, show a little less. Add a little smoke – welcome to burlesque." The coy, wittier sister of stripping, and first cousin to musical theatre, the 19th-century art of burlesque is currently enjoying a revival. With comely champions in Dita von Teese and our own gloriously named Immodesty Blaize, the art has shaken off its cruder associations and shimmied into the diamante-studded mainstream.
Naughty enough for a red-cheeked thrill, wholesome enough for a BBC documentary, the paradox of burlesque is made for Hollywood and its contradictory values. Add one ex-Mouseketeer, an ageing pop diva and a handful of gay best friends to its world of corsets and strategically crossed legs, and you have
Burlesque
– quite the most sexually conflicted PG film of the year.
Written and directed by Steven Antin, whose CV includes "several music videos", a Pussycat Dolls-themed reality television competition and a now rather distant acting career, the plot plays out exactly as you'd expect. Iowa-born Ali (Christina Aguilera) waits tables (and occasionally dances on them) in a dingy diner, dreaming of her escape to LA. During an energetically soundtracked credit sequence we get her on a bus and all the way to the big city, depositing her conveniently in front of a run-down burlesque club – a windowless world of retro-fantasy with "the best view on the Sunset Strip". It is here that she must do battle with feather boas and bitchery, making her way from wide-eyed country waitress to star.
If this all sounds a bit 1980s that's because it is, even down to the presence of Cher as Tess (pictured below with Stanley Tucci as Sean), the club's "no business during business hours" manager. Given dialogue constructed from MDF, one rather effortful power ballad and a selection of alarming outfits, she makes a fair stab at bringing some warmth to proceedings, defying all advice from her plastic surgeon and recalling the glory days of Mermaids and Moonstruck. Stanley Tucci as Sean, the club's gay wardrobe mistress, is a gift of a comedy partner, and if the role doesn't exactly stretch his patented routine, he and Cher do enjoy some of the film's more acerbic exchanges. (Acerbic here must be understood in the context of dialogue capable of earnestly proclaiming: "Life is about the choices you make.")
Teenybopper-appropriate man candy comes in the form of Grey's Anatomy's McSteamy (Eric Dane) as Marcus ("not the bad guy, the wrong guy"), a property developer with designs on more than just the club, and Cam Gigandet as Ali's flatmate and inevitable lover Jack. When the latter's penchant for eye make-up is seriously held up as the major barrier to their romance you know the writers were struggling. Sporting little or no clothing covering either torso or muscled arms, one only hopes Gigandet was comfortable with being exploited in so banal a manner.
With plot and supporting roles merely scaffolding for a series of expensive production numbers, Aguilera comes off rather well. No one can deny the power of her "mutant lungs" or the beautifully shaded vocals she brings to songs such as "A Guy What Takes his Times" and "Something's Got a Hold on Me". Driving the score from big-band classics to newly penned numbers (Cher's tango-inspired "Welcome to Burlesque" is a stand-out), she pouts and poses as appropriate in what amounts to the genetically modified offspring of her 2001 "Lady Marmalade" music video.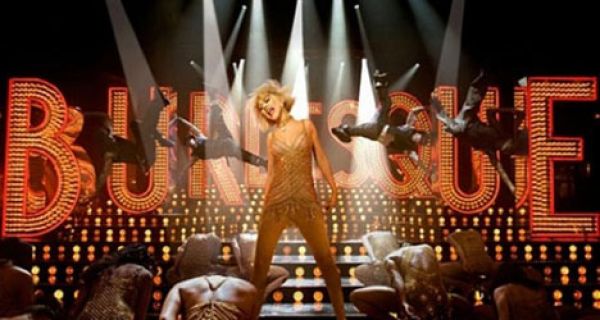 The trouble is that despite a nice line in satin corsetry and maribou-trimmed peignoirs, it's all just a bit too clean-cut. Like the implausibly tidy trailer park Ali leaves behind in Iowa, the film jettisons the seduction along with the sex, leaving it pasteurised and oddly unreal. Burlesque, for all its subversive wit, is ultimately about excess, about the hyper-real extremes of fantasy and artifice, not the sordid Showgirls grindings nor the milk-fed wholesomeness that Hollywood seems capable of conceiving. While Moulin Rouge at least embraced the feather-trimmed ironies and dark corners of the business, Burlesque at once seeks to deny them and hold them up as a cautionary tale (a sub-plot involving a dancer's alcohol addiction feels like a graceless bow to Middle America).
That the term "burlesque" derives originally from the satirical parodies of the likes of Chaucer and Thackeray seems a detail the team behind Burlesque could do well to take on board. Wit and whimsy are strikingly lacking from this stubbornly mainstream product, which needs a lesson from Miss Von Teese in the difference between concealment and absence, titillation and pornography, suggestion and sex.
Burlesque jettisons the seduction along with the sex, leaving it pasteurised and oddly unreal
Explore topics
Share this article