Candyman review - Nia DaCosta's clever sequel to the 1992 slasher movie |

reviews, news & interviews
Candyman review - Nia DaCosta's clever sequel to the 1992 slasher movie
Candyman review - Nia DaCosta's clever sequel to the 1992 slasher movie
The horror of the art world: urban legends, racial politics and gentrification in Chicago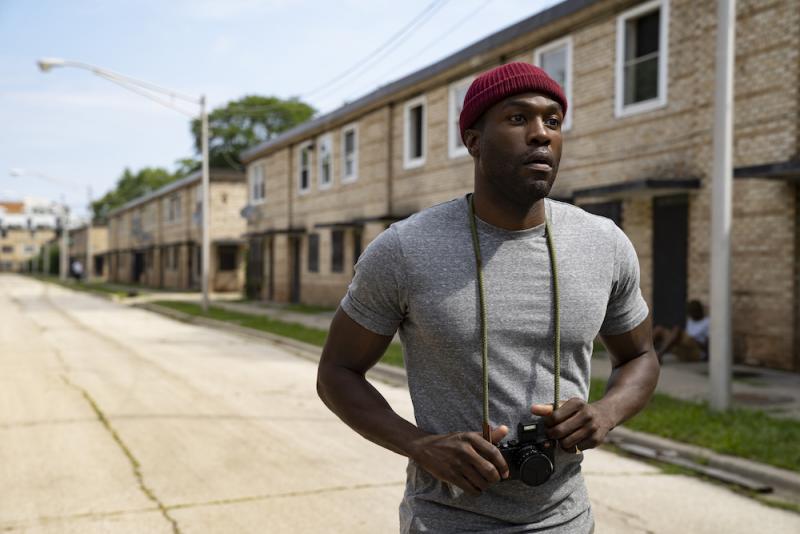 Looking for Candyman: artist Anthony McCoy (Yahya Abdul-Mateen II)
Anaphylactic shock, anyone? Candyman, both the 1992 original, directed by British director Bernard Rose and based on a story by Clive Barker, and its stylish, sharp sequel by Nia DaCosta, co-written and produced by Jordan Peele, features an awful lot of bees.
Swarms of stripy insects, however, are far from the most severe problems besetting the new hipster residents of Chicago's Cabrini-Green luxury lofts. These were formerly a crime-ridden high-rise public housing project, as pictured in the 1992 film, now partly torn down and in the midst of gentrification.
"White people built the ghetto, then erased it when they realised they built the ghetto," says elegant art gallery curator Brianna (Teyona Parris, If Beale Street Could Talk). But the past can't be buried at the will of greedy property developers. Especially when an urban legend like Candyman, played by Tony Todd in both movies, is still lurking. Black artists are not exempt from his gory deeds, neither are pretentious white art dealers, nor empty-headed high-school girls. But who is he? And does he prefer to kill or to possess?
There's not much of a sense of place here, or engagement with the real complexities of public housing, gangs and gun violence in Chicago, but this is a horror movie, after all, not a sociological treatise. And DaCosta's film (it's only her second feature, after Little Woods. She also directed two episodes of Top Boy) packs a hauntingly disturbing, gory punch, with racial politics and revenge, as well as questions of artistic integrity, as significant tropes.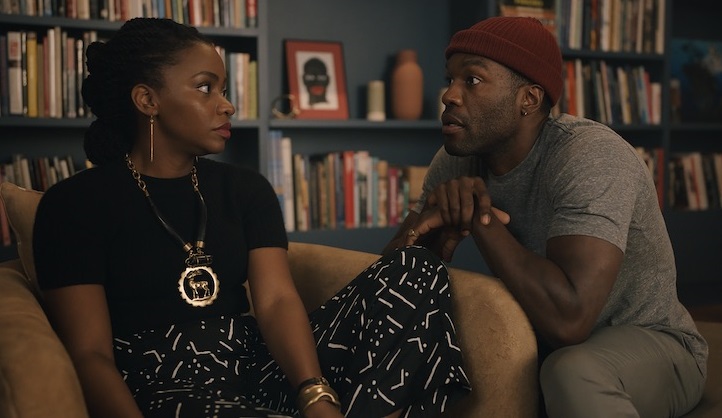 Artist Anthony McCoy (the powerful Yahya Abdul-Mateen II, The Trial of the Chicago 7; Watchmen) and his girlfriend Brianna (pictured above) are spending a pleasant evening in their new Cabrini-Green apartment – it's ghost-proof, she declares – celebrating with Brianna's brother, Troy (Nathan Stewart-Jarrett as welcome light relief), and his husband, Grady (Kyle Kaminsky). It's Troy, his rosé chilling in the freezer, who lights the candles and freaks them all out by proving Brianna wrong. The old story is beautifully reflected in shadow puppet-play.
Daniel Robitaille, son of a former slave, was a successful artist in the 1890s who fell in love with a white woman and got her pregnant. Her furious father hired a mob to cut off Robitaille's hand and shove a hook into the stump. Then they smeared his body with honey so that he was stung to death by bees. His spirit – and his hook – have haunted Cabrini-Green ever since. He's easy to summon: you just say his name five times in the mirror.
But don't. Not unless you want to go the way of Helen Lyle, the cool blonde Hitchcockian heroine (Virginia Madsen) of the 1992 film, which, with its much slower build-up and Philip Glass score, is worth catching up on (and she features in DaCosta's sequel too). She is wrongfully accused of several bloody murders after doing research into gang-infested Cabrini-Green for a thesis on urban legends. She starts out believing that Candyman, as the bogeyman Other, is conveniently taking the blame for violence and deprivation in Black lives (in Rose's film it is academia that's skewered; in DaCosta's it's the art world).
"I am rumour," he tells her. "It is a blessed condition, believe me, to be whispered about at street corners, but not to have to be." (Perhaps a nod to Ralph Ellison's Invisible Man, where Black people are invisible because white people refuse to see them.) She also rescues a baby from burning to death in a bonfire in which she then – possibly – perishes. Oh, and by the way, the baby, whom Helen returned to his mother, was called Anthony.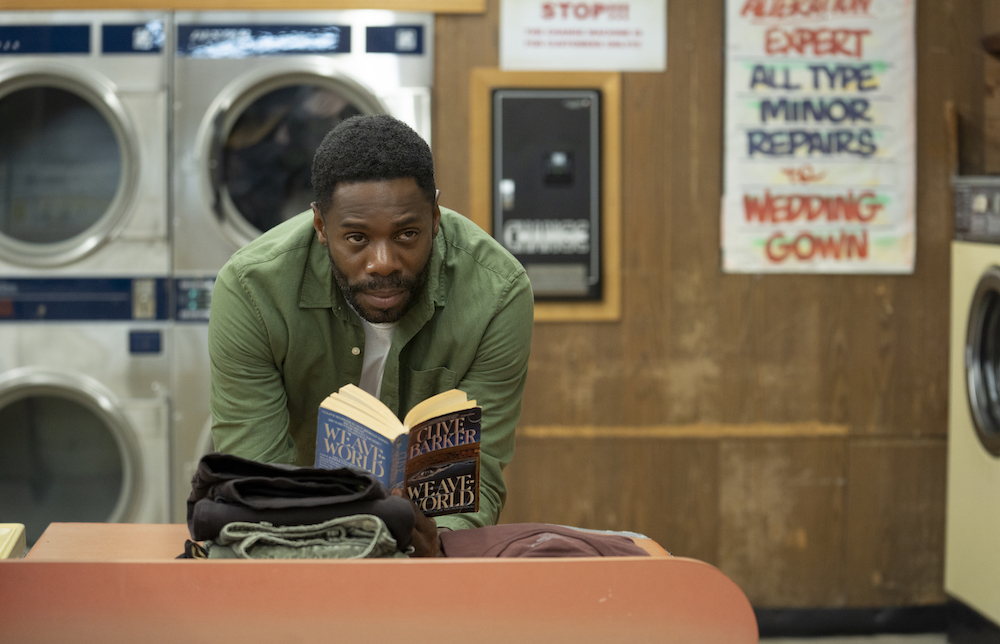 This story gets inside Anthony's head to an alarming degree, partly because of his legacy, as yet unknown to him, partly because his paintings don't pass muster with gallery owner Clive (Brian King), who tells him he needs a change of direction. So Anthony, wanting to get real, looks for inspiration in the run-down old row houses of Cabrini-Green, not yet demolished, where he snaps away with his camera just as Helen Lyle did before him, and where he runs into launderette owner William Burke (Colman Domingo, pictured above).
As a child in Cabrini-Green William witnessed lethal police violence towards an innocent man thought to be responsible for the Candyman murders. Here the source of the legend, Candyman's identity and its connection with police brutality get complicated. Keep away, William advises, adding that Candyman isn't just a "he", "he's the whole damn hive." Soon, Anthony is stung by a bee. That sting spreads, thickening, invading, just as Helen Lyle's psyche was invaded. But, he tells Brianna, he's never felt so clear about his painting.
Anthony's new work "Say My Name" – a reference to #SayHerName – features a mirror that opens on to dark, graffiti-strewn scenes of white-on-Black brutality, with Candyman as an integral element. (The name of the group show, A Fickle Sonance, is, interestingly, the title of a 1961 album on the Blue Note label.) It gets people talking, though only after some terrible Candyman murders in the gallery (Clive gets his comeuppance). Anthony is disturbingly seduced by his new fame. "They said my name," he murmurs with a smile as he watches the TV footage connecting his work to the deaths, as his friends look at him in horror, and he encourages a supercilious, though suddenly interested, art critic (Rebecca Spence) to get summoning.
"You should say his name, as a critic, to engage with the work," he tells her. "I dare you." Of course, she can't resist. We see the result from afar, as cinematographer John Gulesarian's camera pans away, showing an elegantly choreographed act of horror, one of the film's most memorable visual moments. In the final scenes, Candyman enacts his ultimate revenge (corrupt, trigger-happy white cops are involved, as well as those bees) and remains, forever, the "buzz that echoes in alleyways." And mirrors. You might not want to look in them for a while.
He's easy to summon: you just say his name five times in the mirror
rating
Explore topics
Share this article