Us review - can Jordan Peele deliver the thrills again? |

reviews, news & interviews
Us review - can Jordan Peele deliver the thrills again?
Us review - can Jordan Peele deliver the thrills again?
No shortage of cinematic fireworks in this follow up to Get Out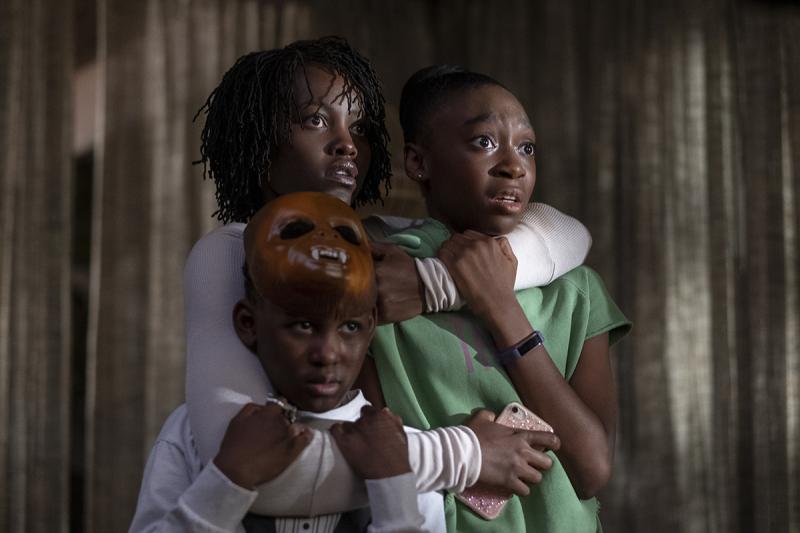 Lupita Nyong'o as warrior mom Adelaide with son (Evan Alex) and daughter (Shahadi Wright Joseph)
Us is Jordan Peele's much-anticipated follow-up to his 2017 horror film, Get Out, which won the first-time writer-director an Oscar for best original screenplay. A lot has been riding on this, Peele's sophomore film with questions being raised over whether he would succumb to the pressures of a bigger budget and make a far more obviously commercial movie.
So far Peele is riding the wave,
Us
has already broken records in the USA where it's had the highest grossing opening weekend for an R rated film ever. It's also won mainstream critics' praise for its attack on America's neglect of its underclass.
So why am I worrying that while I'm not exactly going to rain on Peele's parade, I may be about to unfurl an umbrella? Probably because I didn't come out of the cinema as exhilarated as I was by Get Out, which had the delicious quality of being both an ingeniously plotted horror film and a clever parable about American racism. Instead I emerged from Us feeling that Peele was already preparing its sequel with the film's ambiguous ending and just a bit underwhelmed about his political targets. I was also deeply worried about whether I'd be able to read my endless reminders (scribbled in the dark) to look up the references that studded the film's surface. Biblical verses, details of costume, an old charity campaign advert, music cues, salutes to classic films from The Birds to The Shining and Jaws as well as Eighties cult titles like C.H.U.D and The Goonies... The result is a film stuffed with an overwhelming panoply of coded clues and it's probably best to leave the obsessive Easter egg analyses to the film's fan boy websites.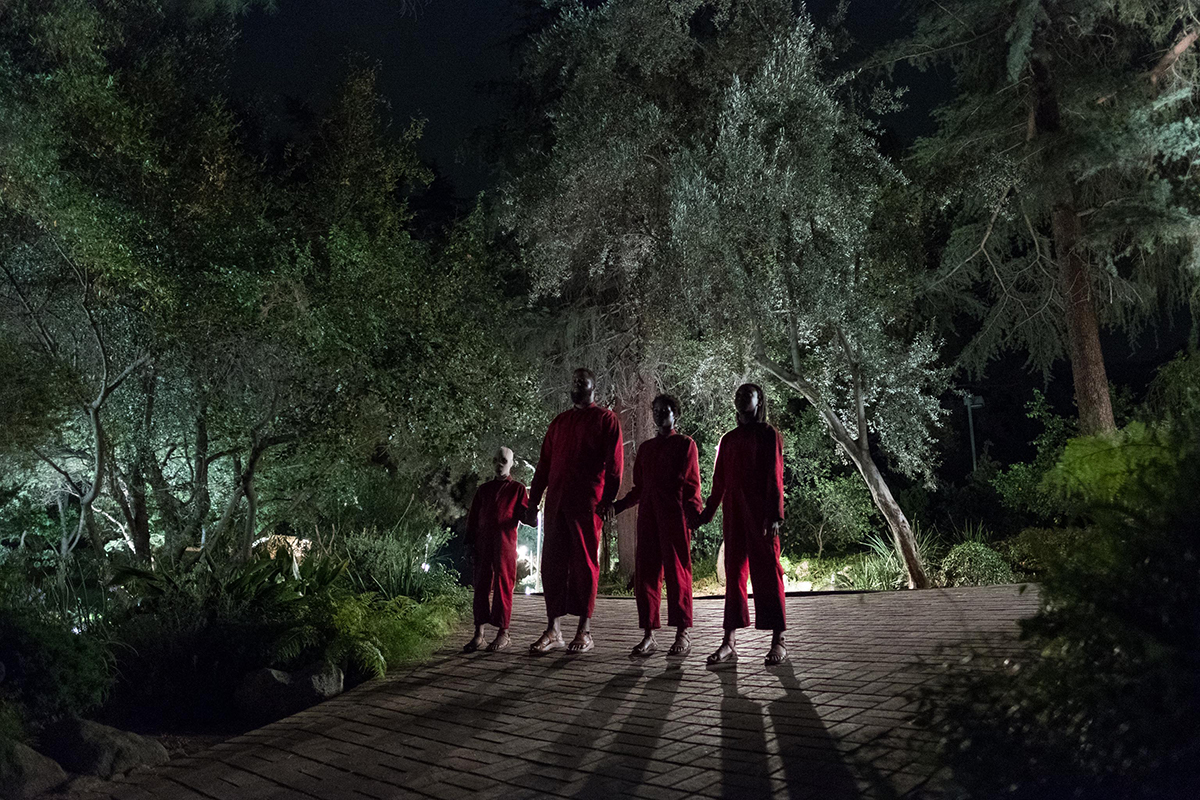 Lupita Nyong'o plays Adelaide, mother to a nine-year-old boy and a teenage girl; she and her husband Gabe (Winston Duke) are spending the holidays at the beach house which belonged to her parents. We have had a long pre-title flashback to 1986 when Adelaide was a young girl; one night she wandered off from her parents at the nearby funfair and had a disturbing experience in an abandoned House of Mirrors. Now in the present, that trauma is set to haunt the Wilson family; four mysterious strangers appear on the night-time driveway. They're clad in red boiler suits, holding hands (pictured above). A mom, a pop and two kids… they want something from the parallel family indoors but what? From this point we're catapulted into home-invasion, zombie-movie territory, with both the adults and children doing battle to save themselves by any means necessary. Nyong'o gives a powerful and eerie dual performance that will undoubtedly see her nominated for her second Oscar and is worth the ticket price alone.
The action sequences in Us are brilliantly engineered and there's plenty of sly gags about modern technology and masculinity as it becomes clear that the Wilson family is not an isolated target. It's not great being their smug white friends either as Elisabeth Moss finds out. The whole of the beachside town, and probably all of America, is under attack from mysterious, mute invaders. We've slipped into Twilight Zone territory when we sink into the tunnels and mysterious laboratories hidden below ground where more red-clad strangers lurk. But where the ingenuity, characters and plot of Get Out held me spellbound, Us kept me at arm's length. It's admirable as a piece of virtuoso filmmaking, but maybe Us is just a bit too clever and too referential to be a really great, wholly immersive horror movie.
we're catapulted into home-invasion, zombie-movie territory, with both the adults and children doing battle
rating
Explore topics
Share this article