Black Panther review - more meh than marvellous |

reviews, news & interviews
Black Panther review - more meh than marvellous
Black Panther review - more meh than marvellous
The Marvel movie made by black talent takes itself too seriously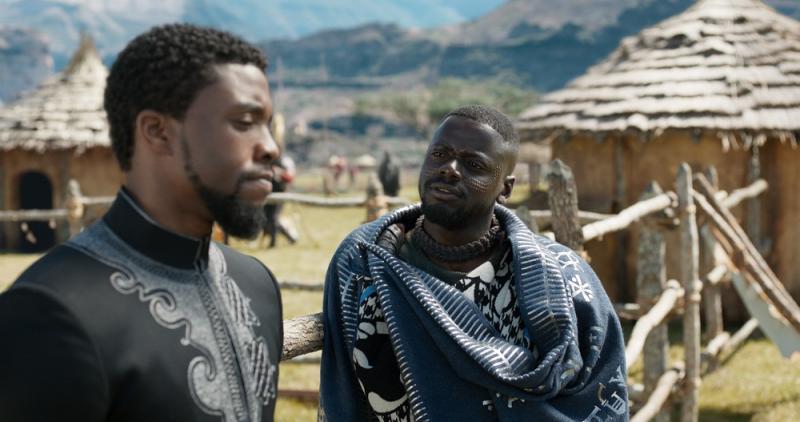 Chadwick Boseman and Daniel Kaluuya in 'Black Panther'
Black Panther arrives with all the critics displaying superhero-sized goodwill for its very existence. It's a big budget mainstream Marvel movie that not only features a nearly all-black cast, but it also has an African-American writer director (Ryan Coogler) and co-screenwriter (Joe Robert Cole).
And it was lensed by Rachel Morrison, tipped to become the first woman to win the best director of photography Oscar for her work on
Mudbound
.
So why am I going to be a miserable sod and say it's all a bit meh? I don't think it's just I'm too old – the two teenage Marvel fanboys I took along were underwhelmed, too. We saw it in a sold-out cinema on its opening day surrounded by young black people and there was not a lot of enthusiastic energy coming from the audience. What's the problem? Well, there's way too much expository dialogue and there are too many turgid flashbacks detailing the history of the legendary, secretive African kingdom of Wakanda and its relation to the rest of the world to be quite bearable. And the hand-to-hand fighting and battle sequences are now so formulaic and predictable in Marvel films that the adrenaline just doesn't kick in.
There's also not enough of that handbrake-turn humour and self-referential ironic dialogue that made the first Iron Man and Guardians of the Galaxy movies great. The scenes with Andy Serkis, playing a truly evil South African assassin, are fun but he's out of the movie too swiftly and there isn't enough of tribal warlord MBaku (Winston Duke), who has an excellent ability to redirect racist stereotypes with comedy. Sadly, Black Panther is just a bit too worthy and even my 13-year-old got bored of the endless "daddy issues" in the narrative and was a touch underwhelmed by the superhero costumes. There were moments when The Lion King and Power Rangers crossed our minds and not in a good way.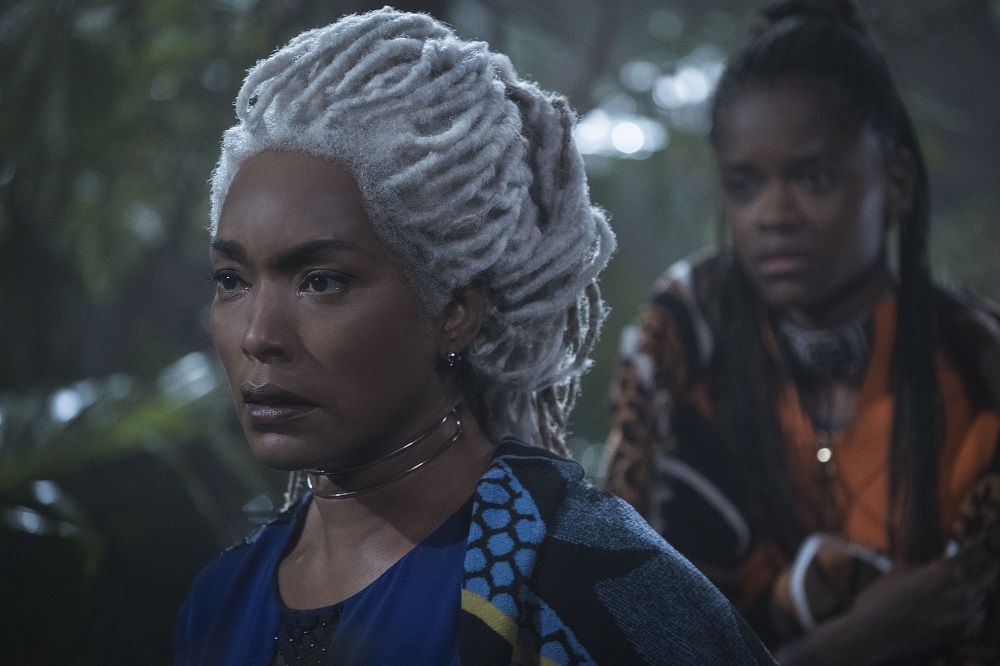 There are some real pleasures – the British actress Letitia Wright is a blast of total freshness as Black Panther's princess sister Shuri. She is more interested in designing and demonstrating her extraordinary superweapons arsenal than dressing up in ceremonial corsets – think Q in the Bond movies replaced by a deliciously spiky young woman. There are several other seriously feisty women fighters, and Lupita Nyong'o as the Panther's love interest delivers some subtle challenges to gender stereotypes. It's also a treat to see an older generation of great African-American actors get a decent role on screen; Angela Bassett (pictured above with Letitia Wright) and Forest Whitaker acquit themselves well.
But Chadwick Boseman (as Black Panther) and Daniel Kaluuya (as his rival/ally W'Kabi) are entrusted with roles that require such tormented gravitas and Nelson Mandela-ish accents that it's hard not to miss their more nuanced, energised performances in Get On Up and Get Out. Black Panther is not utterly without charm. The production design is rather fabulous, fusing African tribal townscapes and costuming with sci-fi futurist fantasia – referencing films from Metropolis to Blade Runner. Perhaps it's a film to go to without the high expectations, but time will tell if the initial hype pays off in the kind of repeat viewings that really make a great Marvel film a box office wipe-out.
The hand-to-hand fighting and battle sequences are now so formulaic that the adrenaline just doesn't kick in
rating
Explore topics
Share this article