Guardians of the Galaxy Vol 2 review - complacent, tedious, cynical |

reviews, news & interviews
Guardians of the Galaxy Vol 2 review - complacent, tedious, cynical
Guardians of the Galaxy Vol 2 review - complacent, tedious, cynical
Sequel to the smash hit of 2014 boasts star cameos but lacks some of the original sparkle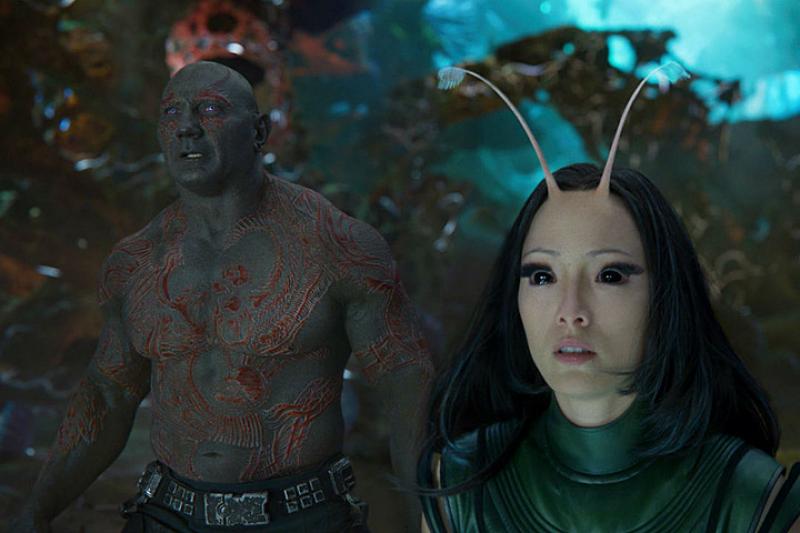 Dave Bautista and Pom Klementieff providing comic contrasts as Drax and Mantis
The original Guardians of the Galaxy from 2014 had a freshness to its humour and introduced audiences to a set of novel characters; unfortunately, the sequel is overstuffed with ageing movie stars trying to get a slice of the action. There's always a camp knowingness about Marvel scripts, it's one of the studio's charms, but here the overt cynicism begins to drag with lines like "We're really going to be able to jack up our price if we're two-times galaxy saviours".
Foul-tempered Rocket the raccoon and two of the new characters are very welcome on screen – there's cute baby Groot who just wants to dance and Mantis (Pom Klementieff), a naive "Empath" who is adorned with antennae that sense everyone's emotions. She makes an excellent comic foil for muscle man Drax (Dave Bautista) and definitely adds to the film's eclectic characters. But the old-time stars drafted in ­ – Kurt Russell, Sylvester Stallone, David Hasselhoff – add little to this intergalactic party, other than queasiness watching their weirdly plasticky faces.
Crash cut to 34 years later on a planet far, far away...
Guardians of the Galaxy Vol 2 opens with one of those scenes where an older actor is recreated as their youthful self through the wonders of CGI – think Carrie Fisher in Rogue One: A Star War's Story. Here it's Kurt Russell making the audience suffer the uncanny valley effect. He plays an out-of-town hunk with a flowing '70s hairdo, impregnating an innocent Missouri teenager in 1980. Crash cut to 34 years later on a planet far, far away, where Peter Quill (Chris Pratt) and his motley crew of Guardians are battling a giant squid with too many teeth while baby Groot boogies to ELO's Mr Blue Sky – all this before the main titles.
The first movie was all about establishing the identities of a motley crew of misfit space vagabonds, eavesdropping on their quarrelsome banter and enjoying their video-game inspired violence, set to a kitschy but infectious MOR soundtrack. But we know these characters now, and the sequel's plot is bogged down in tedious family drama dynamics – Quill's quest for his mysterious dad (shades of Luke Skywalker/Darth Vader) and the rivalry between sisters Gamora (Zoe Saldana) and Nebula (Karen Gillan).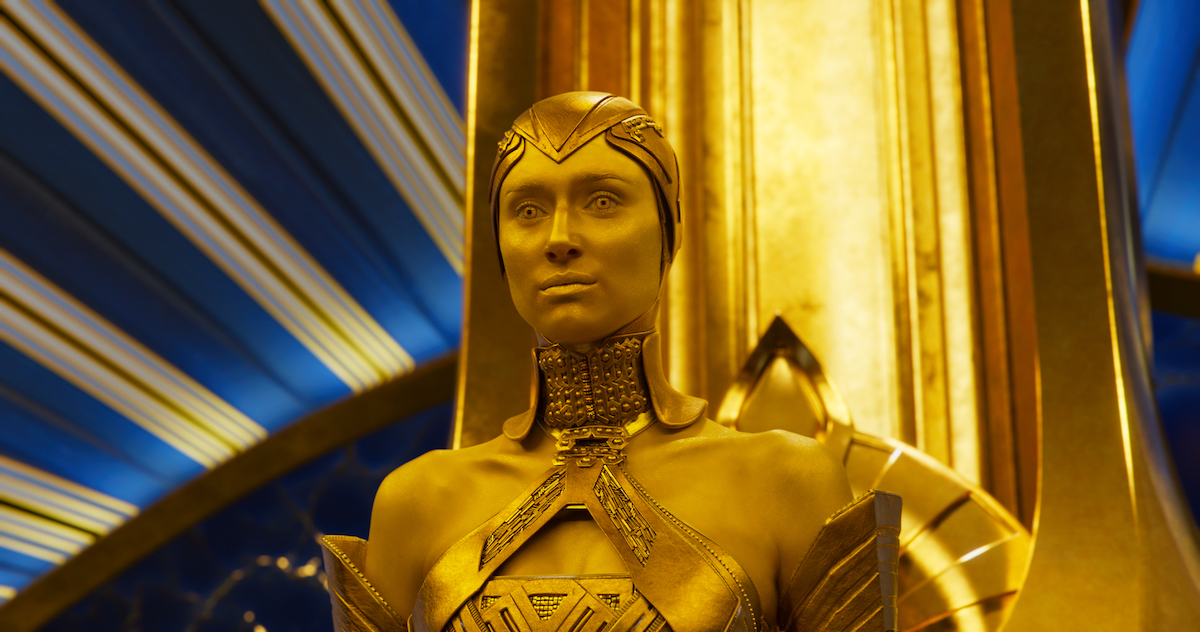 The movie stop-starts between fight-chase sequences played out against pop tunes from Quill's beloved mix-tape; there's something a little alienating about the repeated use of dissonance between the cheery songs ("Come a Little Bit Closer" by Jay & The Americans) and the slomo violence meted out by the Guardians. The disjunction continues with dialogue scenes that flit between gags about turds, Cheers and douchebags and soppy/profound stuff about the true nature of fatherhood and friendship.
The art directors seem to have mined a mash-up of Roger Dean and Hipgnosis album covers for the overall look of the film, while the make-up artists' heavy-handed maquillage have rendered all but Pratt and Russell unrecognisable from their real-life selves. Elizabeth Debicki (pictured above), who exposed so much of her own skin in the designer dresses of The Night Manager, is completely coated in gold paint, while Michael Rooker's Yondu is rendered Smurf blue with dodgy dentition and a detachable Mohican. His character, a quasi-father figure, gets more than his fair share of screen time. Fans will be rewarded with not one but two jokey cameos by Stan Lee and Howard the Duck; sitting through the end credits results in no less than five teaser trailers. It's hard though to warmly recommend the film to non-fans due to too many in-jokes and a general sense of complacency in script and direction. It's simply not as much fun as the first film simply because it's a reprise rather than a reinvention.
Overleaf: watch the official trailer for Guardians of the Galaxy Vol 2