Captain Fantastic |

reviews, news & interviews
Captain Fantastic
Captain Fantastic
Viggo Mortensen stands out in unusual family comedy-drama of colliding worlds
Friday, 09 September 2016
Rocking up for the funeral show: patriarch Ben (Viggo Mortensen) and offspring
If you're expecting family drama, the opening of Captain Fantastic will surprise. We're following a hunter, greased-up so he's invisible in the woods, stalking a deer. There's an edginess to the scene, the atmosphere primal as the animal is killed. Other disguised forms emerge from the trees, and a ritual of smeared blood ensues – nature, red in tooth and claw.
It feels a long way from civilisation; it transpires that we have been witnessing a rite of passage for eldest son Bodevan as he turns 18, orchestrated by his father Ben (Viggo Mortensen, bearded, back in The Road mode, on excellent form). This is not a family tied to convention: home is an Indian tipi deep in the forests of Washington State, where they live off the land. Director Matt Ross gradually reveals how Ben structures his children's lives around physical testing (hard exercise, pictured below, risky rock-climbing) and mental discipline, which has seen them develop at an intellectually precocious rate: it's a film where a little girl will exclaim "I'm a Maoist" out of the blue or riff on Pol Pot, and everyone's jumping ahead with their Great Books (Karamazov to Middlemarch, via Lolita). They make up quite a nice little family music band, too.
That road trip allows Ross's script to expand its range, particularly towards comedy
Mortensen moves vigorously between benign patriarch and commander, and any balancing feminine presence seems much missing. Ben has set up this survivalist, counterculture hub with his wife, Leslie, a decade or so earlier, leaving society behind to create the very distinct world in which they want their six children to grow up. They are named almost à la Tolkien: as well as Bodevan (played by British actor George MacKay, lean and nervy), there are twin sisters three years younger, Vespyr and Kielyr, who manage something of a motherly presence, 12-year-old Rellian (Nicholas Hamilton, stroppy), and the youngest, Zaja and Nai, who have only ever known this way-out world.
They live so far off the grid that it takes Ben a long ride in the family camping van – which has a relatively normal name for these parts, Steve – to reach the nearest phone, a journey he makes to keep up with news of Leslie, who is in hospital in the care of her parents, down in New Mexico. Her illness, of which we gradually learn more, is something their alternative lifestyle can't deal with, but neither can its traditonal counterpart: she is dead, and her father (Frank Langella, dominating) warns that if Ben and family come anywhere near the funeral, he will have them arrested. There's little shared ground between these worlds of individualistic self-expression and convention, but that's not going to stop the family journeying south to pay its last respects.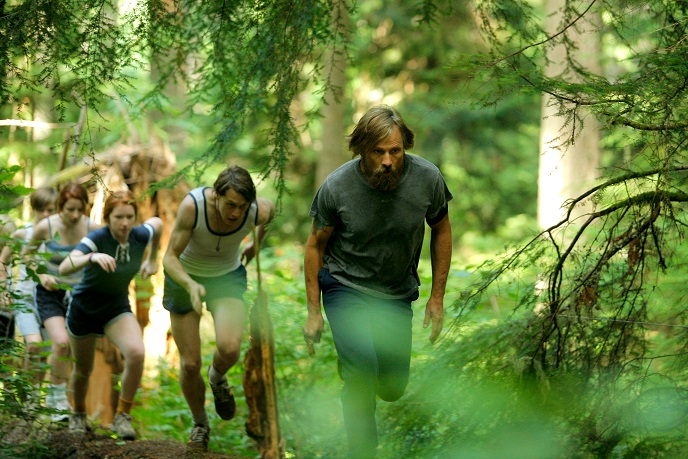 That road trip allows Ross's script to expand its range, particularly towards comedy, as this busload of isolationists brushes up against small town America in a confrontation occasionally as abrupt as Ben's description of Cola as "poison water". Yet there's a subtlety to the balance that Ross presents: the family's right on the nose in some things, not least when they note that virtually everyone they encounter is obese, but there are other incidents that make us think twice. An elaborately staged supermarket grab, genially redefined by Ben as a "Free the Food" moment, has him feigning illness while the kids make off with the shopping. It makes us ponder. yes, it's an appealing game, a thumbs-up to society (albeit one clearly rehearsed, which makes you wonder, not for the only time, just when, and how?), that serves as prelude to an impromptu "Noam Chomsky Day" celebration – Chomsky takes the place of Christmas for this lot – to cheer everyone up. It's not only the knives being bandied around by six-year-olds that makes us wonder whether it's a good thing…
Let out into the wider world the children are challenged in other ways. Bodevan, who has applied for college (with his mother's encouragement, but keeping the news from his dad), is already thinking of the future, the present being a place in which he's rather lost: attracted to a girl at one of their camping stops, the only way he knows how to conclude their meeting is to propose to her. It's very funny, very natural and guileless (and MacKay plays very nicely, absolutely convincing beyond his usual horizons), but brings home how the enclosed environment in which they have grown up can't last forever.
That sense of different worlds colliding reaches its peak at the funeral, at which Ben and family turn up dressed like they're having a wild party (main picture). Leslie had left her own instructions for her send-off, and they aren't being followed in the ceremony organised by her parents, so their disruption is right on one level, but it leads to more grief. An element of resolution, even reconciliation follows, as the family comes to terms with its loss: as well as the Langella's uncompromising grandfather, Ann Dowd plays a more nuanced grandmother, and a decision about the children's future appears to be reached (Ann Dowd with Frank Langella, pictured above right).
At which point Ross changes the register of his film dramatically. If until then he's been making an essentially indie, rather than Hollywood studio film – a dichotomy that, it could be argued, in some way parallels the distinction between the independence of the family's forest world and the conventional society which they are rejoining – from here on Ross starts playing by more predictable rules. There's a particular moment at which Captain Fantastic turns away from more challenging territory, one where issues can be left unresolved, towards something increasingly sentimental.
That may not be a reading shared by the majority of viewers, and it doesn't stop the film from still being entertaining, funny and moving, while the acting remains outstanding throughout, but it flows against the original grain. After that opening scene that went to one extreme, Captain Fantastic closes on Ben and his remaining offspring living what might almost be a parody (but, I fear, isn't) of the American domestic hearth, right down to soft focus furnishings and granola. It's just too cosy to be true, and it's hard to credit how Ben has ended up there unless he's been stiffed a quick off-screen lobotomy (he hasn't). Closing credits recording archery and taxidermy contributions remind us of what's gone missing.
Overleaf: watch the trailer for Captain Fantastic
Closing credits recording archery and taxidermy contributions remind us of what's gone missing
rating
Share this article