Cocaine Bear review - comedy horror lacks the bare necessities |

reviews, news & interviews
Cocaine Bear review - comedy horror lacks the bare necessities
Cocaine Bear review - comedy horror lacks the bare necessities
Peruvian Paddington has nothing to fear from his Tennessee rival
Saturday, 25 February 2023
In for a big surprise? Keri Russell goes down to the woods
This is one of those films where it's really best to stick with the trailer. The incompetence of the directing and screenwriting is easy to disguise when a crafty promo-maker has picked out the good bits from a large pile of bear scat.
Cocaine Bear aspires to be comedy horror (think Tremors, Gremlins, An American Werewolf in London) but falls short both in terms of thrills and giggles. The movie was inspired by the discovery in 1985 of an American black bear dead in the woods of Tennessee after it had found and eaten a huge amount of cocaine jettisoned from a drug smuggler's plane.
The creators of Cocaine Bear have taken that unfortunate ursine and imagined it on a white powder rampage. There's a disparate cast with an eye to appealing to every demographic. Unfunny Scandi hikers are the first victims of the bear's aggressive appetite, while Margo Martindale plays a stoutly flirtatious forest ranger. When the visiting warden she fancies observes, "You've got a dusty beaver, ranger", she comes back with the zinger, "Yeah, I'm working on that". Bring back Mrs Slocombe's pussy…
An underused Keri Russell plays a feisty single mum determined to find her young daughter, who has bunked off school with a friend to explore the woods and accidentally stumbled across the cocaine. The bear keeps returning to the remaining stash for another snort, threatening everyone on its trail. Meanwhile O'Shea Jackson Jr and Alden Ehrenreich play a couple of petty criminals sent to retrieve the drug haul, goaded by Ray Liotta (below) as the latter's dealer father.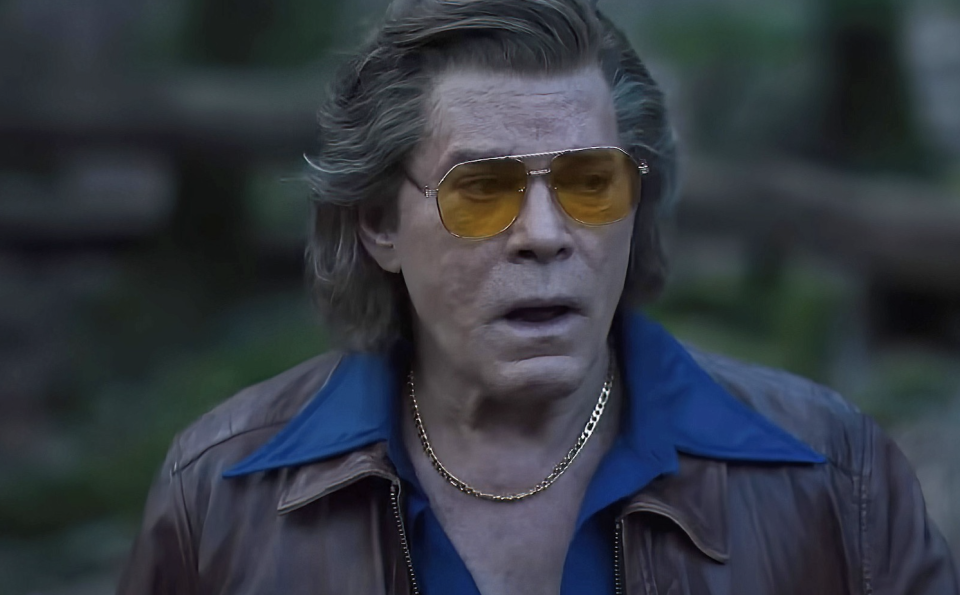 It is a terrible shame that this was Liotta's last screen appearance, he looks like he's phoning in his performance. Did getting a chance to play a coke dealer remind him of his glory days in a similar role in Goodfellas? Better to rewatch that masterpiece, or his stunning turn in Jonathan Demme's Something Wild than be left with this as a lasting memory of a fine actor. Cocaine Bear also throws in some whining punks, and a wasted Isiah Whitlock Jr as a middle-aged cop disappointed in the fluffy pooch he's been given by the animal shelter.
As for the poor doped-up bear, a combination of an Andy Serkis-trained actor in a furry suit and a lot of snarling CGI work, it gets to rub itself into a frenzy against the trees, rip off the odd limb, and chase an ambulance, but it's never scary or remotely credible. The drug messaging is ambiguous. The two school kids spit out a huge mouthful that seemingly has no effect on them, and there's a feeble moralistic thread about what it means to be a good parent. Turns out the poor bear is a mum, too, keen on protecting her CGI cubs.
It would have been a treat if Cocaine Bear had been one of those so-bad-it's-good cult films. Maybe it would have worked if it had director-screenwriters like the Coens or the Farrelly brothers or Sam Raimi, but Jimmy Warden's script is a mess and Elizabeth Banks, who did a decent enough job as an actor on Call Jane, proves that women can direct as badly as men.