Drive My Car review - talk therapy on the road |

reviews, news & interviews
Drive My Car review - talk therapy on the road
Drive My Car review - talk therapy on the road
A theatre director and his driver confront self-deception in a flawless melodrama
Saturday, 20 November 2021
Fellow travellers: Mr Kafuku (Nishijima Hidetoshi) and Misaki (Miura Toko) in 'Drive My Car'
In the first 35 minutes of Hamaguchi Ryūsuke's three-hour Drive My Car, which the Japanese director adapted with Oe Takamasa from a story in Murakami Haruku's Men Without Women collection, the successful actor Kafuku Yūsuke (Nishijima Hidetoshi) endures experiences that would derail a less stoical man.
One is the sight of his screenwriter wife, Oto (Kirishima Reika), having sex with a handsome young actor, Takatsuki (Okada Masaki), in their apartment. Mr Kafuku doesn't react, but walks away and never mentions Oto's infidelity to her.
That Oto loves her husband is evidenced by the compassion she shows when they learn he has glaucoma. It's an obvious metaphor: Mr Kafuku can't see Oto clearly or fathom her out. It transpires her affair was one of many, part of a psychosexual pattern triggered by the death of their young daughter 20 years earlier. This pattern demands that Oto and Mr Kafuku each silently perform a role, predicated on denial, to sustain their relationship. (Pictured below: Kirishima Reika as Oto and Nishijima Hidetoshi as her husband, Mr Kafuku)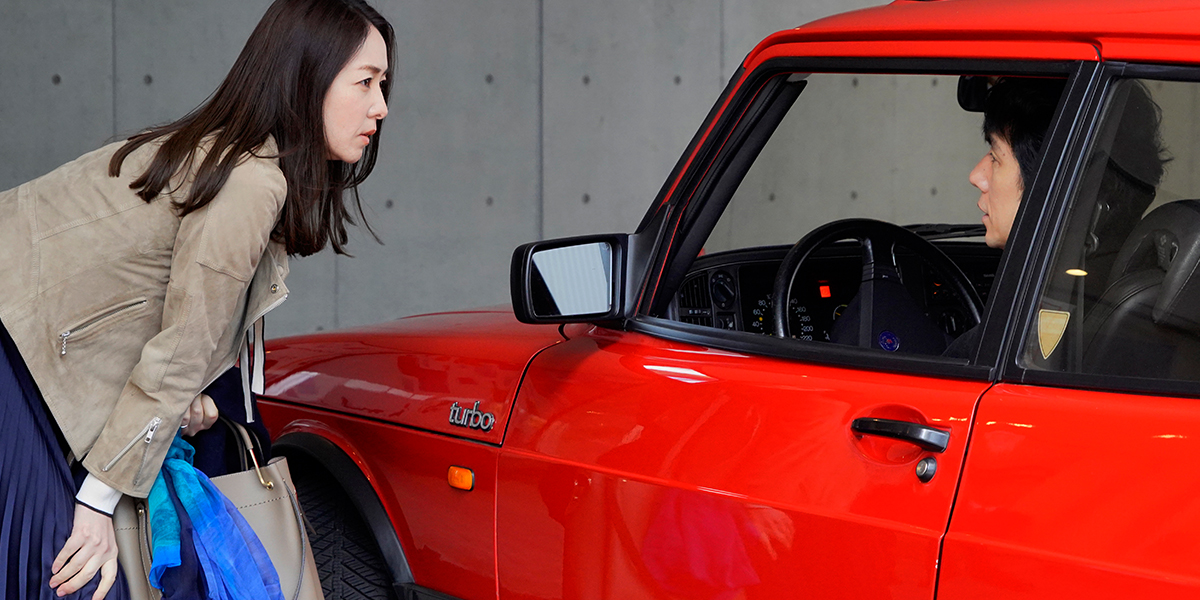 Two years later, with Oto gone, the melancholy Mr Kafuku still seeks deliverance from his illusions about her – the lies he told himself having proven more corrosive than the humiliation visited on him by her "secret" alternative life. In starting to accept who she was during their marriage and why she acted the way she did, Mr Kafuku finds an unlikely ally inside a safely hermetic extrasocial space immunised to acts of self-deception because they would simply bounce back at him off the walls.
Hamaguchi's absorbing dramas explicate the differences between his characters' conscious, private realities and those they enact in order to make their lives liveable or to get what they want. It's unsurprising that the 42-year-old writer-director manifests his "all the world's a stage" preoccupation in stories that include performers and other kinds of artists, whose creating of transformative imaginary realities is a calling and often a necessity. That is true of Hamaguchi's five-hour Happy Hour (2016), Asako I & II (2018) and the Rohmeresque triptych Wheel of Fortune and Fantasy (2021) no less than it was of early works like Depths (2010), Intimacies (2012) and Touching the Skin of Eeriness (2013).
Respected for his portrayals of Uncle Vanya's eponymous embittered protagonist – whose age, 47, he shares – Mr Kafuku accepts an offer to direct the play at a Hiroshima stage festival. He asks to be booked in a hotel an hour away from the theatre so he can listen, possibly for masochistic reasons, to Oto's recordings of Chekhov's dialogue as he drives to and from work.
Though irked when the organisers, mindful of insurance, insist that Mr Kafuku uses their appointed driver, the curt young Hokkaido woman Misaki (Miura Tōko), he finds her smooth handling of his pristinely maintained red Saab 900 lulls him into a mental state that's almost abstracted from his quotidian reality with its pressures and anxieties. Though he can't escape the ghost of his marriage, he begins to loosen its demonic grip on his ego. (Pictured below: Okada Masaki as Takatsuki and Nishijima Hidetoshi as Mr Kafuku)
His ally is his driver, Misaki, whose neutral companionship on their repetitive drives encourages Mr Kafuku to open up, and the safe space is the interior of the Saab (though it's also a shiny manchild's toy, connoting developmental arrest, that he needs to jettison). Together they provide the conditions for psychotherapy – a disinterested listener and an upright couch that moves Mr Kafuku along emotionally. Chekhov's lines – and Vanya's romantic obsession with Yelena – inevitably comment on Mr Kafuku's predicament and offer him pearls of wisdom, such as Yelena's belief that knowing the truth is "less terrifying than the unknown".
Between these journeys, Mr Kafuku guides his Vanya cast, whose members speak different languages (one of them sign language), through the repetitive, uninflected script-reading process that Hamaguchi himself uses. The goal is to instil the text in the actors, enabling them to transcend the words and respond with greater veracity – through connecting emotionally as characters – than they would if preoccupied with their line readings.
To play Vanya, Mr Kafuku has chosen none other than Takatsuki, either to revenge himself on him – because he is too callow and untalented for the part – or to school the impulsive young man in morality and restraint, unavailingly as it turns out. He doesn't tell Takatsuki he knows he slept with Oto, nor does Takatsuki admit it, so both engage in subterfuge. Importantly, Mr Kafuku tells Takatsuki, who is sleeping with an attractive fellow cast member, that there are other ways to get to know women than through sex.
Understanding women, or attempting to, is central to Hamaguchi's project, as it was to Eric Rohmer's. Mr Kafuku's increasingly confidential and tender interactions with Misaki gently unmask three women: Oto, whose taking of lovers, he realises, had become an intrinsic part of her selfhood; Misaki herself, a guilt-ridden orphan who, at 23 is not insignificantly the same age Mr Kafuku's daughter would have been had she lived; and, via Misaki's confessions as she drives, her mother.
She was a nightclub worker who tormented Misaki but would adopt a bizarrely regressive alter ego when she wanted them to be close. In the film's wintry final third, Misaki drives Mr Kafuku on a long trip that takes them through tunnels and other symbolic gauntlets that enables her to exorcise this maternal phantom and make peace with the unstable woman who could only express love for her daughter through performance. Mr Kafuku and Misaki thus unite in pain, empathy, and the nearest they can get to closure.
The impeccable Drive My Car cuts close to the bone of romantic and familial relationships and the fraught issue of trust and betrayal – in which playacting, lying, dissembling and evading on one hand, and self-doubting, self-blaming and self-sabotage on the other, are grist for the mill of obtaining self-knowledge by looking closely into one's heart. As Murakami writes, however, "the proposition that we can look into another person's heart with perfect clarity strikes me as a fool's game."