DVD: In Between |

reviews, news & interviews
DVD: In Between
DVD: In Between
Fresh, energetic and highly entertaining portrait of three young women looking for love and equality in Tel Aviv
Tuesday, 06 February 2018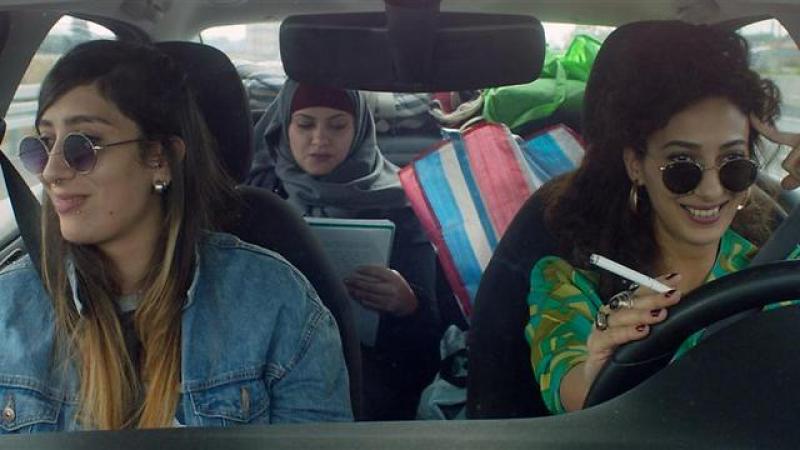 One careful lady driver? Sana Jammalieh, Shaden Kanboura, and Mouna Hawa at the wheel
In Between didn't get nearly enough attention on its cinema release in the UK last autumn, hampered perhaps by its nothingy title and a synopsis that can make it sound like it will be a worthy evening out when in fact it's anything but. One of the liveliest debut features of 2017, it follows three twenty-something Palestinian women who share a flat in Tel Aviv. It's sharp, funny and eye-opening.
Director Maysaloun Hamoud draws on her experience as an Arab film-maker living in Israel to create a wholly fresh take on sexual and cultural politics. Imagine Girls and Sex in the City but without the white American privilege and you'd be getting close, although In Between most reminded me of another director who made their debut film focusing on a feisty female central character, Spike Lee with She's Gotta Have It, back in 1984.
She has lifted the covers on young Palestinians' love lives, gay friends and high times
Although In Between is an ensemble piece, Laila, played by the stunningly beautiful and super-smart Mouna Hawa is the strongest figure. She's a lawyer with a mane of curls who sees nothing wrong in showing her cleavage at work. Laila is a secular Muslim who knows exactly what she can expect from her Jewish colleagues in the legal business. And in her downtime she also takes no prisoners; she's got an appetite for drugs, dancing and female solidarity but is still looking for a man to be her soul mate. Her friend Salma (Sana Jammalieh) finds life a little tougher; she's a DJ who works shifts in a restaurant as a sous chef where the Israeli boss doesn't want the kitchen crew speaking Arabic. Meanwhile back home her Christian parents endlessly line up potential husbands because Salma hasn't dared tell them she's gay.
As there's a lot of wild partying in their apartment, it's not the obvious place for new flatmate Nour (Shaden Kanboura) to find a quiet room to finish her computer studies degree. Nour is a hijab-wearing Muslim with a disapproving fiancé who sees Tel Aviv as a city of sin. He wants Noura to marry him and return to their ultra-conservative hometown of Umm al-Fahm on the West Bank. Their relationship provides the film's most shocking scenes. There's plenty of vivid drama along the way, all beautifully shot by Itay Gross and made wholly credible by semi-improvised dialogue scenes as not all the actors were professionals.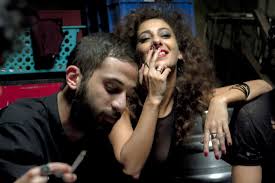 In Israel the film has been a huge and controversial hit. Maysaloun Hamoud has lifted the covers on young Palestinians' love lives, gay friends and high times (pictured above: Mahmud Shalaby skinning up with Mouna Hawa). The film was banned in Umm al-Fahm while others criticised the director for receiving some funding from the Israeli government. Hamoud has received death threats because she is challenging fundamentalist religions, casual racism from Israelis towards Arabs and the endemic cultural repression that traps women (and to a certain extent men) in restrictive roles. In Between would make a fascinating double-bill with Menashe – both sympathetic portraits of normally inaccessible communities, ultra-orthodox Jews in Menashe; bohemian, radicalised Palestinians in In Between.
Intended as the first in a trilogy, I can't wait to see more of the central characters. The DVD release comes with a scrappy short feature compiled from on-set footage and interviews with Hamoud and her Israeli producer, Shlomi Elkabetz. It looks as if they all had fun making the film – there's a lot of hugging and high spirits – which makes In Between's cool coherence even more impressive.
Overleaf: watch the trailer for In Between
Hamoud has received death threats because she is challenging fundamentalist religions
rating
Explore topics
Share this article