DVD/Blu-ray: It Happened Here
DVD/Blu-ray: It Happened Here
Britain under Nazi occupation: landmark 'alternative history' film revisited
Kevin Brownlow and Andrew Mollo's It Happened Here surely deserves the acclaim often accorded it as "the most ambitious amateur film ever made", and the rich supporting extras on this BFI dual-format release make clear why. Best of all is a 65-minute interview with Brownlow, in which he recounts how he set out in 1956, at the age of 18, to make this ambitious "alternative history" of England living under wartime Nazi collaboration.
The development of the film – the 17-year-old Mollo came on board the following year as co-director after Brownlow sought his advice on war-time costuming and design, only to be told squarely that his solo efforts to that point weren't up to much – is a tale in itself. Working with amateurs and filming at weekends, they took eight years to reach the final version that played at the 1964 London Film Festival.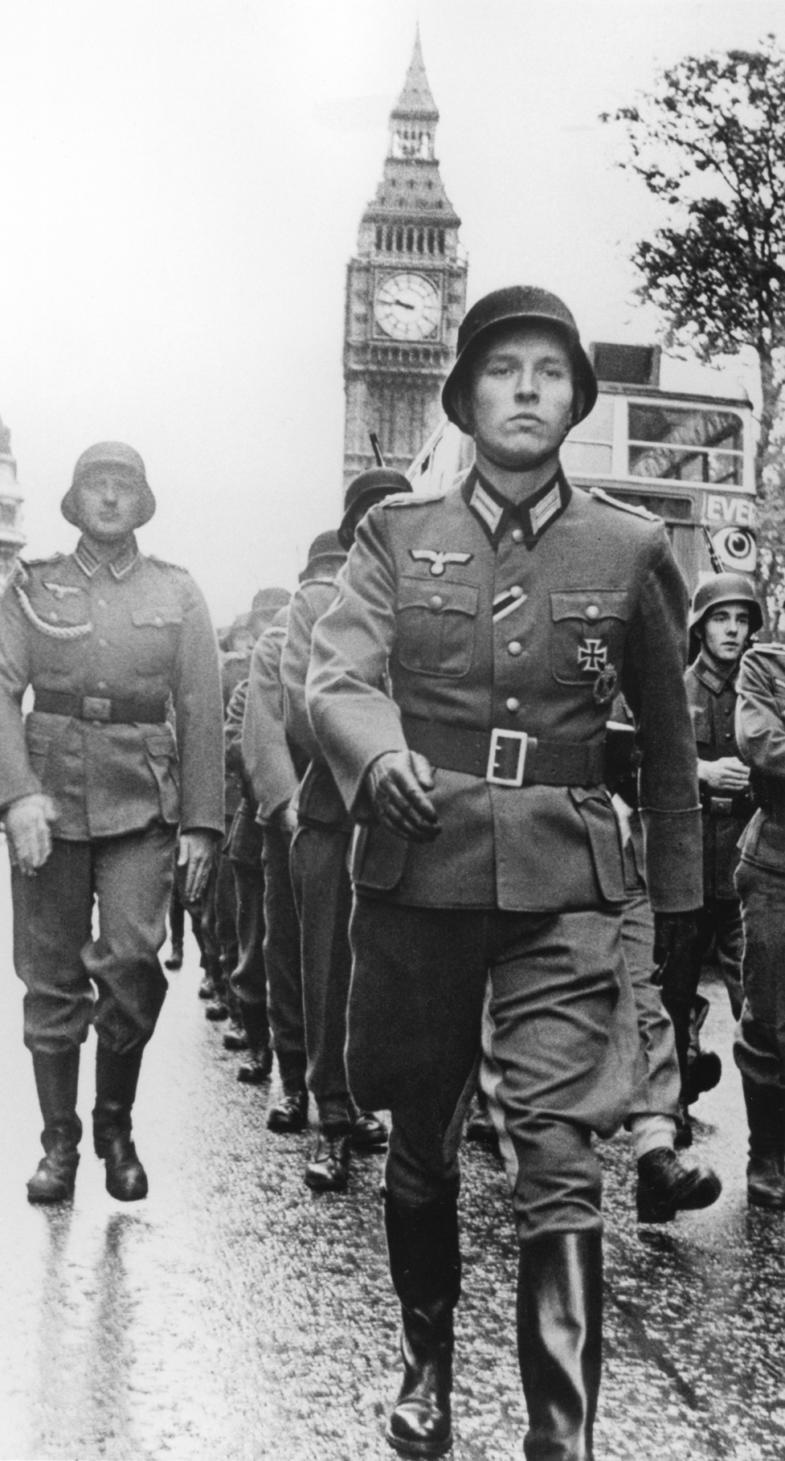 Crew included future talents such as Peter Suschitzky in his first major cinematographer role, alongside Peter Watkins as an assistant director. Filming started on 16 mm, before backing from Tony Richardson at Woodfall Films enabled a move up to 35 mm "short ends" (film stock unused at the end of a reel) that came partly from Kubrick's Dr Strangelove. It made for an economy of both process and style, one that in no way reflected in the scale of the final film, however.
There was nothing amateur about the film's central idea either, with its premise that the Germans had invaded England following the British retreat from Dunkirk, driving resistance underground; by 1944, however, the partisans were beginning to resurface, supported by invading American troops, as seen in the film's final scenes, which are as unflinching a portrayal of the reality of resistance movements as you will find. The Nazi-supporting "Immediate Action" (IA) movement rapidly stepped up to run a British administration that proved very ready to collaborate.
It Happened Here more than stands comparison with last year's TV adaptation of Len Deighton's SS-GB, bringing home how the limited resources of the film worked in its favour, its laconism most of all foregrounding psychology. Heroine Pauline is evacuated from partisan territory back to bomb-ravaged London, along whose streets the Nazis strut (pictured above left). Despite trying to escape involvement in anything political, she joins the IA as a nurse, her decision driven by a typical "try to get back to normal" mentality (the non-professional Pauline Murray's clipped delivery is very much in Brief Encounter spirit). In her exposure to the realities of life within the system – from the blimpish, rabble-rousing speeches to how it treats the weak – as well as by witnessing the fate of some erstwhile friends who had chosen a different direction, Pauline is forced to confront the consequence of her choices, becoming something of an Everyman character in the process.
It looks now like a piece of guerrilla filmmaking ahead of its time (though the period authenticity isn't something usually associated with that style)
Brownlow and Mollo establish the historical context of the time, as well as the meaning of National Socialism, with a brilliant faux German newsreel "Mirror on the World" which dates the new Anglo-German cooperation back to the famous Christmas truce of WWI. It's so much more than pastiche (the full 10-minute version comes as another extra here), catching atmosphere outstandingly: like the periodic radio broadcasts through the film, voice work was done by the same BBC announcers and commentators who had worked through the war.
But it's the scene that follows the newsreel that really unsettles, as some of Pauline's IA colleagues articulate the essence of their Nazi ideas, ranging from attitudes to the Jews and the "slime of Communism" to eugenics (main picture). The directors had been associating with some of the British Far Right as part of their research, and here they simply sat some of them down and allowed them to express their beliefs in practically documentary style.
It proved too much for distributor United Artists, however: despite critical controversy, It Happened Here was released in May 1966 with that crucial scene cut. It's restored here, of course, and Brownlow's commentary gives the full story behind that. It wasn't the directors' only disappointment: they never saw "a brass farthing" back from release, despite a degree of box-office success (made on a budget of around £7,000 in the money of the time, it took more than three times that sum in the UK alone). Branded "uncommercial", they took another decade to make their second film, the English Civil War drama Winstanley.
Brownlow has since had an illustrious concurrent career as a film historian, whose work with silent film, including the full restoration of Abel Gance's Napoléon, speaks for itself. This new 2K remaster from original camera negative marks his 80th birthday, and It Happened Here looks now like a piece of guerrilla filmmaking ahead of its time (though the remarkable period authenticity that was so crucial for Mollo isn't something usually associated with that style). But the relevance of its commentary on human nature and society living through times of national upheaval has never gone away. Chilling.
Overleaf: watch the original trailer for It Happened Here