DVD/Blu-ray: Living |

reviews, news & interviews
DVD/Blu-ray: Living
DVD/Blu-ray: Living
Bill Nighy owns Oliver Hermanus' delicate Kurosawa remake scripted by Kazuo Ishiguro
Seizing the moment: Rodney Williams (Bill Nighy) outside County Hall
Mr Williams (a wonderfully restrained, Oscar-nominated Bill Nighy) is taking time off work from his job in the Public Works department at County Hall in London. It's the early Fifties and office life is very proper, with bowler hats and a strict hierarchy that reflects the class structure of Britain.
He has stomach cancer but hasn't informed his conventional son and grasping daughter-in-law, who live with him. Instead, he reveals his secret – "It's rather a bore… the doctors have given me six months" – to a stranger (Tom Burke) whom he meets in a café in a seaside town. A pub crawl follows, probably a first for Mr Williams. He loses and gains a hat, the second one slightly jauntier than the first. Later he confides in Miss Harris (Aimée Lou Wood), the ebullient office secretary, who leaves County Hall to get a better job – or so she hopes – in a Lyons Corner House.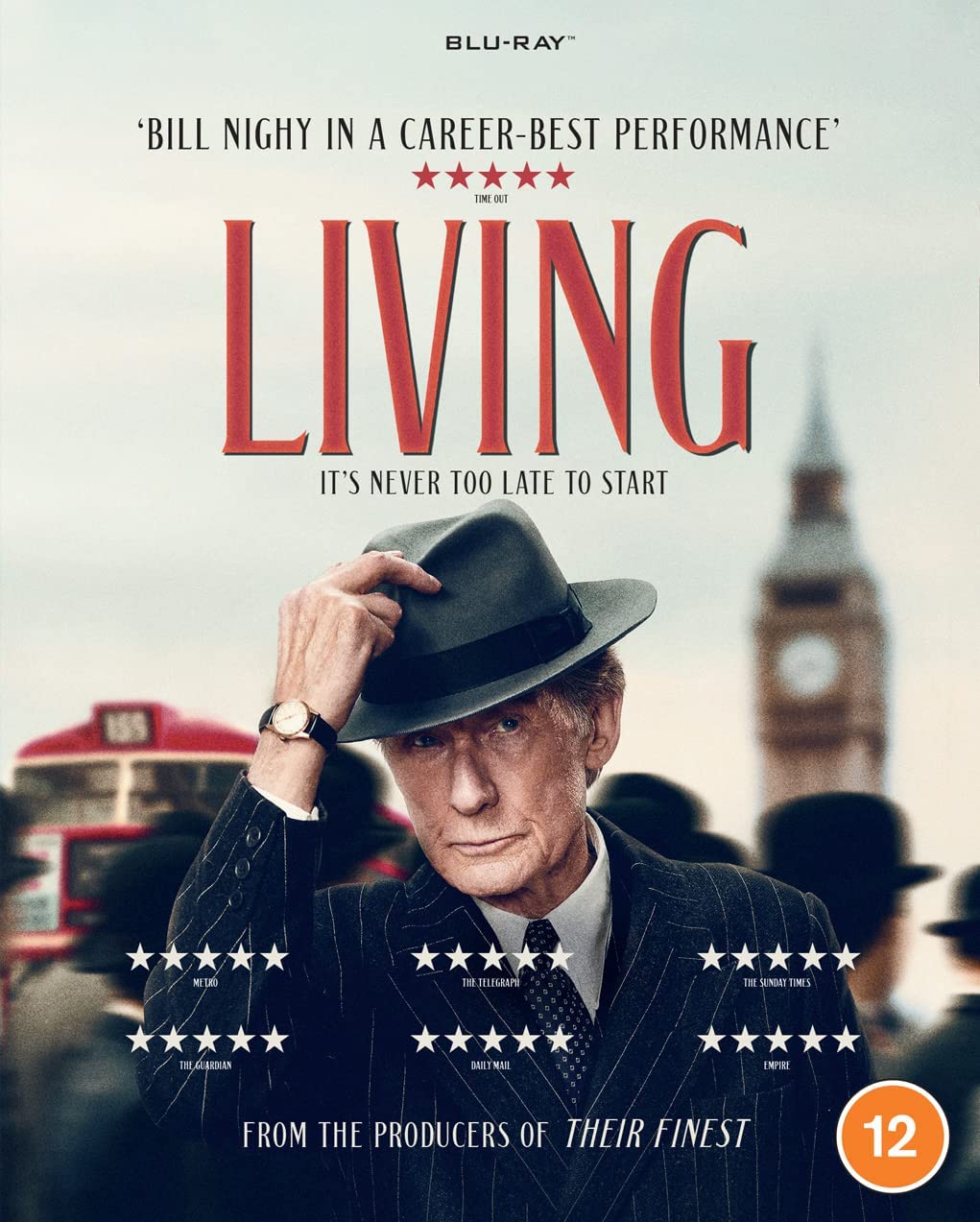 Director Oliver Hermanus and writer Kazuo Ishiguro's delicately beautiful, though sentimental and somewhat stilted movie, is a remake of Akira Kurosawa's 1952 film Ikiru (To Live), and it follows very much the same scene-by-scene trajectory, though without the voice-over of the Japanese original which hammers the point home rather too obviously: "He's drifting through life… He's been dead for 25 years."
This DVD release features interviews with Hermanus, Nighy, Wood and Ishiguro, who moved with his family from Nagasaki to Guildford in 1960, when he was five. He says what a profound influence Ikiru had on him when he first saw it on TV in England, aged about 11, and how the parallels between English commuters and Japanese bureaucrats struck him then.
Ishiguro got the train every day to school in Woking, travelling with those bowler-hatted, Times or Telegraph-reading commuters on their way to Waterloo. "I was in my uniform, they were in theirs." He always felt there were more similarities than differences between England and Japan: both empire nations, both arrogant, both believers in the stiff upper lip, and both burdened with a post-war need to rebuild a better society. There wasn't much need for cultural translation, he says, in this story of a civil servant who finds a way of making his life, semi-lived up till now, meaningful and triumphant within the boundaries of his work.
Mr Williams may have been drifting through life, too, but he has, in a way, achieved what he longed for when he was a cricket-playing boy: to become part of the "gentleman" class of the pre-war, empire-building variety. "A rank and file sort, but still a gentleman." He confides in Miss Harris that he's afraid, now he knows his days are numbered, of ending up like the kind of child you see in a corner while other kids are playing boisterously: not happy, not unhappy, just waiting dully for his mother to call him in.
The character of new office recruit Peter Wakeling (Alex Sharp) is a more defined one in Living than in Ikiru. We see him at the station in his blue pinstriped suit on his first day, making jokes that don't go down well at that time of the morning, then sharing a compartment with his colleagues – though not, of course, with Mr Williams, who, as head of department, occupies a slightly higher echelon and travels alone.
In the office, Miss Harris, who has secret nicknames for all the staff, smiles conspiratorially and tells him to keep the skyscraper of folders on his desk as high as possible. (Pictured above: Bill Nighy, Aimée Lou Wood). Soon Wakeling is lumbered with the apparently hopeless task of accompanying a band of ladies with their playground petition, taking them from department to department, being fobbed off each time. "We'll keep it here then," murmurs Mr Williams, adding the folder to a pile. "It won't do any harm."

But that's before the appointment with his doctor on that same fateful day. He takes several days off, unprecedently. And when he returns, with Miss Harris's effervescent enthusiasm for life (they play the slot machines and go to the cinema to see Cary Grant in I Was a Male War Bride) galvanising him further, he takes the playground petition in hand. No longer a zombie (that was her name for him) he won't take no for an answer. He is living. No more passing the buck, no more cowering deference towards Sir James, the boss – a real gentleman, not just rank and file – though his perfect manners never falter.
We see, through his colleagues' eyes after his funeral, his dogged determination to reverse the harm done. Many of the scenes, again, replicate those in Ikiru: Mr Williams waiting all day for a reluctant bureaucrat to sign off on the plans, then wading through the sewage water at the bomb site where the playground will be built. He almost falls, doubled over in pain, and turbaned Fifties ladies rush to bring him tea. And at the end, as in the famous scene in Ikiru, we see Mr Williams on the swings, in the snow, singing the Scottish song, "The Rowan Tree", that his wife used to love.
Ishiguro always felt there were more similarities than differences between England and Japan
rating
Share this article