Ex Machina |

reviews, news & interviews
Ex Machina
Ex Machina
Human nature is tested to destruction in Alex Garland's Artificial Intelligence thriller
Alex Garland's directorial debut is spare, clever s.f. Ever since he began his now abandoned novelist's career with The Beach, he has known how to drive high-concept narratives home, viscerally fuelling them with human foibles. Ex Machina's tale of artificial, attractive intelligence rings subtle changes on familiar s.f. ideas, while keeping within the clean lines of a mostly three-hand drama. When callow internet search engine employee Caleb (Domhnall Gleeson) wins a competition to visit his company's legendary founder Nathan (Oscar Isaac, pictured below right with Gleeson) in his isolated retreat, Nathan says he wants Caleb to put his latest invention, Ava (Alicia Vikander), to the Turing Test: does his prettily human-shaped robot have true consciousness? Has Nathan created Artificial Intelligence?
Mind games and regular injections of intriguing ideas maintain a steady grip, while claustrophobic corridors keep the budget cannily low. The question of who has a soul also exercised Garland in his adaption of his friend Kazuo Ishiguro's clone dystopia Never Let Me Go. Garland's Dredd script is a better comparison. Ex Machina has the mix of fizzy intellect, black humour and streamlined thrills Judge Dredd's comic-book home 2000 AD has always specialised in (as did an early, obvious homage to it, Blade Runner). It's a glorified yet subdued version of one of that comic's standbys, the twist-ending Future Shock. Discarded Dredd composers Ben Salisbury and Portishead's Geoff Barrow's score, suggesting John Williams' Close Encounters riff when Ava appears, confirms the link.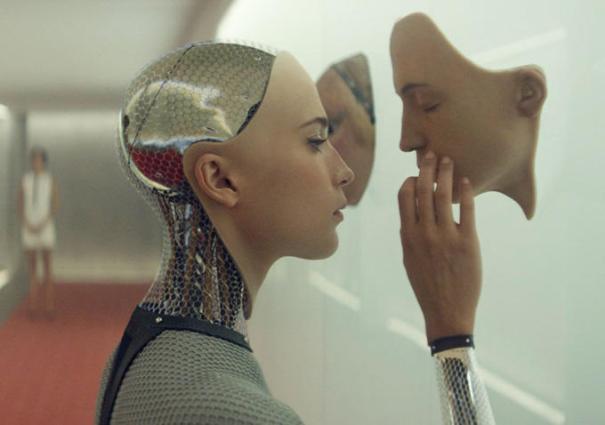 Ex Machina's novelty isn't in its concept, but its social detail. Isaac's Nathan embodies the internet geek as alpha male. The Mozart of computer coding by the age of 13, he speaks with the post-hippie informality beloved by Apple and Google, but pumps iron, has eyes cold with control, and lives in a Bond villain's retreat, much as one imagines Bill Gates did. He has replaced Google with his own Bluebook by improving on the philosophy of search engines, tracking why we search, not what. When Caleb asks if Ava's face was based on his porn profile, and Nathan mentions hacking into every mobile phone on the planet, the crazy dystopia we already live in is alarmingly clear. Nathan seems just the sort to have his hand on the virtual tiller: a mix of Dr. Frankenstein, Dr. Moreau, internet activist and corporate raider (and Bill Gates...).
Garland's three hands are played by actors he has brought together just before their careers sail beyond his reach. Isaac's versatile intensity has built through fierce supporting parts in Agora and Drive to Inside Llewyn Davis and the new Star Wars, where he's joined by Gleeson. Swedish star Vikander, great as an abused Danish queen in A Royal Affair and just making her English-language breakthrough in Testament of Youth, is high-wattage for robot Ava. Like the minor fourth hand here, apparent sex slave Katya (Sonoya Mizura), Ava seems a captive victim, a just-born, android innocent. Ex Machina's subtlest sleight of hand is that our eventual horror at her treatment only makes sense if she has passed the Turing Test. If Ava didn't look and emote like Vikander, her plight would seem as tragic as a toaster's.
Overleaf: watch the trailer for Ex Machina