The Good Liar review - the grey pound dipped in acid |

reviews, news & interviews
The Good Liar review - the grey pound dipped in acid
The Good Liar review - the grey pound dipped in acid
McKellen and Mirren play dark conman games in an uncompromising thriller
Strangers in the night: Betty McLeish (Helen Mirren) and Roy Courtnay (Ian McKellen)
Ian McKellen, his Mr Holmes director Bill Condon and Helen Mirren play clever, nasty games with conman clichés and presumptions about the elderly in this sometimes absurdly twisty thriller.
McKellen's Roy Courtnay is an irascible, whiskery cad, Mirren's Betty McLeish the trusting, rich widow he entraps. His slow courting of her in her genteel, suburban estate home is only part of a wide portfolio of dishonesty, aided by his avuncular partner in crime Vincent (Jim Carter), a fake lawyer ever ready with dummy investment papers, whether enticing a widow over cream teas, or luring a businessman with oligarch rubles at Stringfellow's.
Roy's scams make him mask his cunning and vitality, adopting a limp as he turns the corner to meet Betty, then shucking his old mac to gratefully saunter in a pin-stripe towards more amenable City prey. He numbs Betty with the anodyne drip of clichés, then excites investors with inflated pipedreams. Condon has great fun with this constant doubling and deceit, which approaches Whitehall farce in its quick-change requirements. Mirren similarly damps down her natural acuteness as a successful but unworldly academic.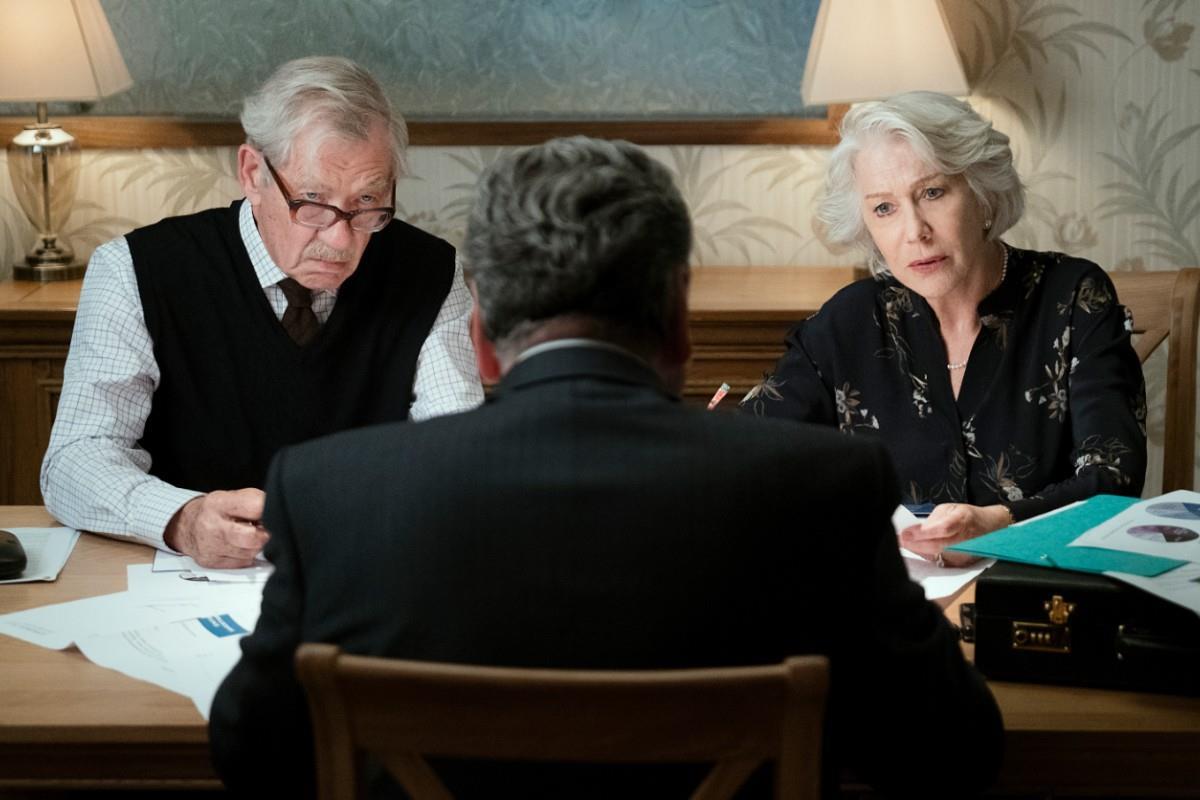 Condon's overhead camera sees the precisely planned outline of Betty's suburb as crop circle-weird. Its bungalows, privet hedges and wheezing, well-meaning joggers seem equally alien to Roy, peering from the necessary purgatory of his prey's neat garden with a rheumy sneer. Condon also skims through grey London and Berlin locations with the outsiders' eye cast on rural Sussex in Mr. Holmes. Mostly, though, he relies on his stars' still magnetic faces for visual allure. Mirren manages to be clever, foolable and sphinx-like, while McKellen relishes the revelation that age hasn't withered Roy's essence as a wholly nasty piece of work.
Condon and McKellen have been good for each other, making their Hollywood breakthrough together with the actor's Oscar-nominated turn as Frankenstein's gay director James Whale in Gods and Monsters (1998), and reconnecting after enormous mainstream success (Dreamgirls and Twilight for the director, Gandalf and X-men for his star) in Mr. Holmes' vision of a Sherlock living long enough to investigate atom bombs, and Alzheimer's.
Roy Courtnay is another uncompromised role for the now octogenarian McKellen. Far from Hollywood fantasies of conmen as playful rogues, he's a merciless, veteran life-wrecker. This is Terry-Thomas as Jack the Ripper, as ready to ransack a gullible woman's account as offer her his arm on a date (in another wrong-footing feint, Inglorious Basterds' anti-Nazi ultra-violence provides our pensioners' night at the pictures).
Wartime flashbacks offer a bigger story, making this a film about the betrayal and restoration of adolescent hope, as well as livid, life-long cruelties. But as plot cogs slam into revelatory place, The Good Liar's novelistic source becomes clear, stretching credibility which previously rested on ambiguity and character. Condon's repeated dipping of the grey pound in acid remains a bracing achievement.