On Her Shoulders review - half-life of a campaigner |

reviews, news & interviews
On Her Shoulders review - half-life of a campaigner
On Her Shoulders review - half-life of a campaigner
An engrossing and startling documentary on Yazidi advocate Nadia Murad
Nadia Murad is now an United Nations ambassador on human trafficking
In September 2014, after three months of captivity, Nadia Murad escaped ISIS control in Mosul, Iraq. Since then, she has dedicated her life to travelling the world and telling everyone who will listen about the plight suffered by her Yazidi people, then and now still.
On Her Shoulders
shows this exhausting commitment, simultaneously in the public eye yet seemingly ignored when action is required.
As we're introduced to Nadia, we quickly understand the strain this touring causes, constantly made to relive her horrifying experience for interviews. Her work is valuable for the public to understand the crimes committed by ISIS, but it doesn't get any easier for her. You have to wonder how many times she will have to repeat her assault until the world has listened. At times, it feels futile.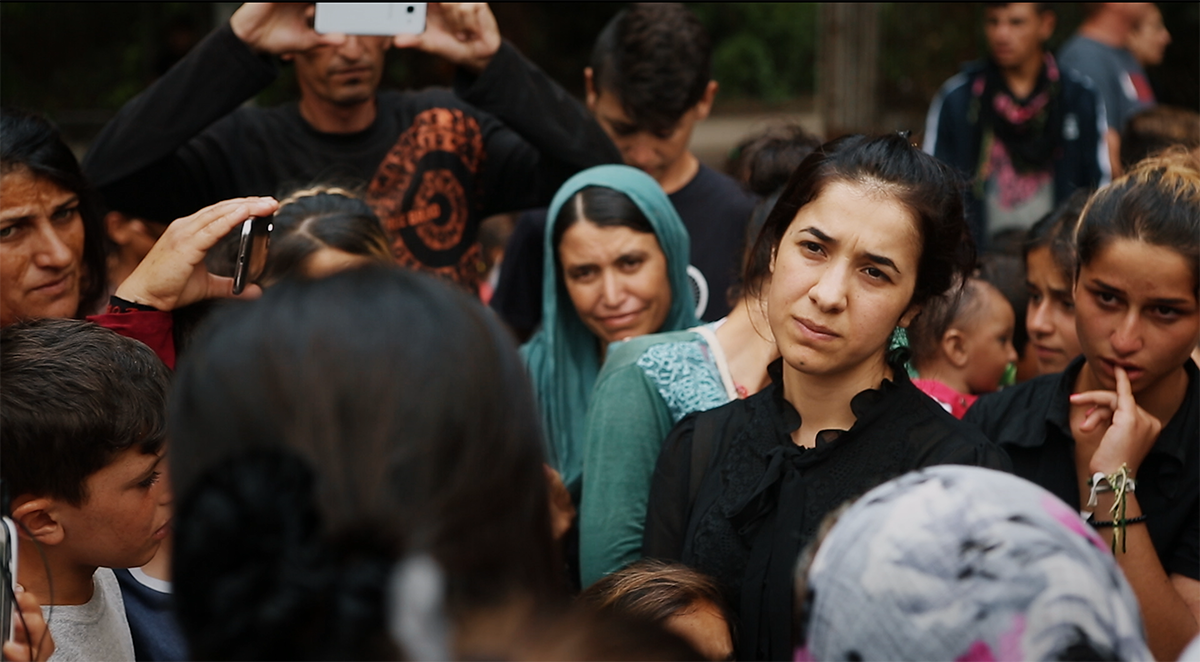 Her testimonies to the media are counterpointed by the documentary, in which she speaks head on to the camera. No longer the detached victim, she takes control of her narrative and makes you listen. It's a powerful image, showing how desensitised we become to the news aesthetic. Here she can explain why she does it, what she wants, and perhaps just importantly, who she is.
The film offers a rare insight into how the UN and different governments deal with refugee crises. Much of Nadia's time is spent encouraging various politicians into action. We might occasionally see these photo-ops in the news, but not from this side. There's a surreal quality to these meetings, with one Canadian liberal politician smiling and offering a tour of the parliament. Nadia's visibly uncomfortable with the routine, and you can't help but shuffle in your seat too. When refugees aren't being ignored, they're being exploited.
In fact, the time Nadia seems most comfortable is when she's among her own community. She smiles and relaxes in a way that you wouldn't see on the news, offering hope to thousands of Yazidi people trapped in refugee camps. You can forget the person behind the tears when that's all you see, but by filming Nadia's everyday moments you get a clearer idea of who she is, and how she wishes to be far away from the media circuit.
Constantly by Nadia's side is Murad Ismael (pictured above right), her translator, fellow campaigner and confidante. Their relationship is incredibly moving - if expectation is on her shoulders, then it's Murad she leans on for support. For most of the film, he offers translation and occasional encouragement. We rarely see him without someone else's words in his mouth, at times refusing to translate when he thinks it might upset Nadia. His respect and affection for her is clear, and becomes devastating when he is finally interviewed three-quarters through the film. Although it feels crass to say, it's a masterstroke of filmmaking; a monologue that adds heartbreaking subtext to their story.
On Her Shoulders is the feature debut of director Alexandria Bombach, and it's an accomplished introduction. Although interviews and fly-on-the-wall filming are old hat for documentaries, here they feel fresh. The camera rarely strays from Nadia's face, building a portrait of facial ticks and distant stares. It's intimate and dreamlike, with the live sound often drifting into silence or news reports. By the end, you may not know much more about the overall Yazidi crisis, but you're far more aware of our own systems and their effect on those navigating them.
The film demonstrates what makes Nadia Murad and Murad Ismael unique: it is not so much a single-minded determination than simply their situation. At one point, she's told not to cry because the Yazidi people are looking to her for strength, but you just wish she could. At times, she and Murad are overwhelmed, they're disillusioned, they're exhausted. They're everyday people, who once aspired to have a simple job like hairdressing. It brings to mind when someone is going through cancer treatment and everyone tells them they're so brave. In fact, there's no choice, it's treatment or die. They're just doing what needs to be done, and it's damning that Nadia and Murad's situation is born from a humanitarian and political quagmire.
The camera rarely strays from Nadia's face, building a portrait of facial ticks and distant stares
rating
Share this article