Horse Money |

reviews, news & interviews
Horse Money
Horse Money
The phantoms of Portuguese colonialism haunt Pedro Costa's masterpiece
Tuesday, 15 September 2015
Lost in a labyrinth: Ventura as himself
Pedro Costa's Horse Money begins with a silent montage of Jacob Riis's grim photographs of late 19th-century Manhattan slum dwellers, some of them former slaves or their offspring. One photo shows a bowler-hatted young black man sitting athwart a barrel; beside him stands a white woman with a filthy face. The former looks like he had enough wits to survive the squalour for a while, the latter looks doomed. As ghosts immobilized in time by the Danish journalist and reformer Riis's camera, they open the door to the ghosts, alive and dead, who populate the post-colonial misery of Costa's Portugal.
There's an immediate cut to a framed 1970s colour portrait of a handsome young African-Portuguese and then a pan to where the same man, Ventura, now in his seventies, descends a sloping passage until a white-coated attendant locks a door behind him. The labyrinth into which the viewer is following the sick, trembling but undefeated Ventura seems to be a terminally benighted asylum, hospital, or prison, but it's really his addled mind, where the murky pathways of the past, the present, and the future intersect.
Such is the power of Costa's filmmaking that the most vivid incident of 'Horse Money' isn't shown
This beautiful, disturbing, and often agonizingly slow docufiction is the 56-year-old minimalist maestro's fourth consecutive full-length statement of solidarity with the impoverished emigrants from the former Portuguese slave colony of the Cape Verde archipelago who settled in the Lisbon slum of Fontainhas. Colossal Youth (2006), Costa's last feature, introduced Ventura, a non-professional playing a version of himself, wandering between his new home in a low-cost housing complex and the remnants of the cleared slum – and delusionally recognising as his children some of the survivors of Costa's Ossos (1997) and In Vanda's Room (2000).
Having been beaten (or having recollected being beaten) by soldiers, Ventura is visited in a sick room by a group of old mates and his nephew – that is, in the film's non-naturalistic convergence of Ventura's present reality and imagined present, he converses again with his long-dead colleagues.
He recalls how each of them suffered cruelly working as bricklayers, masons, or pavers. One ended up burning himself and his family to death. Another, an epileptic, was involved in a fatal accident. Yet another, who augmented his income selling drugs, "needs a shot every day". Ventura built up a life for himself, but "mould in the walls" of his house – a metaphor for social malaise as well as a mycotoxin – bequeathed him his nervous disease and cost him his job. As Costa did with the mesmerizing Vanda Duarte (a survivor of heroin addiction) and her sister Zita (who died), Costa partially based his film on Ventura's reminiscences of struggle, misfortune, and misapplied will, all the result of his oppression and exploitation.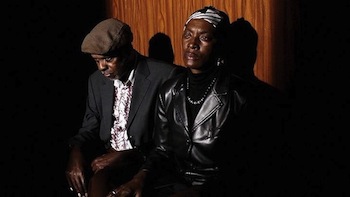 Such is the power of Costa's filmmaking that Horse Money's most vivid incident isn't shown. Nearly 40 years later, it consumes Ventura with guilt. On 9 March 1975, the day an attempted rightist coup failed to undo the Carnation Revolution that had brought down Portugal's fascist government the year before, he and Joaquin Varela (Tito Furtado), a fellow emigrant, slashed each other with knives on a Fontainhas street. Varela's red shirt (seen eventually) suggests he was a leftist; Ventura, who had a habit of running from the revolutionary MFA soldiers, was a dissident or coward. Varela died in 2013, never having recovered. A shadow of Ventura's estranged wife in Cape Verde, Varela's widow Vitalina (the real name of the formidable actress, pictured above with Ventura) tragically couldn't get a visa in time to make his funeral. Yet she visits Ventura at his Gothic institution to tell him he destroyed all their lives. Her smile on leaving him hints at a rapprochement – though it could be she's another ghost, one from whom he needs forgiveness. In a film of uncertainties, the same is certainly true of Varela, whom Ventura treats with brotherly affection after he rises from the grave in that red shirt.
Named for Ventura's horse Dinheiro, which was "torn apart by vultures" around the time he lost his livelihood and all his Cape Verde property, Horse Money has a stylistic debt to the German Expressionism of Fritz Lang and the Val Lewton school of restrained, dread-laden chillers. Howard Hawks's championing of male professionalism registers in the pride and fellowship of Ventura and his builder mates; his harbouring of a dark side echoes the psychological duality in some John Ford heroes. The key influence though was Not Reconciled (1965), Jean-Marie Straub and Danièle Huillet's stark deconstruction of history – as the chronological process that produced Nazism – into a timeless phenomenon of recurrent patterns. The plight of Horse Money's Cape Verdeans was suffered and will be suffered in the future by all underclasses created by capitalism, imperialism, and betrayed democracy.
Overleaf: watch the trailer for Horse Money
It's really his addled mind, where the murky pathways of the past, the present, and the future intersect
rating
Explore topics
Share this article