How I Ended This Summer |

reviews, news & interviews
How I Ended This Summer
How I Ended This Summer
A cool relationship becomes cold confrontation in an arctic Russian thriller
Stand-off in the Arctic wastes: Out in the wilds, Pavel's relations with Sergei become dangerous
If ever there's a film where the landscape itself seems to become a main character, it's Alexei Popogrebsky's How I Ended This Summer. Action, such as it is, unfolds in the remotest Arctic regions of Russia's Far East, where the personal conflict between the film's two protagonists develops as they come to understand the nature of their different conflicts with the looming mountains and rough seascapes by which they are isolated.
Last year's Berlin Film Festival fêted How I Ended... with Silver Bears – one, appropriately, went to cinematographer Pavel Kostomarov for his outstanding contribution (implicitly, one felt, also for the grandeur of the Chukotka landscape that he captured in such glory). The other was shared between its two lead actors – actually virtually the only actors in the work – Sergei Puskepalis and Grigory Dobrygin. For the record, How I Ended also took the main prize at last year's London Film Festival (though beware the plot-spoiler).
Puskepalis plays Sergei, a veteran meteorologist who's been out in these distant wastes for decades, falling into a natural relationship with nature; true, he has a family back on the mainland, but we presume their meetings are very rare (though their existence is one of the plot-driving factors in the film). Dobrygin plays Pavel, a naïve enough twentysomething, who is out there for the summer as part of his training (the film's title plays on the kind of school essay that would be the first piece of course work for students anywhere returning to their new autumn term).
Popogrebsky, working as usual from his own script, sets up their initial working and living interaction – the older man caught up in his accustomed isolation, not hostile but effectively paying little attention to his younger companion. Pavel finds his own source of diversion in the MP3s and video games he's brought along, not least because he seems to find Sergei's remoteness somewhat intimidating.
The stand-off starts when Pavel is on radio duty – there's a great deal of radio communication through the film, though it's almost always meaningless enough repetition of meteorological data – and he gets an urgent message to pass on to Sergei. As he prevaricates about doing so, he puts into course the film's dramatic denouement, that brings in elements to the film's last third that we had had no suspicion of from its beginning. For a film that is stylistically so slow, the term "thriller" may seem a strange one, but that is exactly what we come to feel as the previously cool relationship between the two becomes an even colder type of confrontation.
Do we overlook the believability of the plot, given the spectacular main role that the landscape plays in the film?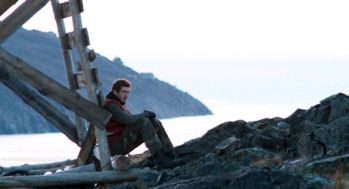 It's just at that point that viewers may become divided about the believability of the plot line, namely Pavel's continuing silence – is it psychologically credible in the circumstances, or is it needed to drive the plot? Do we overlook it anyway given the spectacular main role that the landscape itself plays so brilliantly?
I'm still out on that one, but have to confess that the central two-way psychological dynamics of Popogrebsky's earlier two films seemed somehow more convincing (interesting, too, that his training was in psychology rather than film). I rate his Koktebel from 2003, co-directed with Boris Khlebnikov, as one of the best Russian films of the Noughties, with its dynamic of father-son relationship charted just as tenderly as it sensitively captures the atmosphere of Russia outside the big cities. With Simple Things four years later, he moved that emotional dynamic into a big city atmosphere, with its distracting sub-stories, but still it was a central male-to-male face-off that dominated the film, this time with Puskepalis playing the younger of the two main protagonists. (It's one of life's sheer coincidences, of the kind that Popogrebsky likes to note, that the director met Puskepalis, who was better known before then as a theatre director, when the latter's son Gleb played the child role in Koktebel: it's hard now somehow to imagine how Popogrebsky's subsequent films would have worked out without that encounter.)
His new work is a memorable film, and one that definitely touches on the generational divides of Russian society today. For me, however, that's not finally enough to make up for a certain missing sliver of emotional credibility at the centre of its plot. For the landscapes alone, How I Ended... must rate among the very best of recent cinema - not least because they can't help but recall that life's emotional dramas are so often set off by the enormity of the nature that dwarfs them.