The Human Voice review - an intense half-hour that pulls no punches |

reviews, news & interviews
The Human Voice review - an intense half-hour that pulls no punches
The Human Voice review - an intense half-hour that pulls no punches
A jilted woman turns her back on misery
Tilda Swinton contemplates suicide in Pedro Almodovar's The Human Voice
I wonder how many relationships have foundered during lockdown and how many have suffered the humiliation of being dumped over the phone or via social media?
Filmed during the pandemic, Pedro Almodovar's intense, half-hour short The Human Voice may not be a direct response to Covid-19, yet it captures the aching loneliness of enforced separation and the longing for intimacy. The film was inspired by Jean Cocteau's eponymous play. First performed in Paris in 1930, it features a woman saying goodbye on the phone to her lover, who is about to marry someone else.
The play has since spawned an opera and several films, including Almodovar's Women on the Verge of a Nervous Breakdown. In this new version, Tilda Swinton plays the abandoned woman coming to terms with rejection and voicing her passion, fury and bile in a lengthy phone call with her ex. She wears air pods so her lover's voice is inside her head, yet his absence is palpable; so is her solitude.
Far from being a slice-of-life weepy, though, Almodovar's film is nuanced and canny. Even the credits – spelled out in carpenter's tools – declare it to be a well-crafted confection.
Swinton (pictured right) plays an actress. It's a role that suits her perfectly since she often seems to be performing self-consciously, whether posing as Edith Sitwell for Tim Walker, exchanging britches for crinolines in Sally Potter's Orlando or sleeping in a glass case at the Serpentine Gallery in 1995. Creating an edgy sense of detachment, it lends her monologue an emotional complexity that makes it a mesmerising tour de force.
She is dressed in designer clothes and the apartment could be the set for a fashion shoot. The olive green walls are adorned with masterpieces. Above the bed hangs Artemisia Gentileschi's swooning Venus and Cupid and, flanked by elegant wall lights, is Giorgio de Chirico's Hector and Andromache, a painting of robotic lovers awkwardly entwined (pictured below). But an overhead shot reveals it to be nothing but a flimsy film set built inside a sound stage.
Wearing a bright red Balenciaga ballgown, Swinton wanders listlessly around this cavernous space. Are we catching the tail end of a fashion shoot or is she simply dramatising her melancholy? Next we see her in a hardware store buying an axe with which to vent her spleen on her lover's suit, which lies on the bed like a sloughed off skin.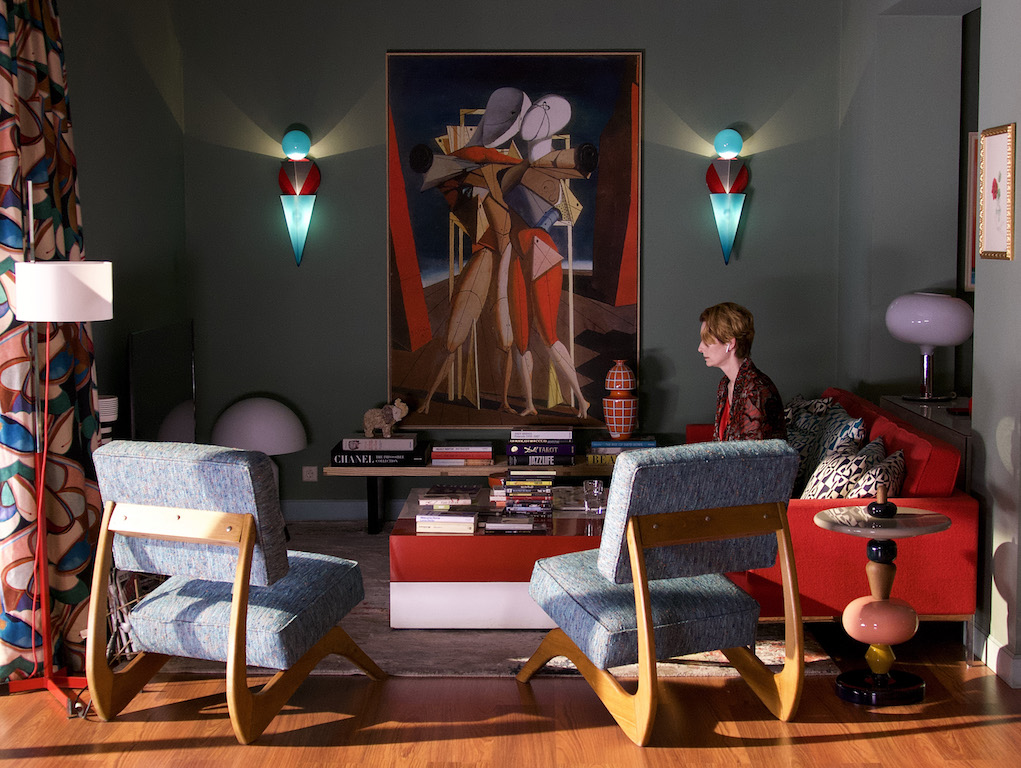 The axe murder is purely symbolic, and so is her suicide. Having perfected her make-up, donned a stylish red pant suit and swallowed a handful of pills, she arranges herself on the bed. "I staged it," she admits later to her ex. "I took 13 pills. I knew the combination wasn't lethal. I know all about drugs; they've been my only friends for some time now. I wanted you to find me looking pretty."
The dog, who has similarly been abandoned, wakes her up by licking her ear. The phone rings. It's her lover to say he's not coming back; he will send José round to collect his stuff. Her revenge is gloriously spectacular and empowering, and the film ends optimistically, with an epiphany. She exits the sound stage with the dog; together they will build a new life out in the real world. No more play acting.
It's release timed to coincide with our escape from lockdown, Almodovar's film couldn't be more pertinent.
The Human Voice is in cinemas on May 19th for one night only, then available on HBO max