La voix humaine, Grange Park Opera online review – hanging on the telephone |

reviews, news & interviews
La voix humaine, Grange Park Opera online review – hanging on the telephone
La voix humaine, Grange Park Opera online review – hanging on the telephone
Poulenc's technological tragedy proves eerily apt for lockdown lives
Hot line to heartbreak: Claire Booth
Rustles of renewal are stirring in the Surrey woods where Grange Park Opera has built the splendid theatre that remains, for this summer, sadly out of bounds. Faced with the cancellation of its 2020 programme, Wasfi Kani's company has not simply relied, like many others, on a back catalogue of archive videos to keep its audiences onside.
For the "Found" season, it has commissioned a series of 15 original performances – some given by artists in their own homes, but some staged in the empty "Theatre in the Woods", with social-distancing measures duly in place. The events, which run until 9 July, include home-based recitals by Bryn Terfel, Joseph Calleja and Simon Keenlyside, as well as concerts at West Horsley Place itself that will culminate in Strauss's elegiac
Metamorphosen
, for 23 present but distanced strings.
"Found" began as soprano Claire Booth and pianist Christopher Glynn performed Francis Poulenc's La Voix Humaine in the eerily unpeopled auditorium. Composed in 1958, Poulenc's monodrama is a setting of Jean Cocteau's wrenching solo piece, written three decades earlier, with its forsaken heroine hanging on the telephone that connects her down a fitful line to the lover who has abandoned her. Given our current constraints, it's no surprise that the lyric stage in lockdown has turned to chamber works with minimal casts that plumb the depths of human solitude and isolation. Over in Munich, this weekend the Bayerische Staatsoper will be welcoming an actual audience, albeit a scanty one, into the Nationaltheater with Frank Martin's Six Monologues from 'Everyman'. Grange Park itself has scheduled another monodrama of abandonment, Dominick Argento's Miss Havisham's Wedding, for 16 June.
Poulenc's 40-minute tour de force for a singing actor – composed for his regular collaborator, soprano Denise Duval – gives expression to desperate loneliness with a simmering intensity that certainty feels true to the kinds of apartness that this pandemic has forced upon us. That much I expected. What surprised me with Grange Park's production was how well the technological panic and bewilderment that Cocteau observed in the telephonic age of 1920s maps onto the digital landscape of today. We still fling our profound feelings plaintively down fragile wires, although now they arrive illustrated with contorted cartoon faces in addition to fading, fragmenting voices.
On one side of a stage seemingly scattered with the contents of a props store, with a red phone box symbolically placed at the centre, Booth's heroine – named simply "Elle" – speaks in longing, fondness, rage and anguish to the departing lover whose voice we never hear. Also unheard, an operator connects and (after frequent interruptions) reconnects the pair. This is a break-up conversation in every sense. Although we mostly hear Richard Stokes's translation of the monologue, Elle's exasperated exchanges with the operator are in French – a touch that adds another potential obstacle to this tragedy of shattered links. Across the stage, Glynn's piano part – the piece's original accompaniment, although Poulenc later rescored it for a small orchestra – acts as a sort of proxy for the invisible man. The piano also contributes a sardonic wordless chorus, and (in the more rhapsodic passages) an accomplice for Elle during her memories of vanished happiness. Poulenc deftly captures the doublings, stumbles, hesitations and false starts of our telephone voice, in an idiom marked by jagged rhythms, fraying tonality and uneasy intervals. Then, as Elle drifts back into her memories of togetherness, a full-blooded lyricism sporadically takes wing. These flights ensure that the piece as a whole recalls the composer of a hit such as 'Les Chemins de l'Amour', as much as the maker of the Dialogues des Carmélites.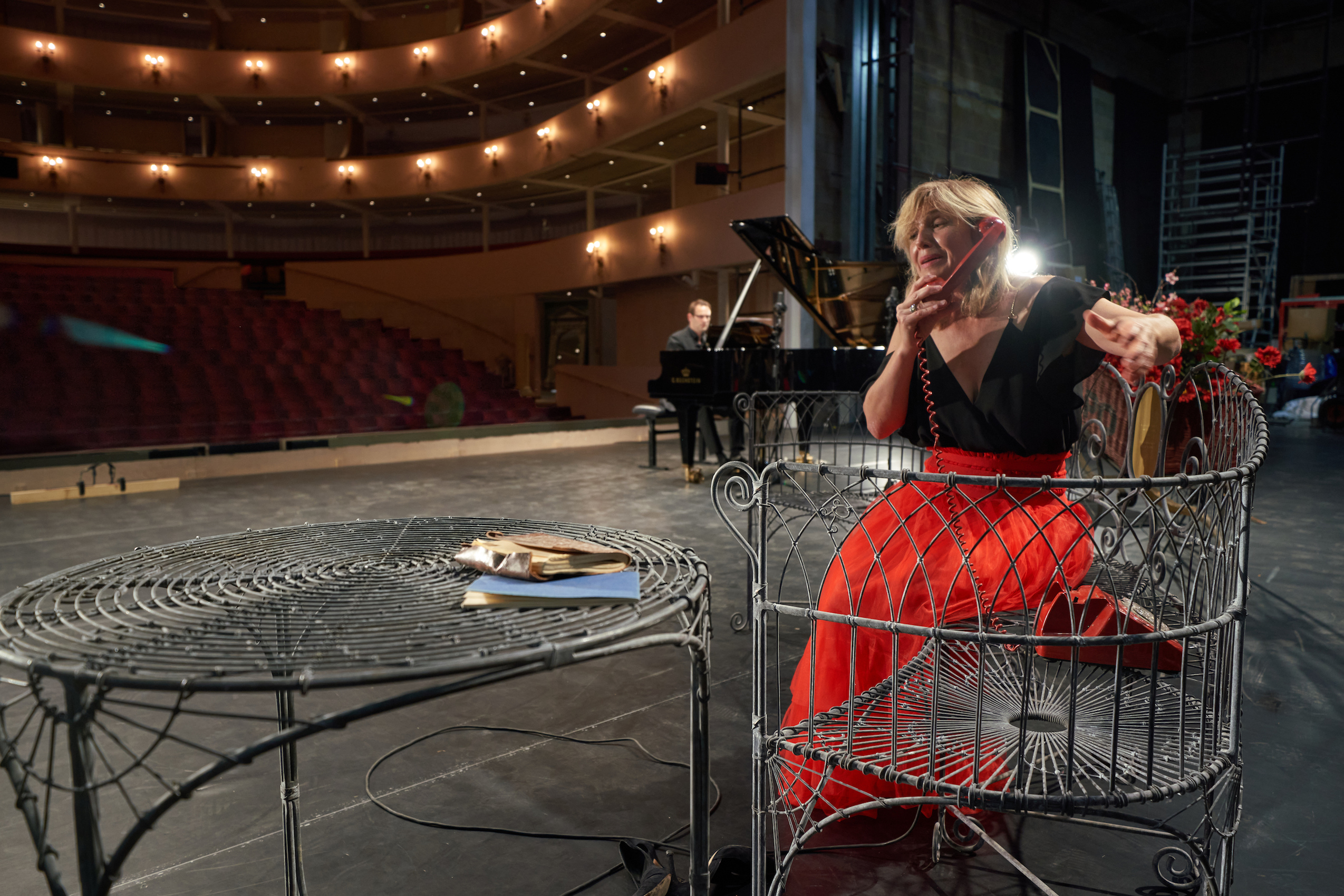 Booth, who has partnered Glynn on well-received recordings of Grieg and Grainger, moved anxiously around the clutter-strewn stage while clutching the red handset that serves as the poisoned bearer of her yearning and pain. It's a role that calls for vocal as well as physical agility, flattening out into lines of tormented Sprechstimme before blossoming towards snatches of aria or wide-spectrum dramatic recitative. Whether standing, sitting on some rustic garden furniture, or writhing on the floor with her little red devil, Booth commanded every fluctuating mood the score requires. From the nervous bravado of the first sections ("I am strong. I have plenty of courage") through the revelations of a suicide attempt, the sudden peaks and troughs of feeling exacerbated by a faulty line ("Now I hear your voice everything seems fine again"), and the final recognition that this remote farewell will be irreversible, each swerve and shift registered in a voice that took in tenderness, defiance and lacerating pathos. Glynn's playing offset her passion with a choric detachment, even irony, that softened into those fragments of remembered romance. Apart from the odd moment when the balance of the lighting seemed to go awry, Fintan O'Connor's video production matched the mobility of Booth herself to avoid any sense of stasis.
When Cocteau first wrote La Voix Humaine in 1928, few artists had yet shown how the modern technology that supposedly brings people together may also push them apart. In 1958, Poulenc still lived in that world of crackling lines, faulty connections and inscrutable, disembodied operators. His score cunningly finds musical equivalents for the stop-go alternation of worry and relief, anger and gratitude, baffled silence and cross-talking clamour, that life-changing calls used to entail.
Strangely, to revisit these technical glitches, hold-ups and breakdowns in 2020 is to be reminded not how much has changed but how much stays the same. The chopped or twisted faces and voices on a flawed Zoom or Skype call may still provoke a distress that massively aggravates the anxiety of remote communication. After months in which millions have had to depend on these cracked digital vessels for any contact with loved ones, La Voix Humaine feels more rawly relevant than ever. In their solitary splendour, Claire Booth and Christopher Glynn made this production a touching, and an eerie, prologue to a season that both marks our time of agonising separations, and seeks to supply an antidote to it. On this showing, "Found" will help to lead us out of the woods.