I Origins |

reviews, news & interviews
I Origins
I Origins
Michael Pitt stars in flawed romantic sci-fi from American indie director Mike Cahill
Friday, 26 September 2014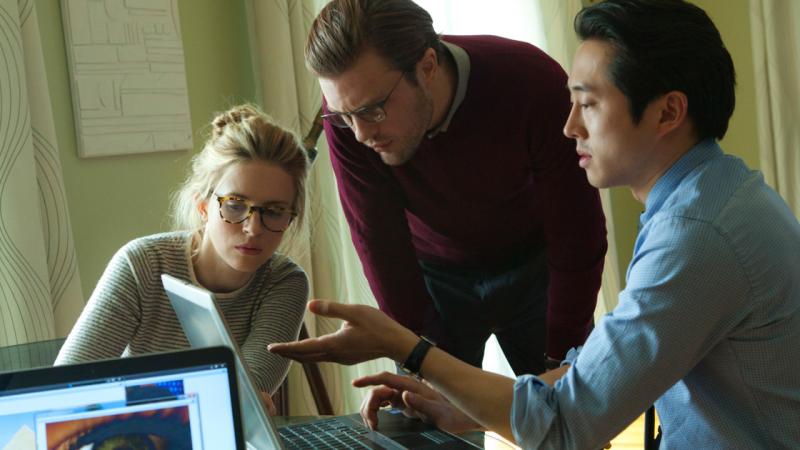 The eyes have it? Brit Marling, Michael Pitt and Steven Yeun in 'I Origins'
I Origins is a high-concept sci-fi thriller and romantic drama from American indie director Mike Cahill, who investigates big philosophical and scientific issues by looking for meaning in coincidence. Part produced by Boardwalk Empire's Michael Pitt, who also stars, this well-intentioned thesis intrigues but falls short due to a laboured script and an inelegant handling of a burgeoning relationship.
Molecular biologist, Ian Gray (Michael Pitt), is intent on disproving the existence of God through science. When he teams up with bright spark Karen (Brit Marling) the two make an exciting breakthrough which leaves them playing god themselves. Ian is obsessed with the eye, taking pictures of it at any opportunity, which leads him to the mysterious Sofi (Astrid Berges-Frisbey, pictured below right) who he meets at a New York loft fancy-dress party. She disappears into the night and he is left with only a photograph of her distinct eyeball. His path back to Sofi is filled with strange coincidences and clues which he follows despite being rationally minded. The two fall madly in love, but bicker about their beliefs. Ian and Karen are joined by their eternally single friend and co-worker Kenny (Steven Yeun from The Walking Dead) who Cahill pleasingly draws as a good friend and credible character rather than someone who furthers the plot. Solid performances and convincing interactions between this trio make up for some of the earnest observations and hackneyed romance.
The complexity and uniqueness of the human eyeball has often been used an argument by creationists as proof that a higher being exists. This notion provides an interesting starting point which Cahill builds on to create an engaging mystery to solve.Just like Cahill's first film, Another Earth, tragedy plays a great part in the carefully plotted narrative which once again is made up of two halves, each containing flaws.
Cahill has an ability to intertwine relevant real-life issues with heartfelt drama, delivering perhaps the most compelling aspect of I Origins. He touches upon the worries of the impact of vast data collection and explores how that information can be exploited for ulterior motives. His meticulous references, excellent use of multiple locations (the story moves from the bustle of New York to the crowded streets of India) and superb direction allows for a certain amount of forgiveness for the telegraphed outcome which he spends too much time explaining in the final third.
Overleaf: watch the trailer for I Origins