Letters to Juliet |

reviews, news & interviews
Letters to Juliet
Letters to Juliet
Shlocky romcom lifted to a state of grace by the great Vanessa Redgrave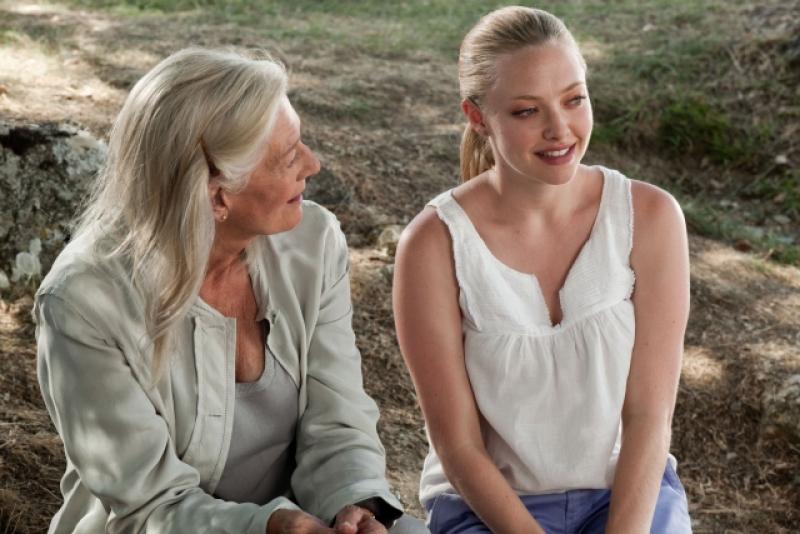 Vanessa Redgrave gives Amanda Seyfried a master class in love - and art
What happens when shlock is ennobled to something resembling a state of grace? The answer is on emotionally capacious view in Letters to Juliet, a by-the-books romcom that is raised beyond the ordinary, and then some, by the presence of the great Vanessa Redgrave.
The English septuagenarian's lustre will matter not one whit to those drawn to the movie by
Mamma Mia!
alumna Amanda Seyfried, playing a fish-eyed observer of, and eventual participant in, the wonders wrought by love. But those wanting to experience amazement first-hand should look no further than Redgrave, who takes a generically conceived snoozefest and lifts her share of it to something resembling the sublime.
Redgrave, admittedly, takes some while to come into a story that begins as Henry James lite, whereby our Manhattan heroine, Seyfried's aspiring New Yorker magazine writer Sophie, whizzes off to Verona with her marital intended, Victor (Gael García Bernal), only to discover that he cares more about pasta e vino and all things culinary, leaving Sophie to cultivate matters of the heart. Sophie's emancipation occurs at the hands of the tireless female helpers at the Italian city's Casa di Giulietta, who take in this American newcomer and promptly set her about answering those epistolary cries from the heart that have been left at the Shakespearean equivalent of the wailing wall by so many lovesick women over time.
Bernal, nostrils flaring, plays the role like someone who never met a tagliatelle that he didn't like
Sophie is especially taken by a missive that dates back to 1957 as penned by an Englishwoman abroad called Claire in honour of her Italian then-beloved, Lorenzo. Sophie went to Brown University, we are told, and studied Latin (clever girl!), so perhaps it's none too surprising that she recognises in Claire's long-delayed romantic scenario the seeds of a passion that Sophie has yet to experience with her putative beloved, Victor. He's a fiery and ambitious restaurateur who pays lip service to his would-be bride while getting considerably more turned on by the bouquet of one or another newfound wine.
Basta!, decides Sophie, Italian being more of a 21st-century prompt than Latin to this determined romantic who, before long, is leaving Victor to his formaggio-minded ways and joining the now-elderly Claire (Redgrave) on a purposeful tour of the Tuscan countryside. Their goal: to reunite the widowed Claire with the abiding love of her life, all the while leaving Sophie herself to succumb to the prickly charms of Claire's chauffeur, and grandson, Charlie (Christoper Egan, pictured below with Amanda Seyfried), an Oxford grad who has scarcely met Sophie before he is acting the snobbish, tight-lipped, English twit. "We Brits tend to stay in our family homes," Charlie snaps, in one of many remarks that prompted audible sniggers at the screening. At the same time, Charlie turns out to be acquainted first-hand with his own story of loss, so he's a decent enough chap after all. (The fact that Australian actor Egan appears, like Colin Firth of old, in a wet swimming suit is surely incidental to the overall narrative. What, you mean it isn't?)
The mutual hostility of these eventual lovers is ludicrous even by the standards of such narratives, so much so that you half wish Claire and Sophie would ditch the terminally obnoxious Charlie and set up shop together running some hillside gelateria or other. Instead, Claire takes to Sophie like mum to surrogate daughter: "One of the great joys in life is having one's hair brushed," Redgrave melodiously intones. And by the final frame, Claire's preordained reunion with her erstwhile beau, Lorenzo (played by Franco Nero, Redgrave's past and present real-life partner), finds an equivalent of sorts in Sophie's amorous rebirth at the hands of the much-softened Charlie. What of Victor, you may ask?Not much hope for ol' Soph' there: Bernal, nostrils flaring, plays the role like someone who never met a tagliatelle that he didn't like.
And yet, and yet ..... Just when you're ready to give up entirely on Sophie's humorlessness and a Meet Cute with Charlie that is mirthless in the extreme, Redgrave buoys up the Tim Sullivan/ José Rivera script with that emotional transparency that has long been this performer's stock in trade. Charlie may dismiss his gran as "Churchill in a dress" - how apt, given that Redgrave has in her day played Clemmie - but Redgrave can make stock cinematic treacle sound like a Shakespeare sonnet. "Life is the messy bits," Claire remarks, in between stiffening in often comic anticipation as the trio wend their vehicular way from one incorrect Lorenzo to the other; they're on the verge of abandoning the project altogether before alighting upon Franco Nero's occupancy of the real romantic thing. Nero, for his part, gets to hoist a glass to "destino"; Camelot was never like this.
Reality and truth mark Redgrave's inestimable contribution to a story in which an actress better than the movie would seem to require functions both as Nurse to the Juliet and Romeo that are Sophie and Charlie and as a Juliet who gets reborn herself, her affections spurred on by the now grizzled Lorenzo's entrance on - wait for it! - horseback: Jane Austen lives! Gary Winick's film, meanwhile, is beyond blessed with Redgrave, who acts the heart of every scene and not the hokey, chick-flick contrivances from which the material sprang. "It's never too late for true love," Redgrave is heard reciting, the remark striking to the quick given one's acknowledgement of the inordinate degree of loss and grief sustained by this performer of late.
"Here is to all our loved ones", she says elsewhere, "wherever they may be." Letters to Juliet may be tripe, but only a scold would deny that at such moments it reaches toward the transcendent.
Watch the Letters to Juliet trailer
The mutual hostility of these eventual lovers is ludicrous even by the standards of such narratives
Explore topics
Share this article