LFF 2020: Never Gonna Snow Again review - mystic masseur with God-like gifts
LFF 2020: Never Gonna Snow Again review - mystic masseur with God-like gifts
A Polish parable, plus 'Wildfire', '200 Meters' and 'Zanka Contact'
Saturday, 17 October 2020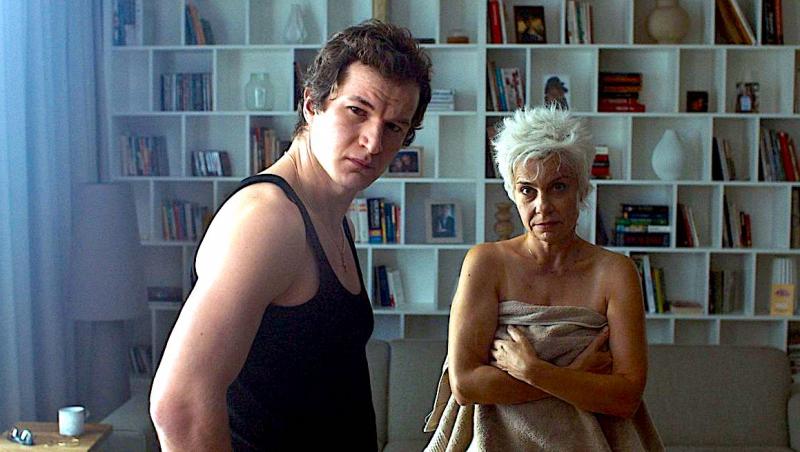 Enigmatic: Alec Utgoff as Zhenia, with Agata Kulesza as Ewa
The 1986 nuclear accident at Chernobyl was brilliantly explored in last years's HBO series, but here, prolific Polish director Malgorzata Szumowska finds an alternative purpose for the disaster. As a child Zhenia, the Ukrainian protagonist of Never Gonna Snow Again, fell under the shadow of the doomed reactor, as we see in bleak, colour-drained flashbacks.
The 1986 nuclear accident at Chernobyl was brilliantly explored in last years's HBO series, but here, prolific Polish director Malgorzata Szumowska finds an alternative purpose for the disaster. As a child Zhenia, the Ukrainian protagonist of Never Gonna Snow Again, fell under the shadow of the doomed reactor, as we see in bleak, colour-drained flashbacks. The film's title refers, in part, to the pervasively swirling radioactive dust particles created by the catastrophe.
The adult Zhenia has transported himself to Warsaw, where he works as a freelance masseur gifted with extraordinarily sensitive hands. Szumowska, who wrote and co-directed with Michal Englert, has placed him at the centre of a whimsical narrative which is part social satire and part mystical reverie, in which Zhenia's itinerant trade lets him interact with a variety of characters living in an affluent but achingly artificial gated community. Played with enigmatic detachment by Alec Utgoff (Alexei in Stranger Things), Zhenia remains unknowable, but displays elements of Don Juan and the Pied Piper, and possibly even God. He intermittently displays a range of strange gifts, like being able to speak Vietnamese or move glasses by telekinesis.
Trapped in their cookie-cutter McMansions, his clientele is a poignant mix of the lost and the lonely. Ewa (Agata Kulesza) extols the virtues of exotic psychotropic drugs and treats Zhenia condescendingly, but still becomes dependent on him. While Zhenia tries to work his healing magic on a rapidly-failing cancer victim, he exerts his hypnotic powers over his wife Wika (Weronika Rosati). For desperate, hard-drinking housewife Maria (Maja Ostaszewska), Zhenia's visits are her only respite from a failing marriage and the young children she can barely cope with.
The Chernobyl dimension is evoked in resonant images of his dying mother's bedside, a dog in a derelict swimming pool, and the sinister softly-falling flakes, as a geiger counter clicks. The story closes with a perfect enigma, as Zhenia and Wika combine in a baffling magic display. Szumowska has a gift for the telling metaphor which makes this film echo in your mind.
Wildfire ★★★★
This debut feature from Newry-born writer/director Cathy Brady uses a tale of two sisters to probe the still-agonising legacy of the Irish troubles, their fearful influence still reaching down the years even though the Good Friday Agreement was signed in 1998. An opening newsreel montage of Orange marches, soldiers, gunmen and the Enniskillen bombing set the tone, while mentions of Brexit hint at turbulence ahead.
Kelly (Nika McGuigan) returns to her home town on the Irish border after a year living like a nomad off the radar, and initially is regarded with hostility by her sister Lauren (Nora-Jane Noone), resentful at Kelly's unexplained absence (the sisters pictured above). However, gradually the sibling bond is reestablished, until it becomes clear that the two women are tightly bound together by a horrific past and an almost psychic empathy. It's powerful enough to drive a wedge between Lauren and husband Sean (Martin McCann), and is expressed most vividly when the pair are dancing with a kind of deranged, synchronised abandon in a bar, with Them's "Gloria" turned up deafeningly loud on the jukebox.
Also in the bar is Gerry (David Pearse), a former IRA man who was apparently involved in a bombing attack in the 1990s, which killed (among many others) the sisters' father. That traumatic event is the vortex around which the narrative spins, as Brady explores the sisters' family history and the way tragedy and self-destruction have almost been programmed into it.
Wildfire occasionally threatens to veer off the track entirely, but its twin leads just about keep it together, with McGuigan startlingly good as the disturbed Kelly. The fact that McGuigan (daughter of world champion boxer Barry) died of cancer last year gives the film a final tragic twist.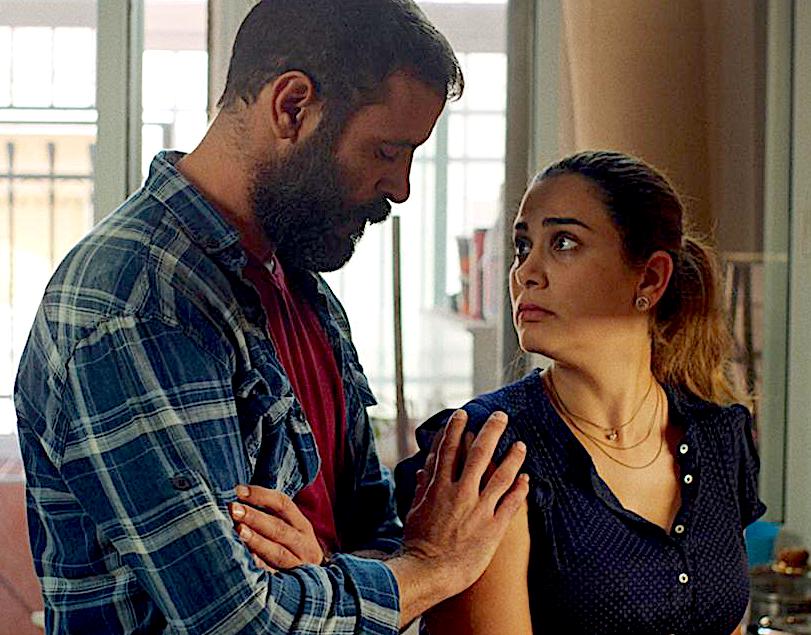 200 Meters ★★★

Another story set against a backdrop of borders and endless conflict, Ameen Nayfeh's 200 Meters focuses on Palestinian labourer Mustafa (Ali Suliman), whose life is a slightly-too-neat analogue of the Palestinian-Israeli situation. From the home he shares with his mother in the Occupied Territories, Mustafa can see the apartment where wife Salwa (Lana Zreik, pictured above with Suliman) and their children live, 200 meters over the dividing wall in Israel. At night, Mustafa and his family communicate by flashing their lights on and off.
Mustafa uses a work permit to travel to construction jobs over the border and to see his family – he could get a permit to live in Israel, but refuses to on principle – but when Israeli border officials won't let him cross because his permit has expired, he's reluctantly pushed to pay for the services of illegal people-smugglers. When he learns his son has been taken to hospital his eagerness to get across the border turns into desperation, and he finds himself making a fraught journey with an ill-assorted bunch of fellow-travellers.
This gives Nayfeh scope to refract varied aspects of the Palestinian situation through his lens, from the cynical traffickers themselves to the aggressive Arab gangs who jealously guard their own illicit crossing points. In the car with Mustafa is a pretentious political activist, Kifah (Motaz Malhees), and his German girlfriend Anne (Anna Unterberger), idiotically trying to make a guerrilla-style documentary film about her trip. It's an Israeli soldier at a checkpoint who shrewdly sums up Anne's gauche voyeurism – "You like Palestinians? You like violence!" Nayfeh's film mixes thriller-like tension with deeply-felt sympathy for his characters, with Suliman delivering a finely-nuanced performance.
Zanka Contact ★★★
An unstable brew of drugs, prostitution, heavy metal fantasy and psychological trauma, Ismaël El Iraki's Zanka Contact is a story of a pair of long-term losers who bump into each other in a road accident in Casablanca, then tortuously work out that they were destined for each other. El Iraki (amazingly, a survivor of the Paris Bataclan terror attack) is a self-confessed fan of Quentin Tarantino and Sergio Leone, and wanted to weld his experiences of rough and raucous Casablanca with his idols' visions of violence and revenge.
At two hours, the director has given himself plenty of room to romp around in, which is a shame because brisk deployment of the editing shears could have produced a far punchier result. As it is, the adventures of once-legendary but now lost junkie rock'n'roller Larsen Snake (Ahmed Hammoud) and prostitute Rajae (Khansa Batma) proceed in rambling fits and starts, until the fog clears for a brutal and bloody closing half-hour.
El Iraki's spiritual timezone seems to be London's Marquee Club in 1969, with Larsen an antiquated guitar hero clad in snakeskin jacket and boots who plays a snakeskin-covered Gibson Les Paul (he used to sing too, until he destroyed his vocal cords by shooting heroin into them). Chief villain is Rajae's brutal pimp Saïd (Saïd Bey), whose tousled hair, beard and waistcoat make him resemble the '70s versions of both Eric Clapton and George Harrison. An appearance by German rockers Kadavar (with guest guitar by Larsen) is, frankly, terrible.