The Man from U N C L E |

reviews, news & interviews
The Man from U.N.C.L.E.
The Man from U.N.C.L.E.
Guy Ritchie's spy caper lacks the charm of the Sixties original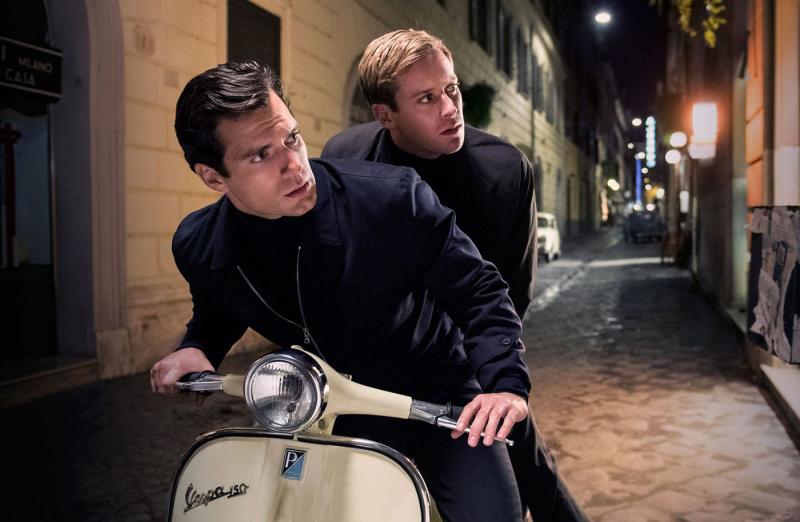 Frozen bromance: Napoleon Solo (Henry Cavill, left) and Illya Kuryakin explore Rome on a motor scooter
The TV series on which Guy Ritchie has based his new spy-buddies movie first appeared on the small screen (in black and white) in 1964, when Napoleon Solo and Illya Kuryakin welcomed us into their secret lair in New York and introduced themselves as "enforcement agents" for U.N.C.L.E., apparently a sort of UN/CIA hybrid. The grandfatherly Mr Alexander Waverly, resembling a retired bank manager in venerable tweed, announced himself as their boss.
The TV show was facetious, frivolous, and crammed with seductive women and outlandish villains. Saving the world was never more than a smooth seduction and a dry one-liner away. However, since then we've had feminism and political correctness, global terrorism, 9/11 and Edward Snowden. Somehow, espionage isn't that funny any more. How, then, to recapture the Man from U.N.C.L.E. spirit in our new age of multiple anxieties? (Robert Vaughn and David McCallum in the Sixties TV series, below).
Ritchie and co-writer Lionel Wigram (who also co-wrote Ritchie's Sherlock Holmes pictures) have conceived the piece in the fashionable "origin story" mode, so we meet Kuryakin and Solo before U.N.C.L.E. has been created, and the duo are working for the Russians and Americans respectively. Ritchie and production designer Oliver Scholl have homed in on the early-Sixties period detail and locations with fastidious zeal, and they're some of the best things in the movie. An opening sequence in which Solo (Henry Cavill) has infiltrated himself into East Berlin to extract grease-spattered motor mechanic Gaby (Alicia Vikander) – whose father happens to be a missing nuclear scientist urgently sought by both the Americans and Russians – exudes Eastern Bloc drabness, from the tight-lipped guards at Checkpoint Charlie to the desolate buildings overlooking the Berlin Wall. A car chase where Solo's Wartburg sedan tries to outrun Kuryakin's suspiciously speedy Trabant is rendered with petrolheaded obsessiveness.
Much of the later action takes place in Italy, where Gaby's dad, Dr Udo Teller (Christian Berkel), is helping some smirking megalomaniacs to build atomic bombs. However, you almost stop noticing the narrative action thanks to the riot of Dolce Vita-style women's fashions, exquisitely shot Roman landscapes, the gilt-and-satin interiors of the Grand Plaza hotel, and the extraordinary Castle Baja in the Bay of Naples, wherein lies the secret lair of the evil – though superbly styled – Victoria Vinciguerra (Elizabeth Debicki, pictured below on top of Cavill). Unfortunately this only highlights the flick's chief weakness, which is the alarming absence of sizzle in the Solo-Kuryakin relationship, which leaves only a feeble tremor where the beating heart of the action should be.
Where the TV show's Robert Vaughn and David McCallum enjoyed an effortlessly bickering, bantering rapport, Cavill and Armie Hammer's Kuryakin look as if they've just been crated to the set by FedEx and have never met before. Glasnost fails to materialise, even when Kuryakin's permafrosted Russianness is supposedly thawed by Solo's boundless ingenuity, or by Gaby's growing allure (the mission calls for her to play Kuryakin's fiancée, and before long a lumbering romance is in the air). Solo's tone is meant to be wry and insouciant, straightening his tie in the face of extreme danger (like when he's being tortured by a Mengele-style Nazi psychopath), but much of the time he just looks slightly puzzled. Cavill's muscled-up bulk, despite being expensively tailored by Timothy Everest of Mayfair, is more Superman than suave, tricksy Napoleon Solo. The manic hyperactivity of Robert Downey and Jude Law in the Holmes movies is sorely lacking.
Yet it's not unenjoyable, and among the action set-ups are a rumbustious cross-country pursuit featuring a bizarre home-made All Terrain Vehicle, and a demonstration of how to sink a patrol boat with a truck. Ritchie missed a trick, though, by recruiting some strong supporting players but then failing to exploit them. In the few glimpses we have of him, Hugh Grant seems impeccable as the new Mr Waverly, while Jared Harris plays Solo's CIA boss with a bullying gruffness that seems to have come from a much weightier film.
The end credits consist of a montage of the personal U.N.C.L.E. files of the main protagonists, supplying information that viewers might have found helpful an hour earlier. Obviously Ritchie thinks he's building a new franchise. It remains to be seen whether audiences will want him to.
Overleaf: watch trailer for The Man from U.N.C.L.E
Subscribe to theartsdesk.com
Thank you for continuing to read our work on theartsdesk.com. For unlimited access to every article in its entirety, including our archive of more than 10,000 pieces, we're asking for £3.95 per month or £30 per year. We feel it's a very good deal, and hope you do too.
To take an annual subscription now simply click here.
And if you're looking for that extra gift for a friend or family member, why not treat them to a theartsdesk.com gift subscription?