The Midnight Sky review – flawed but moving apocalyptic sci-fi |

reviews, news & interviews
The Midnight Sky review – flawed but moving apocalyptic sci-fi
The Midnight Sky review – flawed but moving apocalyptic sci-fi
George Clooney directs and stars, as a scientist with a grim warning
Thursday, 10 December 2020
What does a man have to do for some peace and quiet? George Clooney in 'The Midnight Sky'
The last time George Clooney was in a space movie, Gravity, he and Sandra Bullock were marooned above Earth and desperate to get home. The Midnight Sky has the opposite dynamic: here Clooney is Earthbound, urgently trying to warn incomers to stay the hell away. As science-fiction premises go, it feels rather apt.
With Clooney both sides of the camera, the film itself alternates between the Arctic and deep space, human drama and special effects spectacle, a certain novelty but with doses of sci-fi cliché. It's quietly proficient rather than awe-inspiring, yet ultimately quite moving.
We're in the near future: 2049. Clooney's scientist Augustine Lofthouse is the last man standing, holed up in an Arctic observatory after a sudden, unspecified 'event' has laid waste to the human race in just three weeks. The irony is that he's terminally ill, with only days left anyway. But he plans to use his time well – alerting the space ships returning to Earth from an interplanetary expedition of the catastrophe. The astronauts' aim was to find a habitable planet; hopefully they have, if only for themselves.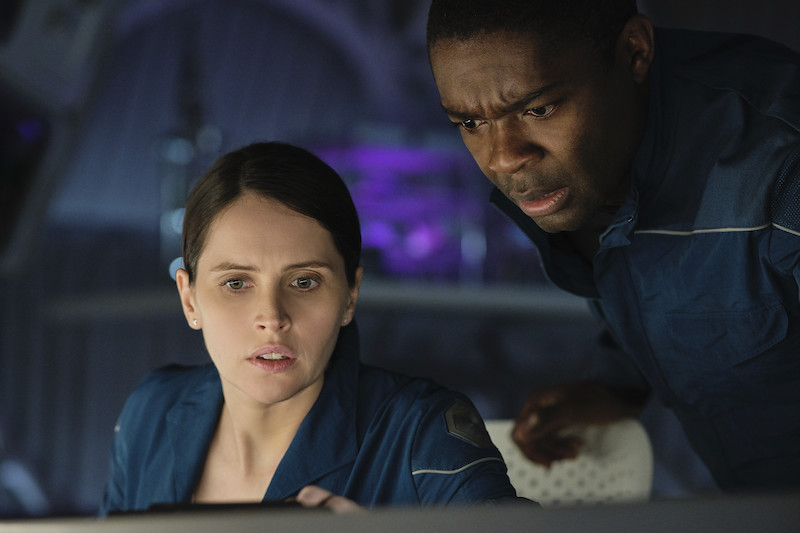 While Lofthouse struggles to make contact, he finds that he's not quite alone; a young, mute girl, Iris, has been left behind by the last evacuees from the site. A loner with appalling social skills, the scientist is mortified at the prospect of a child to care for – one who's going to have to join him on the freezing trek to a more powerful transmitter.
Meanwhile, the crew on the spaceship Aether, including captain Tom Adewole (David Oyelowo) and comms chief Sully Rembshire (Felicity Jones, pictured above with Oyelowo) are puzzled as to why no-one on Earth is responding to their calls. Just as the radio does crackle to life, asteroids pummel the ship.
Adapted from Lily Brooks-Dalton's post-apocalyptic bestseller Good Morning, Midnight by Mark L. Smith (The Revenant), the plot is effectively of two journeys – Lofthouse's through the Arctic wilderness, the astronauts' towards Earth, with their parallel attempts to survive in snow and space.
Clooney is in good form, in the brooding, under-stated mode of Syriana and Michael Clayton, rather than the dash of Danny Ocean. His Lofthouse is hunched, hair cut short but face covered in exorbitant grey beard (I've never seen beard ice quite like it), coughing his guts out, his eyes black holes of despair. It's a sad, vulnerable performance, nicely counterpointed by the debut of Caoilinn Springall (just six when this was filmed), whose Lily is a beguiling enigma in a yellow dress, ever watchful, and strangely calm whatever her moody guardian or nature has to throw at her.
Their rapport does cause a problem, however, the film's interest dissipating whenever the action leaves this odd and deeply affecting pair. Despite the presence of some strong performers, the space sections are far less engrossing than those on Earth.
Clooney the director can't do much about that (even dialled close to zero, his charisma will always destroy the field) though he is at fault for poor pacing of the to and fro, and for allowing the tone to get far too cute; when the astronauts break into 'Sweet Caroline' they deserve to be lost in space. And some moments feel like rote, sci-fi filler, not least the spaceship's inevitable loss of its communications and resulting, risky spacewalk.
At the same time, Jim Bissell's production design provides a highly appealing, slate-grey space ship, cameraman Martin Ruhe's excellent work includes a sequence in a blizzard that is quite magical, and Clooney neatly combines a humane, moving drama about the need for connection – even on the brink of extinction – with some imaginative visual touches. If the space walk is over-familiar, the resulting calamity is heartbreakingly original.
The Midnight Sky is in cinemas from 11 December and on Netflix from the 23rd